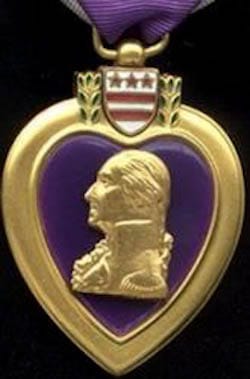 One of the things that Branson, Missouri is known for is its passionate dedicated support for America's veterans, active duty military and their families. Americas largest Veterans Day celebration, Branson's seven day "Veterans Homecoming Week," is a focal point of that support, but it is day to day recognition and honoring, by the majority of Branson's shows, businesses and a multitude of smaller events throughout the year, that show the depth of Branson's true commitment, spirit and heart for America's veterans, active duty military and their families.
One of those events, is the "Hand in Hand Branson Honors Purple Heart Recipients" (Hand in Hand), designed to honor and remember the sacrifices of those who have received the Purple Heart for combat wounds received while serving our Nation. Started in April of 2009, Hand in Hand has become an annual Spring Event involving a large segment of the Branson community and will be held this year April 26 through April 28.
Marlyce Stockinger, Hand in Hand's Coordinator ,said that one of the neat things about the event is the heartfelt support it gets from individuals, businesses and groups within the Branson community and having the opportunity to work with the Military Order of the Purple Heart to coordinate the event's activities. The result is an event whose activities are completely free to the Purple Heart Recipients attending, thanks to the effort, cooperation and contributions of many in Branson including Dave Hamner and Jim Barber, Factory Merchant's Mall, Ride the Ducks, Branson Landing, Scotty's Trout Dock, Branson Tourism Center, Branson.Com, Jim Thompson and the Central Pro-Am Association, Taney County Sheriff Jim Russell, the many volunteers at the event's activities, the Branson entertainers who volunteer their time to participate and many others.
The schedule for this year's Hand in Hand event, subject to change, is as follows:
Thursday April 26, 2012
Registration – Factory Merchants Mall – coffee & cookies, fellowship FREE to all.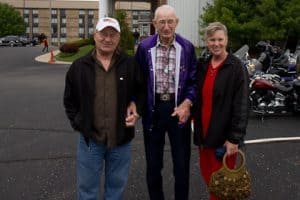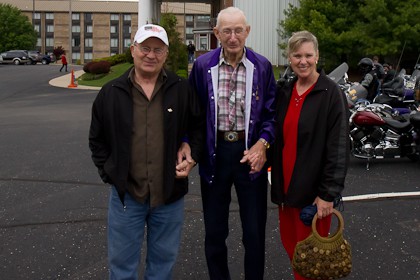 Opening Ceremony – 2:00 p.m. – 4:30 p.m. at the  Hamner Barber Theatre, 3090 Shepherd of the Hills Expressway Branson including " Lighting of the Cauldrons," Special presentation by the National Military Order of the Purple Heart Service Officers on benefits, PTSD, and when & how to fill out forms with breakout groups. The Service Officers will be available to assist in answering questions and resolving problems throughout the three days of the event. The names will be drawn at this event for those who will be in the fishing tournament on Friday. Free to all.
Friday April 27, 2012
Entertainment Show – 9:00 a.m. – 10:30 a.m. at the Hamner Barber Theatre, featuring performances by many Branson entertainers and shows. Free to all.
Fishing Tournament – Noon – Scotty's Dock & Marina 500 S Boxcar Willie Drive, Branson (if your name is drawn to fish). Free.
Branson Culinary Experience – An event for those who are not fishing, which includes women and men. As soon as the "fishermen" depart on their adventure, everyone else will climb aboard the "Ducks" and head to Branson Landing where, among other things, they will go to special shops, have tasting experiences, learn how to create different tastes with unique spices and have "Cantina Laredo" teach them how to "make guacamole, table side." Those planning on attending this event are requested to Register on line so that adequate transportation and event arrangements can be made. The event will be timed so that everyone is back at the dock when the fishermen get back and can participate in the weigh-in. Free.
Fish Fry – To be held at 6:00 p.m. at a location TBD. It is free for Purple Heart Recipients and $10 for spouses, significant others and the general public. Fish, hush puppies, coleslaw, beans, coffee, all you can eat and a live variety band. We will have a blast dancing & singing along.
Saturday April 28, 2012
Titanic Museum Attraction – Time to be determined. It is the 100 year Anniversary of the Titanic and they have graciously invited all Purple Heart Recipients to board the ship for free. There will be an admissions charge for spouses, significant others, family etc. It would be appreciated if those planning on attending this event would register on line so that the appropriate arrangements can be made. This is one of Branson's most popular attractions. Those wishing to attend will be able to register on line for this as well, so we have a head count.
Motorcycle Run – Taney County Sheriff, Jimmie Russell coordinates a motorcycle run in honor of the Purple Heart Recipients. This year the riders riders will be going further and when details are firm, we will have it on the Hand in Hand web site so that the riders will know where to meet, what time, etc. The ride will end at the Hamner Barber Theatre just prior to the Closing Ceremony at 2:30 p.m.
Closing Ceremony – 2:30 p.m. at the Hamner Barber Theatre. After greeting the motorcyclists outside everyone will then go inside for a special closing ceremony and a special guest speaker.
Stockinger points out that Hand in Hand is open to Purple Heart Recipients, Veterans, families and the general public. Free.
Stockinger encourages all Purple Heart Recipients to attend Hand In Hand and participate in all its events. For additional information and registration forms please visit Hand in Hand's website or call the Branson Tourism Center at 1-800-785-1550.