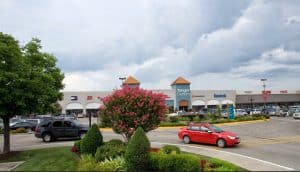 "That just makes an already great Branson shopping destination even better," said Annette Wood, Director of Sales and Marketing, Branson Tourism Center. Wood was referring to the 21,000 foot expansion to one of Branson's most popular shopping destinations, the Branson Tanger Outlets, that was mentioned in the "2nd Quarterly Report for Factory Outlets Centers, Inc. (NYSE: SKT)" on August 5, 2014.
A spokesperson for the Branson Tanger Outlets said that construction was well underway and that they expect to have the new expansion ready for the 2014 holiday season if not before. Three of the new tenants will be Talbots, "a leading retailer and direct marketer of women's classic apparel, shoes and accessories; Adidas, a "global leader in the sporting goods industry with brands built on a passion for sports and a sporting lifestyle" and Sun Glass Hut, a "premier shopping and inspiration destination for the top brands, latest trends and exclusive styles of high quality fashion and performance sunglasses."
Its location, right off the middle of the Branson Strip, convenient drive up parking and a great variety of shopping for "first quality in-season brand name jewelry, housewares and china, home décor, luggage, toys, books, compact discs, food specialties and much more, at factory direct prices all help explain Tanger's popularity. Their typically low prices are made possible because the stores are owned by the "manufacturers" and sell directly to the consumer without the "middle man."
Branson Tourism Center's Wood offers another tip that can save Tanger Outlets shoppers even more money. "If you will go to the Tanger Shopper Services, located in Suite 120 in the northwest corner of the Center, you can get a "Tanger Coupon Book" filled with money saving coupons." She also points out that Tanger's four day Labor Day Weekend Sale, Aug. 29 through Sep. 1, will offer even more savings.
"'Labor Day Weekend' is one of the busiest weekends of the year so if you are planning on seeing shows or need lodging, in addition to shopping, it would be advisable to make advance reservations to insure not only availability, but to get the best available seating and accommodations," Wood said. She offers the free assistance of the Branson Tourism Center, one of Branson's largest and most respected vacation planning services, to help in making ticket and lodging reservations by calling 1-800-785-1550 and talking with one of the knowledgeable Branson based Travel Planners.