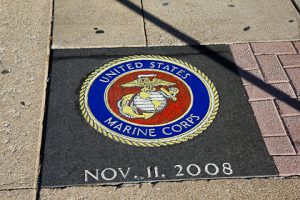 BRANSON, Mo. The genuine honoring of America's Veterans, active duty Armed Forces personnel and their families is an inherent part of the Branson spirit and what makes Branson such a unique and special place. Branson Veteran's Home Coming Week, running from Nov. 5 to 11 every year, is America's biggest Veterans Day celebration and one of the most well known ways that Branson honors those serving and who have served in our Nation's Armed Forces.
However, it's an event like the "Hand in Hand Branson Honors Purple Heart Recipients," designed to "honor and remember the sacrifices of those who have received the Purple Heart for combat wounds received while serving our Nation," the Veterans Memorial Garden, the recognition and honoring of America's Veterans and active duty Armed Forces in the majority of Branson's shows or any one of the many other things done on a daily basis and throughout the year that shows the depth of that spirit. What this writer calls "Patriot's Corners" is one of those things.
Patriot's Corners is composed of five granite blocks, each inlaid with the colored emblem of one of America's five Armed Forces, the U.S. Army, Navy, Air Force, Marine Corps and Coast Guard and placed on the four corners of the intersection of Main and Commercial Streets in the heart of the historic downtown business district with two set on the southwest corner. Each day, during the Branson season, hundreds, if not thousands pass by and over the perpetual memorial to America's Armed Forces as they walk up and down the streets of downtown Branson.
Some notice and some don't, but that's OK because "Patriot's Corners "speaks volumes about the humble and sincere way that Branson honors America's heroes. Most of the millions who visit Branson each year don't even know about "Patriot's Corners," but the reports of people taking pictures and spending time at the emblems as they discover them is telling as to their impact on those being honored, their families and those who just appreciate the sacrifices that have been, and are being made, by the present and past members and families of our Nation's Armed Forces.