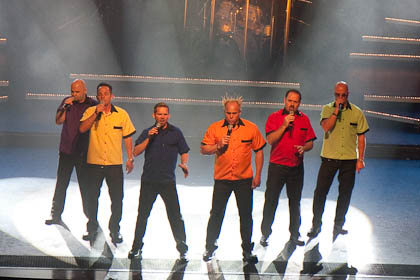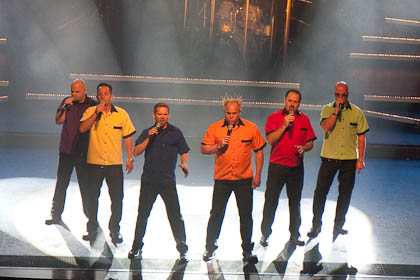 The advertising for the Branson show SIX says, "You have to see it to believe it," "Your eyes won't believe your ears" and "You won't believe what comes out of their mouths." Having seen the show a number of times, most recently this week, all this writer can say is, "You have to see and hear it to believe it. These guys are the real deal."
In a town many refer to as "The live music show capital of the world," where quality music and comedy shows are a daily reality, there is a reason why SIX is one of the hottest tickets in Branson and is playing to packed houses even for its matinee performances. This writer believes it is because SIX stands out as one of the most unique, amazing, personable and entertaining shows in all of Branson.
There's an old adage "What you see is what you get." Anyone who has seen the SIX show however, knows that their performance is proof positive that is not true. What you see for the whole show is six of the Knudsen brothers singing A cappella. In order of age that would be Barry, Kevin, Lynn, Jak, Owen and Curtis.
What you won't see is any live band. Yet what you will experience is two hours of the most unique, exciting and memorable music you will ever hear including great vocals and the sound of a band. The remarkable thing is all the sounds, vocal and instrumental are coming from the same place, "the mouths" of the SIX Knudsen brothers. It truly is an amazing thing to see and hear.
SIX has one of the most unusual cast introductions ever. As each brother is introduced they "play" their instrument drums, trumpet, bass etc., but here is no instrument. They are truly "an orchestra of human voices." What's strange is that even after the introduction you'll find yourself looking for the instruments because there is no way those sounds could be coming from them, but it is.
Equally amazing is the quality of the sound, both vocal and "instrumental." From pop, country, gospel and from the Temptations and Beach Boys to Frank Sinatra and so much more there is something in this show for everyone. A couple of days prior to this writer going to see the show his daughter, college senior granddaughter and high school freshmen grandson went to see the show. While each had a different favorite part, they were unanimous in saying, "It is amazing" and that they would definitely see the show again.
A few of this writers favorite numbers, from among many, was the "instrumental" introductions, their rendition of the Frank Sinatra classic "My Way" featuring Lynn and their powerful inspiring gospel segment featuring the "Lord's Prayer," "How Great Thou Art" and "Be Still My Soul." Theinteractive presentation of their original song, "Love Times Ten," dedicated to their mother who died of cancer at the too early age of 52, was very poignant and touching.
A major part of the entertainment experience audiences will have at the SIX show is their innate ability to relate with their audience. From comedy, working the audience from the stage and going out into the audience there is a constant Neal McCoy like contact and involvement with the audience that gets them involved in their own entertainment experience. It's something that is felt but adds so much to what is already a great entertainment experience.
Factor in surprises such as SIX Movie Sound stage, neat choreography, great use of lighting and their energy and passion for what they are doing and it's hard to imagine someone going to SIX and not having a great time. If you want to see a fabulous and unique show and have a special entertainment experience, even by Branson standards, don't miss this show!
Tammy Johnson, the Director of Operations for the Branson Tourism Center (BTC), one of Branson's largest and most respected vacation planning services and well on their way to selling their three millionth show and attraction ticket said, "SIX is one of the most popular shows we sell and our customer surveys indicate that they just love the show." For additional information or tickets for SIX or any of Branson's other shows and attractions or for lodging arrangements please contact the Branson Tourism Center by either calling their toll free number 1-800-785-1550 or through their website www.BransonTourismCenter.com.