Branson Dining
---
Cantina Laredo
Choose "Cantina Laredo" at the beautiful Branson Landing for authentic Mexican cuisine in a sophisticated atmosphere. Serving the freshest fish and only Certified Angus beef, "Cantina Laredo" prides itself on preparing each meal with attention to even the smallest detail. You'll find Mexico City-style entrees including enchiladas and fajitas and tableside-prepared guacamole as well as their signature Margarita. Enjoy tasty Mexican cuisine with a beautiful view of Lake Taneycomo...it's all yours at "Cantina Laredo!"

Sun-Thur : 11:00 am - 10:00 pm | Fri-Sat : 11:00 am - 11:00 pm
Chateau Grille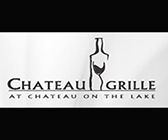 Branson's "Chateau Grille" is your perfect destination for elegant dining with an incredible view of Table Rock Lake! With their highly acclaimed menu and extensive wine list, a six-page list recognized by Wine Spectator Magazine with an Award of Excellence, be prepared for one of the best meals you'll find anywhere in the Ozarks! You can enjoy elegantly presented, exceptional cuisine featuring steak, lamb, duck, fresh fish like trout, and several selections that demonstrate the "Chateau Grille's" commitment to promoting local, organic, or sustainable grown products. Try their Sunday brunch that includes a buffet of more than 50 items or, for a special treat, reserve your space at the Special Chef's Table where the chef shares his insights on ingredients, preparation, wine pairings, and more. On vacation in Branson?
Don't worry, the attire is casual at "Chateau Grille," the elegance is in their food and ambiance.

Sun-Sat : 7:00 am - 9:00 p
Dino's Cake & Coffee Co.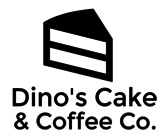 "Dino's Cake & Coffee Co." creates some of Branson's best baked goods! Famous for their 24 Karrot Carrot Cake, they also create incredibly delicious cakes of all kinds, including Red Velvet, Strawberry, Chocolate Fudge, Italian Créme, and other delectable delicacies. What goes perfectly with a scrumptious, thick slice of moist, tender handcrafted cake? Coffee, of course! A cup of hot, specialty blended coffee; a creamy hot chocolate, an iced latte...regardless of how you like your cup of joe, it's sure to go down smoothly following a bite of Dino's cake! Other baked treats at "Dino's Cake & Coffee Co." include jumbo or specialty cupcakes, cinnamon rolls, and cookies. You can get a Whole Gourmet Cake, plenty sizable enough for 12 to 14 people to share, or a Sweetheart Loaf, perfect for two, but can easily serve six. Not only do scores of celebrities love their cakes, including Tony Orlando and Bobby Vinton, Dino's supplies gourmet cakes to Neiman Marcus Restaurants and Cafés across the country. Try the cake that tastes like it was made for royalty...try the tantalizing taste sensation...the beautifully baked goodness created by "Dino's Cake & Coffee Co.!"

Hours: Mon-Thur 10am to 9pm | Fri-Sat 10am to 9pm | Sun 10am to 9pm
Famous Dave's
At Famous Dave's you'll enjoy the most succulent meats, savory seasonings and lip-smackin' sauces around. Twenty five years of tastin' and cookin' make Dave's 'Que the best ever. Dave's ribs are classic, St. Louis-style spareribs, hickory smoked to perfection, and Dave's award-winning Rich & Sassy sauce is made from a secret recipe - even his mother doesn't know!

Hours: Mon-Thurs: 11am to 9pm and Fri-Sat: 10pm | Sun: 11am to 9pm
Jackie B. Goode's Uptown Cafe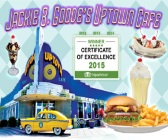 The cafe features a 50's-60's theme with Rock & Roll music playing on the jukebox near the old time soda fountain where you can have a malt, shake, sundae or banana split among other concoctions. A large common area has been created for serving large groups and Branson's most beautiful stage has been added where live musical performances are held daily.
The cafe is in like-new condition, is completely smoke-free and is the cleanest restaurant in Branson. One of the few restaurants in Branson that stay open late (open from 7am to 11pm daily), Jackie B. Goode's Uptown Cafe is Branson's place to go after the show! Although the cafe is family oriented, patrons may still enjoy beer, wine and pre-mixed cocktails seven days per week.
Landry's Seafood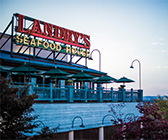 Nestled in the heart of all the fun and excitement Branson has to offer, Landry's Seafood has brought the great taste of the Gulf Coast to one of the nation's premiere entertainment destinations. Conveniently located on West Missouri Highway 76, near some of Branson's most unique attractions and hotels, Landry's has developed a reputation for serving fresh seafood, succulent steaks and indulgent desserts. Visit today and experience a Gulf Coast legend for yourself.

Hours: Sun-Thurs: 11am to 10pm | Fri-Sat: 11am to 11pm
La Piazza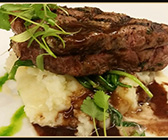 La Piazza brings fine Italian dining to Branson! Authentic dishes prepared with the freshest ingredients to please the taste buds of even the most discerning Italian cuisine fanatic...it can only be found in Branson at La Piazza! Traditional carne, pollo, and pastas made with steak, lamb, chicken, and a variety of delicious vegetables, spices, and sauces made to satisfy your cravings and your budget! You'll also enjoy the fully stocked bar and sophisticated decor. Make your next meal out Italian...not just any Italian, but the real thing at La Piazza!
Little Hacienda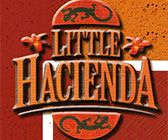 "Little Hacienda" in Branson or Hollister is the place to enjoy excellent Mexican cuisine in a fun atmosphere! There's room for your big family or group, patio dining, a grand celebration for Cinco de Mayo, and an extensive menu of fabulous food! They're known for their signature, top shelf guacamole, prepared at your table; it tastes amazing with an icy cold Margarita! There are several house specialties as well as the traditional dishes you crave; tacos, burritos, enchiladas, and so much more. Find your little slice of Mexico north of the border at "Little Hacienda" in Branson, Missouri!

Branson Hours: Sun-Sat: 11am to 9pm
Hollister Hours: Mon-Sat: 11am to 9pm (closed Sun.)
McFarlain's Family Restaurant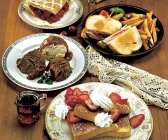 Come hungry... McFarlains features hearty, cooked-to-order breakfasts possibly even Branson's Best Country Breakfast, plus lunch and dinner entrees ranging from homemade soups, salads, sandwiches and their own special slow-cooked pot roast, chicken, ribs, shrimp and steak. A popular lunch item, the McFarlain's Special to be exact, is a heaping portion of that slow-cooked pot roast, atop good old white bread, topped with gravy and a side of luscious creamy mashed potatoes. It's the epitome of comfort food and no one makes it better! Don't forget about McFarlain's Famous Honey Cornbread, Fried Green Tomatoes, Fried Green Beans, Sweet Potato Fries and scrumptious Cinnamon Rolls. They offer a special kids menu, too.
Missouri Mountain Moonshine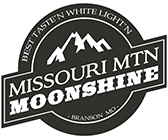 "Missouri Mountain Moonshine" brings the taste of the Ozarks hills to Branson Landing! You can taste a variety of tantalizing shines at the bar, or give a few mixed moonshine concoctions a try. This fascinating 5,000-square-foot virtual distillery features a restaurant serving pit-smoked barbecue meats, interesting displays like a 1941 Ford prohibition-era moonshine hauler, live music on select nights, and a retail area stocked with apparel, jams, sauces, dry rubs and, of course, a nice variety of bottled moonshines. There's a moonshine flavor for everyone...Apple Pie, Caramel, Berry, Cinnamon, Peach, Sweet Tea and, for those looking for a more authentic taste, Straight White Lightnin'! Sometimes, you gotta put a little shine in your life...do it at "Missouri Mountain Moonshine!"

Hours: Mon.-Fri: 10am to 12:00am | Sun: 10am to 10pm
MoMo Sushi & Grill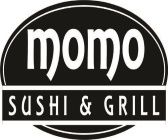 "Momo Sushi & Grill" brings a variety of interesting, authentic, and very tasty sushi selections to Branson. You'll also enjoy plated lunch and dinners featuring teriyaki dishes, as well as steak, chicken, shrimp, and a variety of salads. Try one of their specialty drinks, with entertaining names, like the Snapdragon, Tennessee Kimono, or the Scorpion Bowl.
Paradise Grill & Steakhouse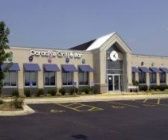 This restaurant takes traditional mountain cooking and adds a little flair and modern culinary style. Located on Shepherd of the Hills Expressway between the Shoji Tabuchi Theatre and the Cascades Inn, the restaurant is one of the more popular diners along the northern fringes of the city.
Pizza World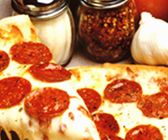 Offering a vast array of flavors from around the world, Pizza World combines the exciting new concept of gourmet pizzas. Our mouthwatering gourmet pizzas feature toppings from around the world on our own "baked to perfection" crust. We also offer a full range of complementary products, including:
Traditional Pizzas
Calzones
Subs (Buns Baked Fresh Every Day)
Specialty Breads
Tempting Salads
Our customers embrace the quality, taste, and value of Pizza World products and the variety keeps them coming back time and time again.
3 Branson locations to choose from:
1447 St Hwy 248, Suite F by K-Mart
3405 W 76 Country Blvd next to Andy's Frozen Custard
225 Cross Creek Blvd, Suite F by SunFest Grocery Store
Plaza View Restaurant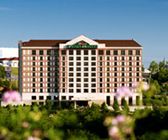 The NEW Plaza View Restaurant features our signature Prime Rib and Whole Fried Southern Style Catfish along with continental American cuisine. Our seasonal menus crafted from local and regional ingredients are prepared daily in the kitchen by our chefs. Compliment your meal with a selection from our wide variety of wines and spirits.
Enjoy the spectacular views of Branson and the Ozarks from atop the Grand Plaza Hotel at the NEW Plaza View Restaurant.
Qdoba Mexican Grill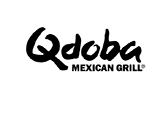 "Qdoba Mexican Grill" gives Branson fresh, delicious, build-your-own burritos and other tasty Mexican fare! Everyone loves to select their own ingredients and let someone else do the work of assembling a yummy burrito, taco, or bowl of zesty goodness! You'll also find favorites like a taco salad, grilled quesadillas, and a Mexican gumbo that's perfect during cooler weather. Kid-sized meals can also be found on "Qdoba's" menu. The Branson location is convenient to the historic downtown district, as well as Branson Landing, and features easy access from the street. A special feature is the patio dining right on Roark Creek where it connects with Lake Taneycomo. Delicious and fresh Mexican food with a convenient Branson location; isn't your mouth watering for "Qdoba Mexican Grill" right about now?
Shogun Japanese Steak & Sushi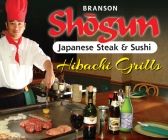 Sit back and relax and watch your personal chef cook steak, seafood or chicken for you. We also offer a variety of fresh sushi as well. You can get a drink from our full bar and relax in our newly opened Japanese dining section. We offer Japanese, Korean, and Chinese cuisine.
Shorty Small's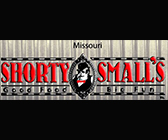 "Shorty Small's" in Branson, where you can count on superb barbecue done to perfection! Choose from several meats, including their famous ribs, or try a combo platter. You'll also discover substantial salads, delicious pastas, and incredible chicken pot pie, made from Andy Williams' mother's own recipe! Catfish, sandwiches, and a delightful list of sides can also be found on the menu, so there's definitely something to please everyone! Put "Shorty Small's" on your Branson itinerary for great barbecue!
Stage Door Restaurant at Welk Resort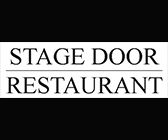 The "Stage Door Restaurant" offers affordable American favorites in a casual, relaxing atmosphere; open to both Welk Resort guests and the general public. Breakfast, lunch, and dinner is available from the menu, or enjoy the incredible selection at the buffet! You'll find salads, beef, pork, chicken, sandwiches, and even a family style pizza dinner on the menu. There are platters with chicken tenders, fried shrimp, and everyone's favorite, fish & chips! And you won't be disappointed by the Welk Burger, which you can order topped with onion rings, blue cheese, avocado, bacon, and even a fried egg. Enjoy dinner for two, or bring the whole gang, there's lots of room at the "Stage Door Restaurant" in the beautiful Welk Resort in Branson, Missouri!
The Upper Deck Grille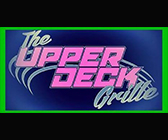 Branson's "The Upper Deck Grille" is the home of toss sauces and fun burgers! Peanut Butter Bacon and Surf & Turf burgers are on a menu that includes sides like sweet potato waffle fries and freshly made potato chips. Pasta, steaks, tuna, ribs, chicken, and a kid's menu with more than the usual choices are all available at this locally owned and operated eatery.

Mon-Thur: 11am to 9pm | Fri-Sat: 11am to 11pm | Sun: Closed
The Wheelhouse Restaurant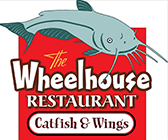 The Wheelhouse offers an incredible catfish buffet, some of Branson's tastiest wings, and the home of the Deep Fried Cheeseburger in this unique, ship-shaped restaurant. The buffet is huge and the salad bar boasts a variety of fresh items. Full dinner menu is also available. It's great American country-style food at its best! Adults will love the adjoining Shipwreck Sports Bar with a large beer menu and several flat panel TVs!

Hours: Monday - Saturday 4 pm to 9 pm
Wildwood Bistro at the Radisson
The "Wildwood Bistro" in Branson's elegant Radisson Hotel, is a great dining experience for both guests and the public. Serving American cuisine made from fresh, locally sourced ingredients, you'll discover quality steaks, pastas, burgers, and other comfort food items creatively prepared just for you! Open for a late dinner after a day of Branson shows, attractions, shopping, and sight-seeing, the classy but comfortable atmosphere is perfect for the whole gang! You'll even find live entertainment on select evenings. Relax and have a fabulous meal at the "Wildwood Bistro".