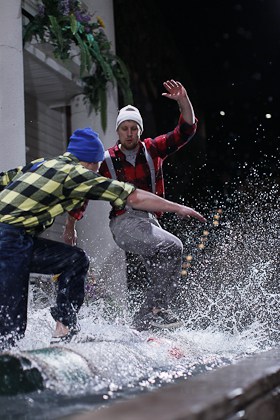 BRANSON, Mo. "What a wonderful coincidence," said Tammy Johnson, the Director of Operations for the Branson Tourism Center, "that the addition of the new 'Rumble In The Treetops' lumberjack competition to Dolly Parton's Dixie Stampede coincides with the celebration of Branson's Centennial this year." Johnson points out that logging played an important part in Branson's early history both before it was incorporated on April 1, 1912 and after.
In addition to wood for pencils and other things, logging in the Branson area helped furnish the railroad ties that brought the railroad to Branson. "In fact," she said, "the term 'hacker' meant something entirely different back then. 'Tie Hackers,' took the rough Oak logs, cut them into eight foot sections, roughly squared their sides and dragged them out of the woods to a river like the 'James' or 'White' where they were floated downstream and marketed."
The "Rumble In The Treetops" lumberjack competition will be part of the friendly "North" "South" rivalry that is an inherent part of the Dixie Stampede experience beginning Friday, February 24th as Dolly Parton's Dixie Stampede begins its 18th Branson season. Dolly Parton said that the new "Rumble In The Treetops" lumberjack competition is "a really fun way to showcase a bit of history" and that to see "those log-rolling lumberjacks toss one another in the water is the best part of all!"
The lumber jack competition will consist of four events. The first event for the lumber jacks will be a race to the top of a "tall pine" followed by the two-man crosscut to see who can saw through a giant log first, the underhand chopping contest as they compete against each other to split a log and an "old-fashioned log roll" to see who loses their balance and falls into the water first.
"And 'Rumble In The Treetops,' is just one part of the friendly competition, entertainment and excitement of Dixie Stampede," said Johnson. Dixie Stampede features magnificent horses, pageantry, color, spectacle, Roman Riding, barrel racing and other amazing feats or horsemanship and of course its delicious famous "four course feast."
She also points out that as you walk from the parking lot into the Dixie Stampede, from the rear of the building, you will get an opportunity to meet "the stars of the show," the horses, as you walk by their stalls. There is a preshow in the "Carriage Room" that starts about 50 minutes prior to entering into the main auditorium for the Dixie Stampede Show and dinner.
For additional information or tickets for the Dixie Stampede or any of Branson's other shows and attractions or for lodging arrangements please contact the Branson Tourism Center (BTC), one of Branson's largest and most respected vacation planning services by either calling their toll free number 1-800-785-1550 or through their website www.BransonTourismCenter.com.
Picture courtesy: Dixie Stampede