Branson Cabins List
Choose from the large variety of Lodging availability in Branson Missouri. Have questions or need assistance choosing the right choice for your trip? Call 1-800-785-1610 Promo: BTC to speak to one of our customer service agents and we'd be happy to help.
Port of Kimberling is more than a marina, it's an all-inclusive vacation complex complete with ski boat, pontoon, waverunner, and houseboat rentals. You will find everything you need in one convenient location.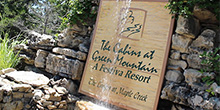 At "The Cabins at Green Mountain," get that wilderness resort experience, with all the trees, hiking trails, and outdoor activities, without leaving the heart of of Branson! Enjoy cabin lodging with city conveniences like nearby shows and attractions!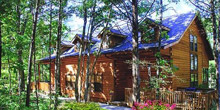 If you are looking for a comfortable retreat for just a few nights, our cabins provide distinctive accommodations and quality amenities with ultimate guest comfort in mind.