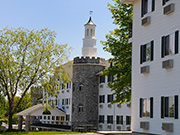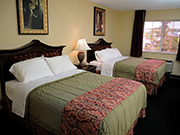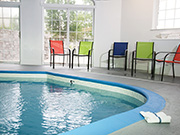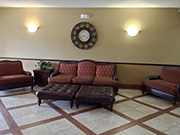 Stone Castle Hotel
Call Branson Tourism Center at: 1-800-785-1610
We invite you to stay in a luxury hotel that adheres to a strict code of ethics. With strong competition requiring travel specialists to be dedicated to service, it's imperative that you select a lodging partner you can trust.
The Stone Castle Hotel is committed to providing superb customer service and legendary hospitality! Our reasonable rates and impressive list of amenities assures you the best choice when you bring your group, conference, or special event to Branson.
Hot breakfast includes Scarmbled Eggs, Biscuits and Gravy, Coffee, Cold Cereal, Donuts, Scambled Eggs, Fresh Fruit, Hot Cereal, Juice, Milk, Tea, Waffles, Wheat Bread, White Bread, Bagels, English Muffins, Apple, Orange, Toast, and Jelly.
24 Hour Coffee
24 Hour Front Desk
Adjoining Rooms
Breakfast
Business Center
Cable
Conference Center
Indoor Corridors
Cribs
Elevator
Game Room
Guest Laundry - Coin
Indoor Pool
Internet Access
Internet in Rooms - WiFi
Jacuzzi
Local Channels
Maid Service
Pet Friendly
Premium Cable Channels
Public WiFi Internet
Rooms with Microwaves
Rooms with Refrigerators
Rollaway
Only Non-Smoking Rooms
100% Non-Smoking
Allows Pets
Business Center
Complimentary Hot Breakfast
Indoor Pool
Internet Access
Jacuzzi Rooms
Rooms w/Microwaves
Rooms w/Refrigerators