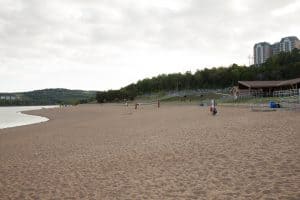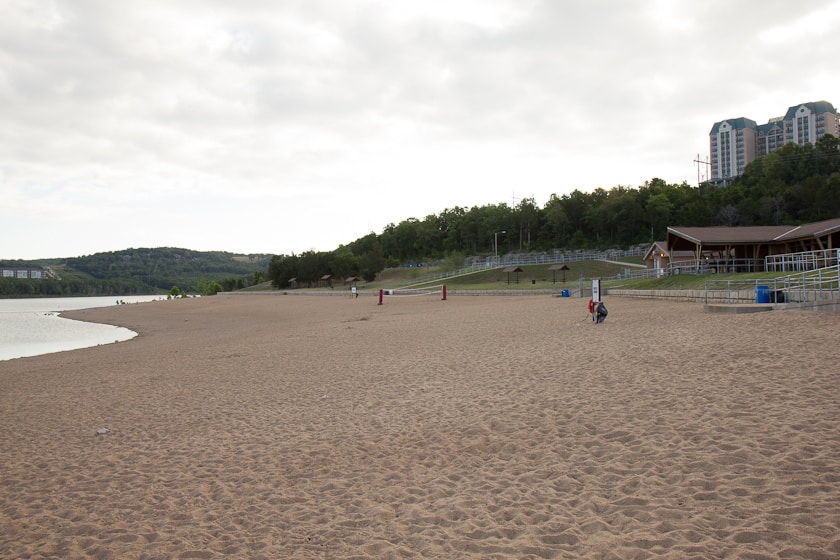 BRANSON, Mo., June 20, 2012 — "When one thinks of Branson, Missouri, a lot of things come to mind great live shows, shopping, golfing, fishing, a full slate of outdoor activities and attractions as varied as the National Tiger Sanctuary, the Titanic Museum Attraction and Silver Dollar City," said Tammy Johnson, the Director of Operations for the Branson Tourism Center. "One thing that does not come to mind however, is a beautiful big sandy beach, located within minutes of all that Branson has to offer," she continued.
Located on Table Rock Lake, at the north end of Table Rock Dam on State Highway 165 in Branson, "Moonshine Beach," the largest sand beach in southwest Missouri, is one of many U.S. Army Corp of Engineers (Corps) recreational areas on the lake. In the shadow of the Chateau on the Lake Resort, the beach is nestled in a long gentle cove like area of Table Rock Lake adding yet another element to the myriad of aquatic activities the 43,000 surface acres of the pristine lake provides.
Whether it's sunbathing, swimming or beach volleyball Moonshine Beach is a "full service" beach. Its amenities include picnic tables, food vendors, a boat launching ramp, showers, flush toilets a large picnic shelter (pavilion) and a kids play ground, but its primary feature and attraction is its large sandy beach.
Moonshine Beach is operated by Ozarks Rivers Heritage Foundation, a nonprofit corporation, under contract with the Corps. It is a "day use" facility with no overnight camping, is only open from 9:00 AM to 9:00 PM and requires the payment of a $5.00 per carload daily usage fee.
Branson Tourism Center's Johnson explains that Moonshine Beach is less than five minutes from the Shepherd of the Hills Trout Hatchery; the brand new multi-million dollar Dewey Short Visitors Center which opened earlier this Spring and less than ten minutes driving time from the famed Branson Strip and all it has to offer. She points out that it is best to arrive as early as possible if one wants to get one of the picnic tables and that the pavilion is available for rental.
For additional information on Moonshine Beach, the rental of the pavilion or any of Branson's other shows and attractions or for lodging arrangements please contact the Branson Tourism Center, one of Branson's largest and most respected vacation planning services by either calling their toll free number 1-800-785-1550 or through their website www.BransonTourismCenter.com.