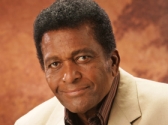 Charley Pride
Call Branson Tourism Center at: 1-800-785-1610 WEB CODE
BTC
"Charley Pride" pays a visit to Branson! The multi award-winning singing legend, with more than 25 country chart toppers, has always been a favorite in the home of live music shows. His strong, yet soothing, voice and that thousand watt smile has kept the country vocalist in the hearts of long-time and newfound fans alike. He may be best known for his huge cross-over hit, Kiss An Angel Good Morning, but his list of big songs is long; it includes, (I'm So) Afraid of Losing You Again, Let Me Live, Is Anybody Goin' to San Antone, A Shoulder to Cry On, Honky Tonk Blues, Someone Loves You Honey, and Mountain of Love.
"Charley Pride" is one of the best selling music artists of all time; his longevity in the business and strong commitment to staying true to his country roots has certainly generated an impressive list of accolades; two Grammy's, several American Music and Country Music Awards, including top male vocalist from both; Music City News Country's Male Artist of the Year for four straight years, a Living Legend award from TNN/Music City News, the Trumpet Award for Outstanding African-American Achievement, and a star on the Hollywood Walk of Fame.
Few country artists ever see the long-running and high-achieving success enjoyed by the incomparable "Charley Pride," make sure you pay him a visit in the place that's known for incredible country music entertainment...Branson, Missouri!