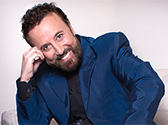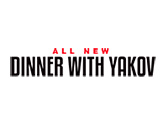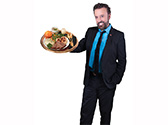 Dinner with Yakov
Call Branson Tourism Center at: 1-800-785-1610
There are billboards and ads all over Branson that read: "Danger! Explosive Laughter with Yakov!" It's no joke! Our favorite Russian, Yakov Smirnoff, delivers a dynamite comedy and side-splitting fun and laughter-packed show.
From the heartland of America, this funny philosopher takes your family on a comedic journey filled with love and laughter! Yakov's personal coming to America experience is touching and his take on American culture is absolutely hilarious. His genuine love for America is apparent throughout his show, and his patriotism is positively contagious. As Yakov says, "What A Country," your family will feel like cheering for the red, white, and blue! In this fast-paced production, Yakov takes a turn as the United States President, explores the Laboratory of Laughter, and delivers some razor sharp humor as well as unique insights into life, family, and these United States.
Yakov's authentic Russian Dance Troupe is thrilling as they leap and spin on stage. Speaking of spins...Yakov also uses keen observation and timely wit to comment on the dynamics between men and women. He's even earned his master's degree in applied positive psychology from the University of Pennsylvania. During his show, Professor Smirnoff provides humorous insight on the indisputable differences between the genders and shows us "Love and Laughter" go hand in hand!
Meet the Stars after the show!(When available)
Dinner Menu Includes: Carolina Pulled Pork, Roasted Chicken, Yukon Gold Mashed Potatoes, Creamy Vegetable Soup, Vegetable Medley, Sweet Cornbread Muffin, Bottled Water and a delicious dessert that is out of this world! Served with real silverware and a cloth napkin on a gold platter. My candlelight dinner is the most unique dinner you will ever have!