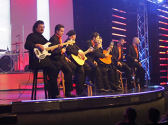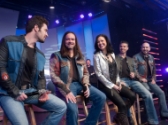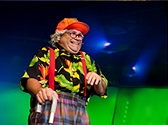 Pierce Arrow
Call Branson Tourism Center at: 1-800-785-1610
"The Pierce Arrow show is a home grown production that feels like it was created straight out of Las Vegas. Over the last 13 years, Pierce Arrow has performed for millions of fans using the most elaborate stage, sound, and lighting in Branson. None of this would be possible if not for God and our immense fan base. We want to thank you so much for your support and we look forward to meeting each and every one of our current and future fans"!
After you see us, it will be hard to imagine laughing any harder or hearing a broader variety of music sung any better than at The Pierce Arrow Theater. This is why Pierce Arrow is one of the hottest shows in Branson.
The cast of the show has reached many accomplishments as a group as well as individually over the years such as: opening for Sarah Palin, hand picked by former President George W. Bush to open for his personal rally, Guinness Book of World Records, American Idol Finalist, shared a stage with Jay Leno, appeared on the Bob & Tom show, and recorded a top ten country record with Kenny Rogers.
Meet the Stars at intermission and after the show!
New Year's Eve Show
Branson's Hottest New Years Eve Show - So Hot it's Epic! Want Funny? We got Funny? Special 9pm show with funny man Jarrett Dougherty, Pierce Arrow, Kenya Wilhite, Shonna Bonds and special guest stars. This is a three hour show with games and giveaways, live countdown with balloon drop and wonderful catered food from Vaskens Deli.