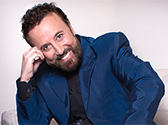 Yakov - Wake Up with Yakov
Yakov - Wake Up with Yakov
Call Branson Tourism Center at: 1-800-785-1610 WEB CODE
BTC
"Wake Up with Yakov" will definitely put a little humor in your morning...make that a whole lot of laughs in your day...this is the one-and-only Yakov Smirnoff after all! America imports everything from soup to nuts, and this is one nut who's been delighting folks for years! Although he's proudly carried a United States citizenship for many years now, Yakov's unique comical perspective on all things American has never dimmed. He still enjoys sharing stories of life in cold war Russia, and how some things haven't changed even with the fall of communism. It would be hard to believe there's anyone not familiar with Yakov's work, but just in case...he's been part of the entertainment world since the late 70's when he was a young Russian émigré. He's appeared on popular television shows like the sitcom, Night Court, and talk shows like Good Morning America, The Today Show, The Tonight Show, and the Late, Late Show with Craig Ferguson. He's appeared in the movie Moscow on the Hudson with the late and beloved, Robin Williams, and other movies like Heartburn with Meryl Streep, The Money Pit with Tom Hanks, and Brewster's Millions with Richard Pryor.
Yakov isn't just a funny guy, he's a well educated one; he holds a master's degree in applied positive psychology from the University of Pennsylvania, an Ivy League school. He doesn't let all that precious education and his life experiences go to waste, he's used it to help others understand the power of laughter in keeping marriage and personal relationships happy and strong. He firmly believes that love and laughter go hand-in-hand!
Yakov Smirnoff has an incredible natural wit and excellent observation skills when it comes to all kinds of people, so you definitely need to "Wake Up with Yakov" in Branson and let this funny philosopher of life kick-start your day with laughter!