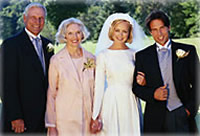 Weddings in Branson
Branson Weddings and Honeymoons – A perfect Match!
For years, couples from throughout the Mid-west have been quietly drawn to the Ozark's because of its romantic charm, natural beauty and the undeniable friendliness of its local residents. But now, the secret is quickly spreading across the nation that Branson is an ideal destination market for Weddings and Honeymoons.
Weddings are celebrated here for a variety of reasons. Branson, located within a day's drive of one-half of the nation's population, offers wedding services, amenities and accommodations at affordable values compared to other locations. And the stunning natural beauty and unflagging spirit here are often cited as reasons for choosing Branson as a destination for weddings.
You can enjoy a traditional wedding service at one of the area's numerous churches and chapels or you may select a unique venue such as Silver Dollar City, the Titanic Museum or one of the many fine hotels to host your ceremony. If secluding yourselves in 'natural surroundings' are your wish, you can exchange vows at a lakeside spot, on an Ozark Mountain top or aboard a lake cruise. In Branson, it is all possible!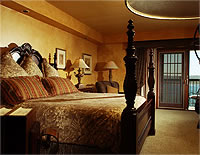 Chateau on the Lake
Not to worry! Branson is blessed with an abundance of service providers to help you. Florists, Jewelers, Photographers, Videographers, Restaurants, Caterers, Transportation companies, Formal Wear Shops- just to name a few of the motivated professionals waiting to provide you with excellent service. You'll have no trouble finding an ideal hotel, bed and breakfast, cabin or resort, from economy to luxury, for your perfect honeymoon stay.
And best of all – you are not far from the legendary excitement that makes Branson an annual destination for several million visitors. Enjoy live entertainment, fun attractions, golf and other activities, wonderful restaurants and much more.
Congratulations! We look forward to serving you!
Browse this section to learn more about a Branson Wedding or Honeymoon!