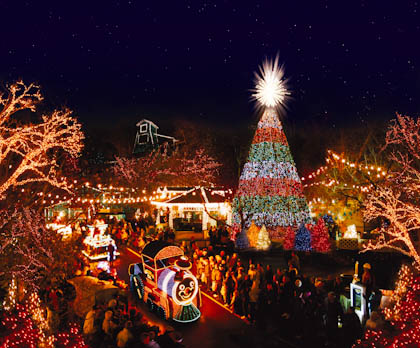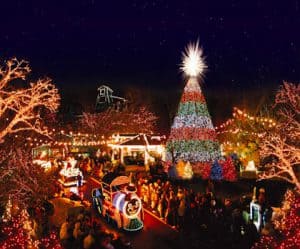 "What exactly is 'Ozark Mountain Christmas?", Tammy Johnson, the Director of Operations for the Branson Tourism Center was asked. She replied, "It's not just one thing. It is a unique Branson wide celebration of the true spirit of Christmas that has been celebrated for over two decades."
"From Branson Landing on the shores of Lake Taneycomo in historic downtown Branson to Silver Dollar City miles to the west, Ozark Mountain Christmas is filled with everything one would expect from a world class Christmas celebration," said Johnson. "It has everything from Reindeer and Santa Claus to a spectacular five story high Christmas tree, millions upon millions of beautiful Christmas lights and drive through lighting displays. Branson's shows, attractions, shopping and other activities take on the festive look and feel of the season, but that's not what makes it unique," she added.
Johnson said, "Its uniqueness comes from the spirit of a Branson community that will be holding its "62nd Annual Adoration Parade" in historic downtown Branson and lighting a giant Nativity Scene, high atop Mount Branson, as it celebrates the reason for the season and honors the birth of the very child for whom Christmas is named. Starting with the celebration of an Old Time Christmas at Silver Dollar City and running through the majority of Branson's shows, attractions, shopping and other activities Branson is one of the few places left in America where the true spirit of a traditional American Christmas is celebrated and honored."
Silver Dollar City's An Old Time Christmas, running from November 6 through December 30, is a major focal point of Ozark Mountain Christmas and has been recognized as one of the nation's top Christmas celebrations. The 1880s-style theme park is transformed into a glowing Christmas extravaganza with over four million sparkling lights throughout the park; a twice nightly Holiday Light Parade with over 100,000 lights; special shows including the Broadway style production of an original musical adaptation of "A Dickens' Christmas Carol," produced by Silver Dollar City; "The Living Nativity" and" Frosty;" one-of-a-kind handmade gifts made and showcased by Silver Dollar City's 100 demonstrating craftsmen and festive holiday foods.
Ozark Mountain Christmas has two major drive through lighting displays. The Branson Area Festival of Lights is a one mile trip through more than 175 sparkling lighting displays, many of which are animated, and is conveniently located a few blocks off the Branson Strip. The Shepherd of the Hills Trail of Lights is a two and a half mile journey through of millions of Christmas lights, hundreds of gorgeous displays, holiday music, and animated scenes most of which have been integrated into the natural terrain of the Shepherd of the Hills Homestead. It provides one of the most unique and memorable drive through lighting experiences most people will ever experience. In addition it includes a "trip to Inspiration Tower where guests can ride glass elevators up 230 feet for a Santa's eye view of the lights from above."
Of course Ozark Mountain Christmas will also feature the live shows that make Branson the "Live music show capital of the world." There are two major categories of Christmas shows both of which, in the majority, celebrate the true spirit of Christmas. The first are the shows that are only available during Christmas such as the Andy Williams Christmas Show, Spirit of Christmas, Miracle of Christmas, Tony Orlando and the Lennon Sisters Christmas Celebration.
The second is the Christmas shows of Branson's regular shows. Although there could be some changes generally this will include a first half containing the most popular parts of the shows regular season show and a second half that is the shows "Christmas" show. If last year's performances by George Dyer, Pierce Arrow, Jim Stafford, Hamner and Barber Variety Show, Presleys' Country Jubilee, Yakov, Duttons, Hughes Brothers, Rankin Brothers, Baldknobbers and Haygoods is any indication, the Christmas version of these shows should not be missed.
Many of Branson's attractions have special activities for Ozark Mountain Christmas. A partial list includes the Polar Express operated by Branson Scenic Railways on Fridays and Saturdays from November 12 through December 18, Father Christmas and Reindeer at the Titanic Museum on Friday and Saturday November 26-27, December 3-4 and 10-11, Ride the Ducks Land and Lighting Tour from November 1 through December 12 and White Flight at the Butterfly Palace and Rainforest through January 15.
In terms of Christmas shopping Ozark Mountain Christmas is unsurpassed. From the shops at Branson Landing on the shores of Lake Taneycomo to handcrafted items by the craftsmen and artists at Silver Dollar City's Old Time Christmas, three outlet malls and specialty shops for just about every interest Branson is a Christmas shopper paradise.
Branson Tourism Center's Johnson said that the 62nd Annual Adoration Parade and Lighting Ceremony on December 5 continues a long standing Branson tradition. The lighting ceremony will be conducted near the intersection of Commercial and Main Streets in historic downtown Branson at 5:00 p.m. However, when the switch is flipped it will light the giant 30 foot tall figures of a Nativity Scene located on top of Mount Branson on the opposite side of Lake Taneycomo overlooking downtown Branson. The lighting ceremony is followed by one of the few, if not the only, noncommercial, lighted nighttime parades in the United States devoted to the theme of "Keeping Christ In Christmas."
Johnson says, "Ozark Mountain Christmas is a special event, not only in terms of all that Branson has to offer, but in terms of experiencing the true spirit and meaning of a traditional American Christmas. What a wonderful way for locals and visitors alike to get into the true Christmas spirit."
She reminds visitors that Ozark Mountain Christmas is one of the busiest times of the year in Branson and suggests advance reservations for shows and lodging. For additional information on Ozark Mountain Christmas or for tickets or information for any of Branson's other shows and attractions or for lodging arrangements please contact the Branson Tourism Center (BTC), one of Branson's largest and most respected vacation planning services. BTC can be reached by either calling their toll free number 1-800-785-1550 or through their website www.BransonTourismCenter.com.