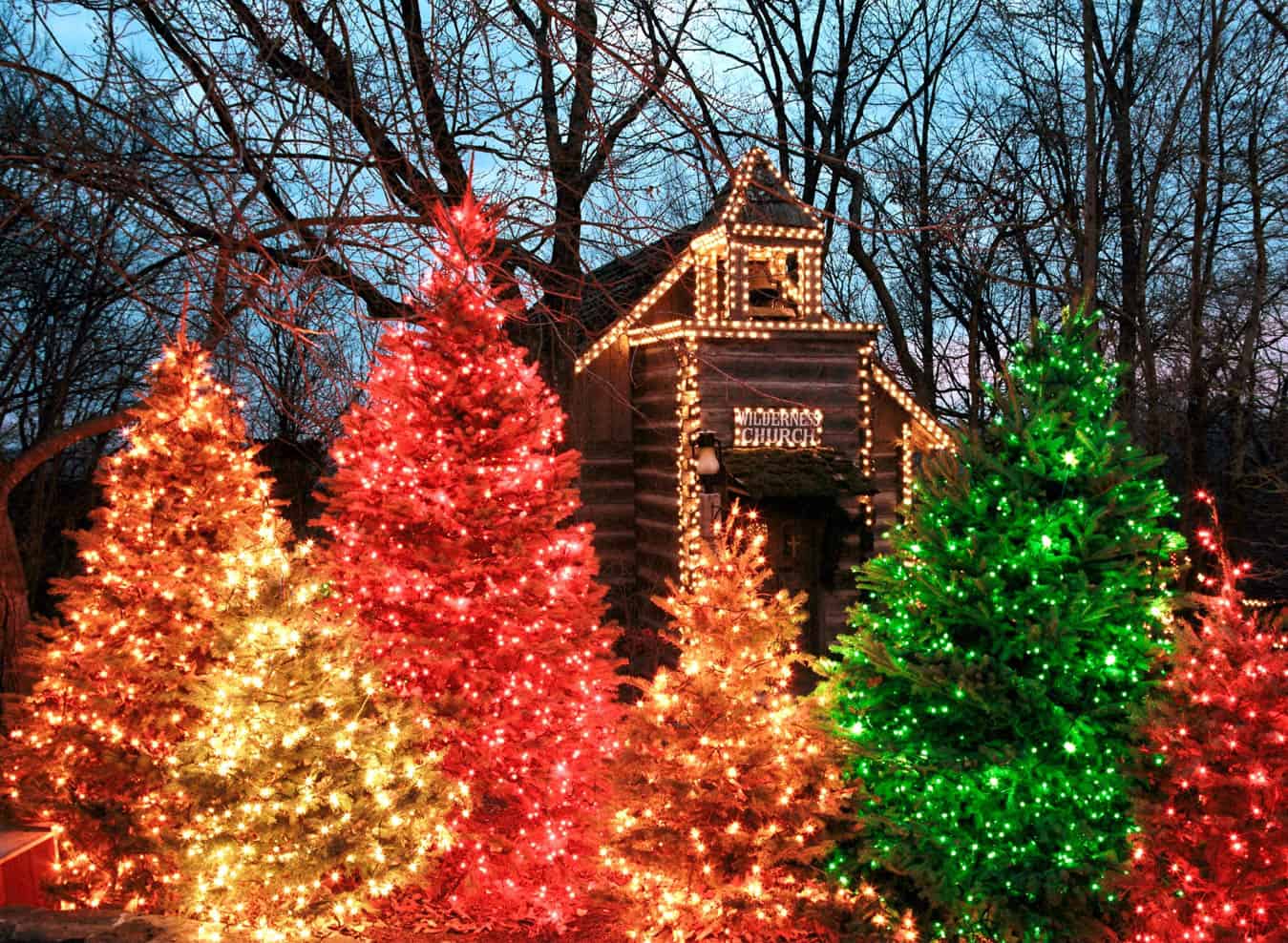 "Have you ever asked yourself, 'What's happened to the traditional American Christmas?' A visit to Branson during its celebration of Ozark Mountain Christmas just might answer that question," said Annette Wood, Director of Sales and Marketing for the Branson Tourism Center. "Ozark Mountain Christmas, running from November 1 through December 31 of each year, combines the very best of what Branson has to offer into a unique community wide celebration of the traditional American Christmas that is Branson's biggest and most popular event of the year," she added.
Wood said that it sets the Ozarks aglow with the lights, spirit, excitement, and anticipation of Christmas. From Silver Dollar City's "An Old Time Christmas Festival" to the lit "Adoration Scene" on top of Mount Branson, Branson glitters not only in the color and beauty of millions upon millions of lights, Christmas shows, entertainment, shopping, and fun but, in the true spirit of Christmas. "It is the celebration and honoring of that spirit, that makes Ozark Mountain Christmas a unique Christmas celebration unlike any other," she said.
One of its most unique elements is the spirit of the traditional American Christmas that is prevalent in most shows, attractions, and businesses. It's OK to say "Merry Christmas" and socially acceptable to acknowledge that Christmas is the celebration of the birth of Jesus Christ. One of the major annual highlights of Ozark Mountain Christmas is the annual "Adoration Lighting Ceremony and Parade" dedicated to "Keeping Christ in Christmas." The 68th annual lighting of the huge Nativity Scene on top of Mount Branson and night "light parade" will be held on December 4 in historic downtown Branson.
Silver Dollar City's "Old Time Christmas Festival," with its over 5 million Christmas lights has been perennially recognized nationally, as one of the best Christmas light displays in America.  It also features a 5 Story Special Effects Christmas Tree, two Broadway productions, and the Holly Jolly â"¢ Christmas Light Parade with "Rudolph The Red-Nosed Reindeer & Friends." The activities for "Old Time Christmas" are in addition to the parks other activities including, weather permitting, its 30 plus rides and attractions.
In addition to Silver Dollar City's 5 million plus Christmas lights, a strong Christmas lighting theme is continued throughout the entire Branson area with Christmas decorations and lights on utility poles and in many Branson businesses. Branson Landing, with its spectacularly lit 50′ Christmas Tree highlighting its transformation into "Winter WonderLanding," and the Shepherd of the Hills Trail of Lights drive through lighting display, with its millions of colorful sparkling Christmas lights, and numerous beautiful displays, add even more lights and excitement. The lights lighting up the giant 30-foot Nativity Scene, high above Lake Taneycomo overlooking historic downtown Branson and Branson Landing, continues a 68-year tradition of "Keeping Christ in Christmas."
As would be expected in a town noted world-wide for the variety and quality of its live entertainment shows, Branson's shows provide a special Christmas excitement, inspiration, and spirit to Ozark Mountain Christmas starting during the first week of November. For the majority of Branson's shows that is a blend of the best from their regular season show and Christmas, generally performed during the second half of the show. Each show's Christmas segment is presented in their own unique way and is a special Christmas blessing. Other shows such as the Andy Williams Christmas Extravaganza, Christmas Wonderland, Hughes Brothers Christmas Show, Hallmark Presents Maxine's Christmas Carol, and others are totally Christmas shows.
What would Christmas be like without shopping? Branson offers a year-round world class shopping experience including Branson Landing; a large variety of unique galleries, craft shops, boutiques, and specialty shops; as well as discount malls such as the Tanger Factory Outlet Center and The Shoppes at Branson Meadows. Wood said that when combined with the fun, spirit and excitement, of Ozark Mountain Christmas, it's easy to see why so many do their Christmas shopping in Branson.
Branson is a special place to visit anytime, but it's hard to imagine a better place to get in the true Christmas spirit than in Branson, Missouri, during Ozark Mountain Christmas.
For additional information on Ozark Mountain Christmas feel free to contact the Branson Tourism Center, by either calling their toll free number 1-800-785-1550 or through their website www.BransonTourismCenter.com.
* Photo courtesy of Silver Dollar City