11. Mesh Collapsible "Hamper" Bag: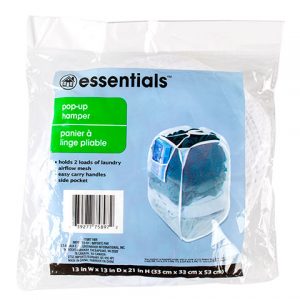 Gather up the littles and let's head to Moonshine Beach for a fun day of water and sand play!
At the end of the day the littles have had a blast digging in the sand and making sand sculptures, now it's time to pack it all up and head back to the room. Ooh wait, everything is all gritty with sand, it is going to get all over the car, and then the room. But you were smart & stopped at a dollar store and picked up a collapsible hamper, now you can put all those beach toys and water shoes inside the hamper and give them a shake. Let all that sand stay at the beach where it belongs and not in your car, luggage, or room.
*Bonus Hack– After playing in the sand at the beach, sprinkle a little baby powder on yourself that is covered in sand, brush it off, and the sand will go with it. (The baby powder absorbs the moisture.)*
Another handy use for the mesh hamper is to actually use it as a hamper. Instead of tossing dirty clothes on the floor *yuck* or shoving them in the plastic laundry bag found in the closet *stinky ew*, hook the mesh hamper to the back of the bathroom door or on the door knob and toss in your dirty dainties, soiled socks, or whatever until it is time to pack it up and head home. If you happen to have a dryer sheet (we'll talk about that in a bit), toss that in with the clothes in the luggage, you'll thank me later.
---
12. Larger Container with Clip-lock Lid:
There are so many things you can do with these handy containers.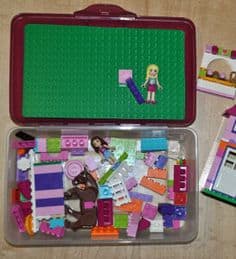 One friend of mine has a little "master-builder" [Lego® Movie reference]. She loves to build incredible creations out of those colorful plastic blocks. And when they travel, those blocks must come too. So they cut down a Lego board to fit inside the container and filled it with blocks. Now she can build to her heart's content and it can all stay in one place. Add in some print outs of patterns to be created with the blocks (good instruction following or math exercise), or pick up the little pre-set kits of Lego® that build just one or 2 designs.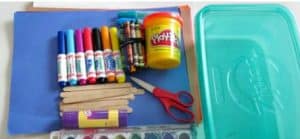 My nieces are great little artists (I am not biased in the least), they can sit quietly for hours doodling, coloring, and making up stories about their artistic creations. Another use for these containers is to make a traveling art case. Adhere some paper or sticky note pads to the inside of the lid (I us a cardboard backed notebooks and the handy hot glue gun), and fill the rest with crayons, markers, color pencils, glue stick, and doo-dads to decorate their masterpieces.
---
13. Groovy Glow Sticks: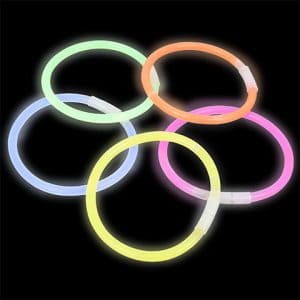 You will see glow sticks at most of the kids' shows in Branson, but they be a tad expensive. Stop in to the nearest dollar store and get your own. I've seen them come 20 to a tube with connectors to make bracelets or necklaces. Now, aside from just looking fabulous in your glow in the dark accoutrements, they can be a handy thing for the littles.
If your hotel or resort has the pool open a little after dark, the glow sticks would make a fun game of "fetch" for your strong swimmers.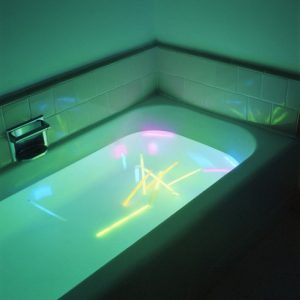 Make bath time more fun (and less stressful) by activating and dropping a few in the bath water. Turn out the lights (leave the door open a bit, we don't want screaming) and let your little have fun while you are in there for safety.
Another great use for these "magical glowing wonders" is a makeshift nightlight. Both bigs & littles can feel uneasy sleeping in a new place, away from home. Help make bedtime feel somewhat normal with a nightlight made of glow sticks. They can wear them on their wrists or loop some around the bedside lamp and one on the door knob if they have a separate room. This will make those night time bathroom trips safer.
When they sleep well, you sleep well.
---
14. First Aid Kits or the makings of one: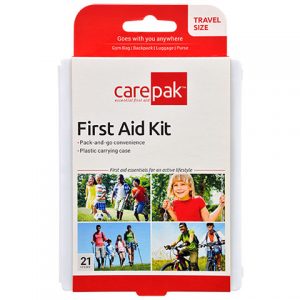 You can get a simple one at the dollar store, the one pictured states it has 21 pieces, but it is just antiseptic towelettes and a variety of bandages. Which got me pondering as I was wandering the aisles of our local dollar store and thought, do we have bandages at home? Medical tape? Antiseptic wipes? Hmm, better stock up.
That got me to thinking about how to assemble a simple first aid kit for when we travel. If you don't find one pre-made (those can get costly), think about what you would like in one and put your own kit together.
A sample list to consider can be found here. Print this list off and keep it glued inside the lid of your kit (if you can get it laminated, you can check off the items that are in the kit or note which are need of replacement).
---
15. Binder Clips to the Rescue: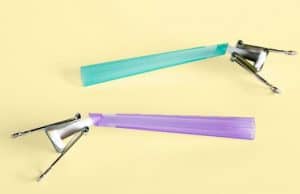 You may have a couple dozen of these in your junk drawer at home that have mysteriously followed you home from work (don't worry, we won't tell), grab one or 2 before you leave and toss them in your toiletry bag for your trip to Branson. Use it to cover your razor so you don't nick yourself reaching into your bag since that little plastic razor cover always seems to disappear after the 1st use.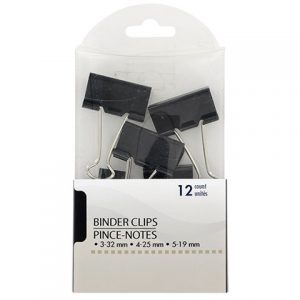 You've arrived at the hotel and notice the curtains just don't want to stay closed, clip it. These will help greatly in keeping the room dark while you are sleeping.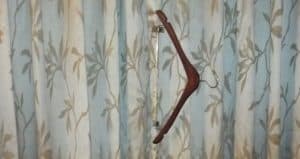 (Level Up Hack! If for whatever reason, you end up without a binder clip and need a quick fix for the curtain gap; check the closet for a hanger with the clips on the bottom to hang pants or skirts. Use that to clip the curtains closed.)
Another idea, you've set up all your essentials in the hotel bathroom, and for whatever reason don't want your toothbrush just laying on the counter, use the binder clip to elevate the toothbrush.
These are also handy for headphone cord managing. Place the ear buds inside the clip, wrap the cords around the handles and clip it to your bag, or cinch sack. We'll talk more about cinch sacks next.
---
16. Cinch Sacks are a Cinch Hack: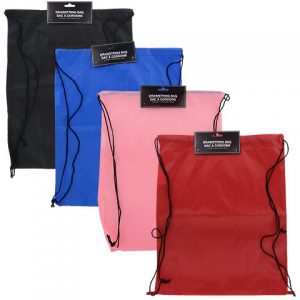 It never fails, any time we've gone to the dollar store, as we are checking out; there is a rack full of colorful cinch sacks. Now you may be wondering, why would you need a cinch sack on vacation, you've packed that perfectly good backpack or did you?
Well, considering they are only $1, it is worth having a couple as back ups. While you are in Branson you may have planned a trip to White Water or the lake for a "splash" of fun. [Sorry, probably too late to warn you about the puns.] Take each cinch sack, pack a towel, water bottle, and zipper bag of snacks and hand them to each child to keep up with. It will make the littles feel like they are helping and teach a bit of responsibility. After you've "soaked" up all the fun you can handle, stuff the wet towel back in the sack, most of them are watertight and that's all right. Skip the towel and still pack it for a trip to Silver Dollar City or the area trails.
---
17. Just In Case Rain Ponchos: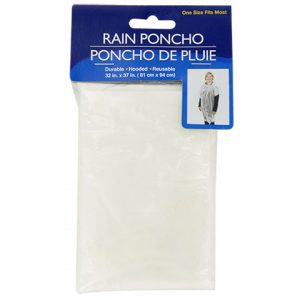 Not every day can be sunshine and rainbows. One Branson saying is, "if you don't like the weather, stick around, it is sure to change." And when it does, you want to be prepared. I am not trying to "rain" on your parade, I'm just saying it never hurts to be prepared.
If it doesn't rain, it might come in handy to keep the littles clean if you do an art project together at the condo, to keep yourself dry as the little one splashes around at bath time, or for the messy eaters if you forgot or ran out of bibs.
---
18. So Many Books, So Little Time:
Again, if there is time for such a leisurely activity, pick up inexpensive books at the dollar store. You probably won't find the latest New York Times top 10 there but you'd be surprised what you will find for reading material and if you finish it while on vacation you can donate it to a thrift store or library. Some hotels & resorts even have a lending library on site, so leave it for them. Or utilize it for your own reading pleasure. If you are an avid reader you might consider downloading an app or load up the e-reader to enjoy your favorite novels (many of the classics are free to download), or download audio books to an MP3 player.
---
19. Brightly Colored Ball Cap or Visor:
Somehow, through some sort of secret ninja training the littles receive at school or on the playgrounds I guess, they can just disappear from you in an instant, blending in with the crowd. Don't let that kind of panic set in. Make them stand out with a vibrantly bright ball cap or sun visor or big bright bow.
Perhaps when going to Silver Dollar City you can have special bright shirts made up to match the family so you can spot each other easier. We are big fans of tie-dyed shirts, there are fun and easy to make.
---
20. Cheap (inexpensive) Sunglasses: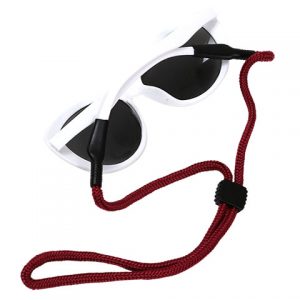 When writing this, ZZ Top's song "Cheap Sunglasses" came to mind. And in all my years, it never fails, the more costly the sunglasses, the easier they are to lose. But the cheap ones, almost never get lost. I still have a pair of cheap old shades I picked up for a float trip 20 years ago. You can even get those eyeglass cords that slip on to the back of the glasses to wear around your neck so you don't ever misplace them.