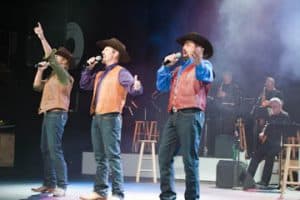 Millions of people saw the "Texas Tenors" on NBC's "America's Got Talent" and watched their amazing forth place finish. A packed house at the Starlight Theatre in Branson, Missouri was able , got to not only see and hear the Texas Tenors, but to experience their dynamic performance live, up close and personal, as they opened a series of four limited engagement performances on Mother's Day, May 8.
The "amazing" thing about the Texas Tenors is that in the Spring of 2009, there was no Texas Tenors. Three friends, J.C. Fisher, Marcus Collins, and John Hagen decided to combine their talents and come together to audition for NBC's "America's Got Talent (AGT)." The result was the Texas Tenor. Their audition for AGT took place on May 9, of 2009, exactly one year to the day from their Branson performance, and the rest is history.
Their personalities, story, talent and song choices had them performing in front of millions of people week after week through their AGT Top Ten appearance and fourth place finish. Those same characteristics coupled with their charisma and ability to relate to their audience gave them a "first place" finish with their Branson audience.
Accompanied by the nine piece "Longhorn Orchestra," composed of some of the best instrumentalists in Branson, the Texas Tenors presented an amazing performance of a variety of music from Rascal Flats to Puccini. From the very first note of their first number, "Play Me Some Mountain Music," to their very last note, the power and beauty of their singing enhanced by their innate ability to relate to their audience and get them involved with the performance provides a unique and amazing entertainment experience.
Their song choices are cross generational songs that most people love such as "Danny Boy," "You Raised Me Up," "O Solo Mio," "Unchained Melody" and ""God Bless the USA" to mention just a few. However, it's not just the songs they sing, it is the way they are arranged and presented that makes them special.
Actually, it's something that is hard to describe, but a joy to experience. There is a synergy that results as their individual styles are blended into each piece through unique arrangements, many of them done by Texas Tenor, John Hagen, resulting in a unique and entertaining presentation of some of the most well known and best loved songs ever. The Tenor's presentations of the Righteous Brothers classic "Unchained Melody," the Josh Groben hit, "You Raised Me Up" and "God Bless the USA" illustrate that point.
There were so many highlights for this writer in the show it's hard to chose which to highlight. Suffice it to say that among others, special highlights for him were the solo presentation of the Rascal Flats hit, "God Blessed A Broken Road" by Marcus Collins, the acapella rendition of "Shenandoah," "You Raised Me Up" with George Geisser featured on the fiddle and the aria "Nessun dorma" (None shall sleep) from "Giacomo." They call Branson the "Live music show capital of the world. With its live orchestra and great vocal presentations the Texas Tenors present the kind of show that adds the meaning to the word "live" and should not be missed.
"This is another example of the quality and variety of the entertainment available in Branson" said Paul Miller, General Manager of the Branson Tourism Center. "Although their current limited engagement is over on May 12, the Texas Tenors will be returning to Branson on September 28 and be performing through October 23."
For additional information or tickets for the Texas Tenors or any of Branson's other shows, attractions and activities or for lodging arrangements please contact the Branson Tourism Center (BTC), one of Branson's largest and most respected vacation planning services. BTC can be reached by either calling their toll free number 1-800-785-1550 or through their website www.BransonTourismCenter.com.