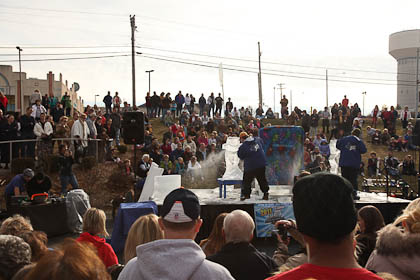 Michael Stoddart's spectacular ice carving, "Flight Under the Sea," won first place in the 5th Annual Professional Ice Carving Competition, held in Branson, Missouri at the Titanic Museum from 9 a.m. to 4 p.m., on Saturday, January 15, 2011. The event featured National Ice Carving Association's (NICA) "Titans of Ice" competing against each other for cash prizes in two divisions, Professional and Amateur.
"It's absolutely amazing how these artists can take a 250 pound blocks of ice and create these amazing creations in such a short period of time," said Tammy Johnson, the Director of Operations for the Branson Tourism Center. The resulting sculptures were judged by an official NICA judging panel with the following results in order of finish within the Division, amount of prize, name (location) and the title of the piece:
Professional Division
1st Place/$2,000 – Michael Stoddart (Lexington, KY) – Flight Under the Sea
2nd Place/$1,500 – Ken Burkemper (Oklahoma City, OK) – Feeling Empty
3rd Place/$1,000 – Jeffrey Kaiser (Masury, OH) – She's an Angel
4th Place/$500 – Naomi Hamamura (St. Louis, MO) – Mountain Lion
5th Place/$250 – David Smith (Westerville, OH) – Dragonametry
6th Place/$250 – Sean Leahy (San Antonio, TX) – Me Against the World
7th Place/$125 – Alex Moore (Western Grove, AR) – Wave Walker
8th Place/$125 – Stephan Koch (Yorktown, IN) – View From Above
Amateur Division
1st Place/$500 – Nan Li (Dublin, OH) – Art of Flight
2nd Place/$400 – Louis Medlork (Springfield, MO) – Wanda
3rd Place/$300 – Jayme Schumacher (Columbus, OH) – Great Escape
4th Place/$200 – Corey Webb (Lexington, KY) – Tortuga
5th Place/$100 – Tyler Stricklin (Branson, MO) – Eagle Scout
6th Place/Honorable Mention – Dallas Parsley (Saint Ann, MO) – Mantis
Titanic's 1st Class Choice Award – Ken Burkemper $200
In addition to competing for thousands of dollars in cash prizes, the carvers were also competing for professional recognition within NICA and seeking points under NICA's certification program. NICA, headquartered in Oak Brook, Illinois, is an association with the stated objective of "promoting ice sculpture through education, competitions, standardized judging, and exhibitions."
Branson Tourism Center's Johnson said, "The Titanic has a reputation for always having something new and exciting for their visitors to see. In addition to a list of special events they have just completed their annual refurbishing of the ship and exhibits during which they added a number of new and exciting exhibits. I am looking forward to seeing the massive new interactive wall display showing the Route Map of the Titanic's Maiden Voyage I hear that it is just spectacular."
For additional information or tickets for the Titanic or any of Branson's other shows and attractions or for lodging arrangements please contact the Branson Tourism Center (BTC), one of Branson's largest and most respected vacation planning services. BTC can be reached by either calling their toll free number 1-800-785-1550 or through their website www.BransonTourismCenter.com.
*Photo courtesy Titanic Museum