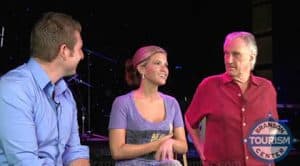 By now just about everyone on the planet who follows the hit NBC prime time show "America's Got Talent (AGT)" knows that Michael Grimm won this year's competition. What many people might not know however, is that when his taped audition was presented nationally on AGT he was performing with "The Righteous Brother Bill Medley Show" in Branson, Missouri and that prior to that time he had been touring with Bill and McKenna Medley.
In an interesting and exclusive video interview, Bill and McKenna Medley share their insights and feelings about Michael. From the very beginning of their relationship with Michael they were impressed with not only his great guitar playing and vocal style, but his passion for his music. Bill Medley said, "He's a remarkable singer, a great guitar player and, most important, he's just a wonderful wonderful kid."
When asked how she felt about Michael winning McKenna Medley said, "So, so excited." How excited? She said she got so excited that instead of being on stage for the end of the first half of the show with her dad, she was watching Michael win on the TV in the "Green Room" and ran out barefoot just as the curtain was dropping.
The interview and video production was sponsored by Branson Tourism Center, one of Branson's largest and most respected vacation planning services and sellers of Branson show and attraction tickets and lodging. Levi Michael, the interviewer and Director of Marketing for the Branson Tourism Center said, "Michael's performing with Bill and McKenna in the Righteous Brother Bill Medley Show in conjunction with his involvement with AGT and their willingness to share some of their insights with us afforded a unique and timely opportunity. The video shares a personal and exclusive view, not only of Michael Grimm, but the caliber and type of talent that is available in Branson's live shows on a daily basis."
The approximately ten and a half minute video was beautifully and artfully filmed and edited by Chris Canote, the Videographer, for the Branson Tourism Center. Canote has produced a video that weaves together the interview, never before seen footage of Grimm performing in Branson with The Righteous Brother Bill Medley Show and actual clips from his AGT appearances into a video experience that is as entertaining and interesting as it is informative.
Click here to view the video.