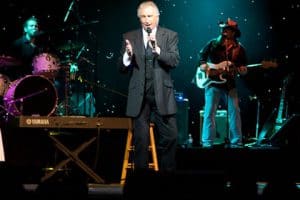 It's ironic in a way, one of the Righteous Brothers most popular songs, "You've Lost That Lovin' Feelin" talks about a "love" that is gone and yet, even after almost five decades, the performance of their music is a testimony to love, the endurance of that music and what it has meant to the American music scene. The Righteous Brother Bill Medley Show presents the great Righteous Brothers hits unchained and unplugged in an engaging and entertaining musical experience covering some of the greatest musical moments of our time.
The Righteous Brothers, Bobby Hatfield and Bill Medley, performed together from 1962 until Hatfield's untimely death at age 63 in 2007. During that time, while their music incorporated the style of black soul singers, they developed their own unique emotional style of "white pop" as reflected in timeless hits such as "(You're My) Soul and Inspiration," "You've Lost That Lovin' Feelin'," "Unchained Melody" and others.
One of the highlights of the first half of the show is the featured singing of Bill Medley doing a number of the Righteous Brothers hits such as "Let the Good Times Roll," "(You're My) Soul and Inspiration," "Rock and Roll Heaven," and "Unchained Melody" The remembrance of Bobby Hatfield incorporated into the performance of "Rock and Roll Heaven," and "Unchained Melody" was very touching and well done.
Another highlight was the introduction to the singing of McKenna Medley, Medley's daughter, who has a beautiful voice. Her introductory duet with her dad of his hit duet with Jennifer Warnes "Time of My Life" and her performance of "You Oughta Be Here With Me" from "Big River" were two of this writers favorite highlights from her performances.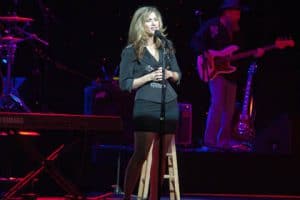 The live band is composed of some excellent instrumentalists and vocalists with Bob Gulley, Bass; Larry Hanson Keys/Sax; Tim Lee, Keys; Gabe Rabben, Drums and Michael Grimm, Guitar. In addition to their excellent playing Bob Gulley and Michael Grimm were featured throughout the show in numbers such as "You Don't Know Me" "Loving Arms" and others. The shows rendition of "Bridge over Troubled Waters" and its dedication to America's Veterans was one of this writers favorite parts of the show.
The second half of the show is more informal as the band "unplugs" from their normal position and moves up to the front of the stage with Bill and McKenna for a more informal and up close "jam session" type of performance with the audience. They sing numbers like "Lil Latin Lupe Lou" written by Medley; "My Babe," which he said was his favorite Righteous Brothers song; "Old Friend," and many others.
It was a neat experience and among many highlights, two stood out to this writer. The first was the interesting integration into the shows music of the stories that Medley shared about his career and the Righteous Brothers. If you have always wondered how two guys that were not brothers came up with the name "The Righteous Brothers" you will wonder no more after seeing this show.
Another interesting and entertaining part of the show was Medley's explanation of his belief that rock and roll is made up of three elements country, blues and gospel. Each of the individual elements was musically illustrated with the performance of "Please Help Me I'm Falling," "Baby What You Want Me To Do" and "Swing Low Sweet Chariot" which lead into a spirited rock and roll segment with "Jail House Rock," "Peggy Sue" and others.
The Righteous Brother Bill Medley Show is a delightful journey through almost five decades of American musical history performed by the man who was a large part of that history and whose voice and music has played such a part in so many of our lives.
For additional information or tickets for The Righteous Brother Bill Medley Show or any of Branson's other shows, attractions and activities or for lodging arrangements please contact the Branson Tourism Center by either calling their toll free number 1-800-785-1550 or through their website www.BransonTourismCenter.com.