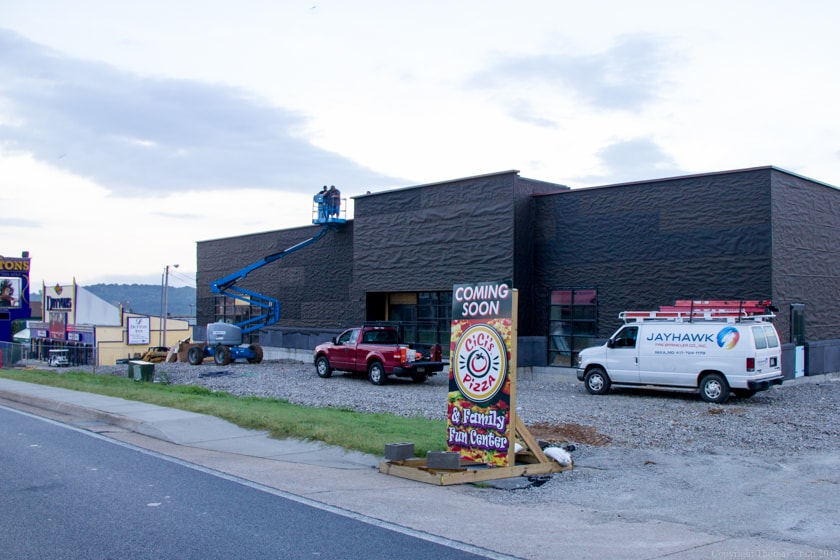 In October of 2014, it was announced that Coppell, Texas based CiCi's Pizza, with almost 500 restaurants nationwide, had signed a franchise agreement with Fogle Enterprises Inc. to open a CiCi's Pizza in Branson. CiCi's is known for its "made-from-scratch dough," the wide variety of pizza it offers on its buffet, its family-friendly atmosphere, and its large game room area.
The announcement anticipated that the new Branson CiCi's, located at 3460 W. Highway 76, where the Plantation Restaurant was formerly located, would open in the spring of 2015. As the attached photo indicates, it appears that construction on the new restaurant is moving along rapidly. A telephone conversation held today with a spokesperson for CiCi's Pizza, at its Coppell headquarters while not giving an exact date that the Branson CiCi's will open, indicated that they are anticipating a late August or early September opening.
Nolan Fogle, the owner of Fogle Enterprises said, "CiCi's is a great concept to bring to the Branson community and … we are thrilled to be able to expand our business, bring more affordable dining options to the area, and create about 50 jobs for local residents." CiCi's CEO Darin Harris said, "Our team is proud to welcome Nolan and Babette to our franchise system. I don't believe that we could find a group that is better-equipped to help us expand the brand into the Branson community." In addition to the new CiCi's, Nolan and his wife, Babette, operate or manage a number of Branson restaurants including The Great American Steak and Chicken House, The Fall Creek Steak and Catfish House, and Pasghetti's Italian Restaurant.