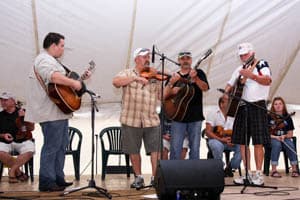 BRANSON, Mo., July 20, 2013 — "Branson is so blessed to not only have such an active and vibrant downtown Historic District, but one that is committed to maintaining the history and traditions of our Ozark's heritage," said Tammy Johnson, the Director of Operations for the Branson Tourism Center. "The quarter century tradition of Historic Downtown Branson hosting a Fiddle Festival is, but one testimony to that commitment," she added.
Jessica Luthhardt, the Event Coordinator for the "Downtown Branson Betterment Association," formerly known as the "Down Town Main Street Association," said that the 25th Annual Downtown Branson Fiddle Festival & Mid America Fiddlers Championship Contest will take place in Historic Downtown Branson on Saturday August 3 and Sunday August 4. All rounds of the Fiddle Contest and Free "Fiddlin' Jam Session & Gambler's Draw" will be held inside the "Ozarks Music & Culture Tent," located on the parking lot at the corner of Atlantic and Commercial Streets in Historic Downtown Branson, right behind Dick's 5 & 10. Luthhardt added, "The Fiddle Festival is an event presented not only to preserve the tradition and heritage of fiddle playing in Branson and the Ozarks, but to keep it vibrant and relevant to today and a new generation of players and listeners."
The Mid America Fiddlers Championship Contest will start on Saturday August 3 with Registration and check in at 8:30 AM on August 3 with the Preliminaries for the PeeWees, Juniors, Seniors, Accompanists, Adult and Open Divisions running, in that order, from 10 AM to 3 PM as they compete for $7,000 in cash prizes and an invitation to the 2013 "Grand Masters Fiddle Championship" in Nashville.
At 3 PM the top competitors from each Division in the preliminaries will be announced. In addition, the top five in the Junior, Senior, and Open Divisions will compete in the Finals on Sunday August 4 to win their respective Divisions and the coveted title of "Grand Champion" and its additional $1,000 cash prize. In addition, each of the Divisional winners "will receive an invitation to the 2013 Grand Masters Fiddle Championship in Nashville."
For the past five years the contest's Grand Champion has been Bubba Hopkins, but he won't be winning his sixth consecutive title. He along with Lydia Ryals Stuart and Evan Meeker will be the judges for this years Mid America Fiddlers Championship Contest. Branson's award winning fiddler Wayne Massengale will be the contest's Celebrity Emcee.
From 6 PM to 9 PM the evening of August 3 there will be a FREE "Fiddlin' Jam Session & Gambler's Draw" sponsored by Branson's Titanic Museum Attraction who will be exclusively displaying,for a limited time only, from August 1 to August 15, the long lost violin that Titanic's bandmaster, Wallace Hartley played the night the Titanic sank. The Jam Fest and Gamblers Draw will have Junior Marriott as its Special Emcee. The Gamblers Draw is an interesting competition where the fiddlers competing each put $5.00 in a hat, "the pot," then take turns drawing songs to play. If they can't play the song drawn they are eliminated. The last fiddle standing wins the pot.
There is no fee for contestants in the Downtown Branson Fiddle Festival & Mid America Fiddlers Championship Contest and although there will be registration at 8:30 AM on August 3 advance registration would be appreciated and is recommend. Contestants registering before July 26 will receive a free Branson Fiddle Festival tee shirt. Click here for the complete schedule, list and details of Divisions including prize money and access to Registration Forms and contest rules. Although the "Fiddlin' Jam Session & Gambler's Draw" on Aug 3 is free there is a minimal charge of $3.00 for adults and $1.50 for children ages 4-12 for each day of the competition.
Photo courtesy  of Downtown Branson Betterment Association.