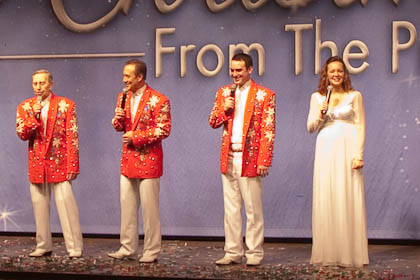 Presleys' Country Jubilee was not only the first show on the now famous Branson Strip, but has been one of the most successful shows in Branson for well over 40 years. It still has two of its original cast members performing nightly along with three generations of Presleys'. To get an inside perspective on this show for our readers "Branson  Up-Close and Personal" interviewed John Presley, a third generation Presley on October 20.
"Branson Up-Close and Personal," is a service of the Branson Tourism Center, one of Branson's largest and most respected vacation planning services, and is intended to provide readers with an up close and personal look at a Branson star or personality. The format will be "Question and Answer" and although there will be some different questions many of the same questions will be asked so that readers can compare the answers of different Branson personalities. The interviewing will be done for the Branson Tourism Center (BTC) by Gary J. Groman, a 24 year resident of the Branson area, local columnist and free lance writer.
BTC: What show are you involved with?
JP: Presleys' Country Jubilee
BTC: How long have you been Performing with Presleys' Country Jubilee?
JP: 18 years, I started when I was 10 years old.
BTC: Could it be said you were born to perform in this show?
JP: Not really. It was something I learned to do as much as "was born to do." As I was growing up I saw my family doing it and I wanted to also. I started taking piano lessons when I was seven and started performing when I was ten.
BTC: How many generations of Presleys' actually perform in the show?
JP: Right now there are three generations actually performing in the show. My grandpa performed on stage up until last year, but has retired.
BTC: Any of the original cast still performing?
JP: Yes, my dad Steve Presley the shows drummer and my uncle Gary Presley who plays the character of "Herkimer" in the show.
BTC: What specifically do you do in the show?
JP: I play the piano.
BTC: Who produces the show?
JP: Really, it's the whole family. Steve and Gary are the bosses, but the whole family gets together to discuss what goes into the show.
BTC: Are you involved with the Presleys' TV Project?
JP: Yes. There are two projects I am involved with. One is "Branson Visitor TV," seen locally on channel 5. That is a partnership with my dad, Steve, brother Nick and myself that is separate from the rest of the family. The second involves the whole family and is the production of a weekly TV show "The Presleys' on RFD TV." We have filmed 26 30 minute episodes so far.
BTC: If you were going to describe the Presleys' Country Jubilee in a couple of sentence with a gem you would want everyone to remember what would you say?
JP: It represents the best of Branson. It represents what Branson has been and what Branson is today. It ties together the old and new and represents what people like and have always liked about Branson.
BTC: What is your first memory of Branson?
JP: Being born here I have a lot of memories but one of the things that comes to mind is going fishing with my grandpa on Table Rock Lake.
BTC: What do you like best about performing in Branson?
JP: Being able to relate to and interact with the audience in a personal way. We don't just perform and walk away, we get to meet them personally and that means a lot.
BTC: What's your favorite thing to do in Branson when you are not performing or working?
JP: We like to go out on our boat on Table Rock and I love spending time with my family.
BTC: Where is your favorite place to eat in Branson and your favorite dish at that place?
JP: I love Chester's. My favorite dish is the Chicken Pesto Salad Sandwich.
BTC: If you could perform or meet with any entertainer/person (living or deceased) who would it be and why?
JP: Floyd Cramer because I grew up with learning his style piano and play some of his songs in the show. His song "Last Date" is the number one song people like to hear me play.
BTC: In your career, of all the performances you have made and you have been in, no matter how big or small, which one personally meant the most to you and why?
JP: Getting to perform at two political rallies, one each for George Bush Senior and George Bush Jr.
BTC:  Do you have a favorite hobby or activity and what is it?
JP: Writing back ground music for television.
BTC: Do you have a "little known" fact about yourself that you think our readers would enjoy?
JP: The year before I started performing as a regular in the Presleys' Country Jubilee I performed in Dino's Christmas Show the first year he did it.
BTC: What is the funniest thing that has happened to you in front of an audience?
JP: Before we had generators, we had the power go out in the theatre just at the end of one of my numbers. You just can't believe how dark it got in that theatre with no windows. I was pretty young and thought it was real funny.
BTC: What part of your show do you enjoy performing the most and why?
JP: As a pianist, it is when I am accompanying a vocalist.
BTC: Are you married?
JP: Yes, I am married to my wonderful wife Ambrus, who was and still is a vocalist in the show. We have an eight month old son, Henry.
BTC: If I were planning a trip to Branson why should I plan to see your show?
JP: It's a funny fast paced show with a lot of variety that is a fun filled experience.
BTC: If I were coming with children ages 5 through 13  would your answer be the same and why?
JP: Oh, absolutely. One thing with kids is that they get bored easy. The pace of our show and its variety holds the interest of kids as well as adults.