by Linda Burlingame
Christmas is a myriad of wonderful feelings. It's the "reason for the season." It's family, friends, food, and fun. It's shopping, loving and giving, smiles and memories. And we've got all that here in Branson — come share some Christmas time with us! Your days will be filled with live shows and attractions, good food, shopping AND … more than 700 Christmas trees for your viewing pleasure.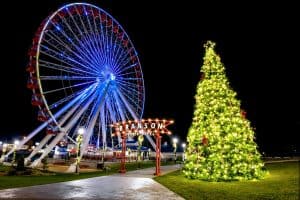 In an effort to become America's "Christmas Tree City," this year there are more than 700 trees on display, up from 175 last year. There are really tall trees — the largest is the 80' tree in the Branson Landing Roundabout. There are really creative trees — the tree at Track Family Fun Park's Ferris Wheel is made from 500 "up-cycled" go-cart tires, and the vintage tree at Hilton's Branson Convention Center Hotel is made from repurposed wine bottles! Silver Dollar City has a five-story animated tree in the square … and more than 1000 other decorated trees. The 25' tree inside Pasghetti's Italian Restaurant is the largest indoor tree. (You'll enjoy the themed dining areas, and I recommend the Eggplant Parmesan!) The Paddle Wheel Pub at Main Street Marina on Lake Taneycomo is popular with visitors and locals alike — good food, live entertainment some evenings … and a floating Christmas tree! In Branson everywhere you look there are "wacky, wonderful, wild and whimsical" trees.
Speaking of the Marina, The Landing Princess is a lovely way to spend holiday time: a delicious meal aboard a 100 ft. luxury yacht while cruising Lake Taneycomo. Dinner is an elegant experience, beautifully set linen-covered tables with perfect views as the Princess slips along. The gracious and attentive wait staff doesn't rush you, if you want to take time between courses to explore another deck or just relax. Select dates and times for cruises through December. On December 31 there is a 5:45 dinner cruise and a 9:00 New Year's Eve Dinner Cruise. Main Street Marina is at the south end of Branson Landing.
You'll find lots of holiday cheer in Branson's many live shows. The Andy Williams Ozark Mountain Christmas Show is a classic. Reminiscent of Andy's legendary television Christmas shows, it's a beautiful variety of singing, dancing production numbers. The Lennon Sisters star, and you'll get to meet the Lennon Granddaughters, too! The wonderful Moon River Orchestra, specialty acts — I guarantee you'll love Pasha and Aliona, marvelous dancers with clever "costume changes!" Shows through December 15.
Clay Cooper's show is a Christmas favorite, and they have an exciting New Year's Eve show. Dolly Parton's Stampede is fun for everyone — a magnificent Christmas show that includes a four-course feast! Shows through the end of the year, including New Year's Eve. King's Castle Theatre has several shows playing, including Christmas Wonderland, which plays through December 22. Showboat Branson Belle has Christmas shows, as well as a New Year's Eve Cruise. Legends in Concert is an enjoyable New Year's Eve event. Or you can dance the night away at Chateau on the Lake. (Catch the sunset from the Library Lounge there, if you can!)
Christmas shopping opportunities are endless here. Theater gift shops, The Grand Village, local shops like The Crystal Fish near Branson Landing — jewelry, glass, pottery, Pandora Jewelry, Swarovski Crystal — it's exquisite. And Dick's 5 & 10 on Main Street in Historic Downtown Branson is unbelievable, with aisles and aisles of nostalgic toys and books, household items like Grandma had, themed items, home accessories. Know someone who likes flamingoes? Done. A wine lover on your Christmas list? Done. Move star fan? How about Betty Grable paper dolls or an Audrey Hepburn lunch box? There's an extensive collection of life at the lake merchandise, too.
The Butterfly Palace & Rainforest Adventure and Titanic Museum Attraction are two extraordinary attractions open year 'round, worth visiting again and again. Titanic is decked out in Edwardian holiday splendor, and The Butterfly Palace is especially lovely during Christmas. They have a living angel statue, ornament craft table, live hammered dulcimer music, an 18 ft. poinsettia tree, a 24 ft. butterfly tree … it's all wonderful, and the Palace helps support and save rainforest areas.
Here in Branson you'll enjoy the hustle and bustle, find a nice spot for lunch, relax in your room at one of Branson's many wonderful lodging options, have a delicious dinner before the show. Whether Branson is already part of your Christmas tradition or whether you're excited about creating new memories and traditions with family and friends, we think you'll find a lot to celebrate and enjoy here in Branson, Missouri!
Christmas Tree Directory: www.BransonChristmas.org.