When you think fireworks, of course you instantly imagine a July 4th celebration, and the Branson area definitely honors our nation's birthday with flash, bangs, and pops! But Branson also ushers in every Memorial Day Weekend, Labor Day Weekend, and New Year with dazzling displays of color, sparkle, and bursts of thundering booms!
Exploding sounds and colors honor the red, white, and blue at a variety of locations in Branson, and in several surrounding communities. Branson's display can be found at Branson Landing, the popular shopping, dining, entertainment, and residential development on scenic Lake Taneycomo in Historic Downtown. Arriving early for the best available parking and seating (lawn chairs or blankets suggested) is highly recommended for the annual Liberty Light Up. The communities of Hollister and Rockaway Beach both hold annual celebrations; Rockaway's is another event easily viewable from the waters of Lake Taneycomo, the College of the Ozarks holds an Honor America Celebration, and the Shepherd of the Hills Outdoor Theatre ends a performance of their historic drama with fireworks. Just beyond the Indian Point area where Silver Dollar City is located, you'll discover the community of Kimberling City that sponsors Fireburst, easily viewed from many spots on Table Rock Lake that spreads around many areas of the community.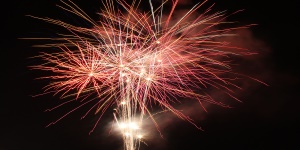 Area resorts also sponsor fireworks displays, including Treasure Lake in the Shepherd of the Hills Expressway area. Both Chateau on the Lake and Big Cedar resorts present significant fireworks productions for the fourth, specifically provided for their guests. However, the Chateau is generous about not turning away anyone who arrives to enjoy the festivities, but they do encourage you to save their parking spaces in all but the lot at the lowest level near the lakefront for registered hotel guests. Chateau on the Lake and Big Cedar Lodge's displays are also easily viewable from Table Rock Lake for those with boats; rentals are available from several area marinas.
You can enjoy New Year's Eve celebrations that end with fireworks at both Chateau on the Lake Resort, Spa & Convention Center in Branson, and Big Cedar Lodge just minutes south of Branson in Ridgedale. Just as it is with July 4, remember that non-registered guests are welcome to view fireworks from land only at the Chateau; however, both are easily viewable from Table Rock Lake.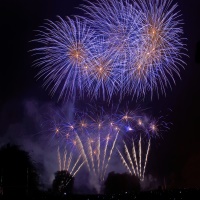 You can legally purchase fireworks in many areas in the State of Missouri, including both Taney and Stone Counties, where Branson and many smaller cities are located, so you'll find plenty of roadside stands and stores that carry them. Be mindful of laws and local ordinances governing their use that can be found on city websites, including Bransonmo.gov.
If you love the color, the sparkle, the boom, and the brilliance of bursting fireworks and the festivities that surround them, make the Branson area your destination for celebrating the fabulous fourth, or for welcoming the New Year!
Give us a call to see how we can help!
1-800-785-1610 Web Code ---