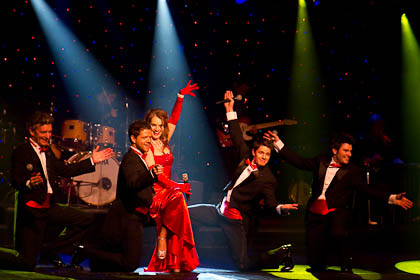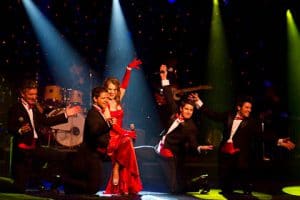 It might seem like a cliché, but the Grand Jubilee is truly "grand" entertainment. I laughed until I hurt, listened to some of the most talented musicians and vocalists I have ever heard, in Branson or anywhere else, and was thoroughly entertained by a fast moving production that held my interest throughout. It was over all too quickly.
The elements of the show aren't that much different from the Branson variety show mold that was cast by the Baldknobbers over 50 years ago and has worked so successfully for so many Branson shows vocals, a live band and comedy, but that's like saying because a cake has ingredients 1, 2 and 3 that it's going to be a great cake. It's not the elements or ingredients, but their quality and how they are combined that makes the Grand Jubilee such a grand entertainment experience.
In terms of vocals, Grand Jubilee features one of Branson's premier male quartets, "New South" composed of lead vocalist, Trey Wilson, tenor Jason Robinson, baritone Jason Pritchett and bass Mark McCauley. The variety of the music they perform spans the music genre spectrum including country, pop, patriotic, gospel and more. What is perhaps more important is the quality of their singing. Their vocal range and subtle power is absolutely amazing as is the number of costume changes and some of their moves. My two personal favorites would be their rendition of "Elizabeth" and "How Great Thou Art."
The lead female vocalist is the extremely talented Jackie Brown. I particularly liked her rendition of the Jackson 5 and Mariah Carey hit, "I'll Be There" and loved her duet of "I Will Always Love You," with New South's Trey Wilson. It was exceptional, powerful and beautifully sung. The male vocals were provided by Todd Bradshaw who did a nice job on Johnny Paycheck's hit "A-11," "Together Again" and others.
The Grand Band is just that "grand" not simply because of their individual and combined instrumentality, but because of the way their talent is blended into the whole show. Their solo of "Bluegrass LaLaPaLooza/Shuckin' the Corn" and their featured performances during many of the numbers such as in "Kentucky River" illustrate the point. The Grand Band is composed of Michael W. Davis, Piano/Keyboard & Vocals; Wayne Massengale, Fiddle and Acoustic Guitar; Larry Allred, Bass Guitar; Rob Blackburn, Drums; Matt Hanshaw, Lead Guitar and Acoustic Guitar and Danny Yancey,Steel Guitar, Acoustic Guitar, Banjo and Band Director.
The multitalented, Jamie Haage provides the comedy as "Jim Dandy." From hand grenade etiquette to the most unusual version of Sonny and Cher's "I've Got You Babe," Jim Dandy along with Mike Patrick, his faithful straight man as well as the shows emcee, will have you laughing throughout the show with a blend of one liners and comedy routines that just add to the overall enjoyment and excitement of the show. Watching the multitalented Haage make the transition from comedian to instrumentalist and vocalists is an amazing thing to hear and experience.
Mike Patrick plays a mean honky-tonk version of "Great Balls of Fire" as well as acting as the Master of Ceremonies, comedy straight man to Jim Dandy and the show's producer. The Grand Jubilee is truly a "grand" entertainment experience it is and two of the best and fastest moving hours of entertainment in Branson. It is a show for the whole family to see and
For additional information or tickets on the Grand Jubilee or any another Branson show, attraction or lodging please feel free to contact the Branson Tourism Center (BTC). It is one of Branson's largest and most respected vacation planning services, sellers of Branson show tickets, attraction tickets and lodging and may be contacted by either calling its toll free number 1-800-785-1550 or through their website www.bransontourismcenter.com.