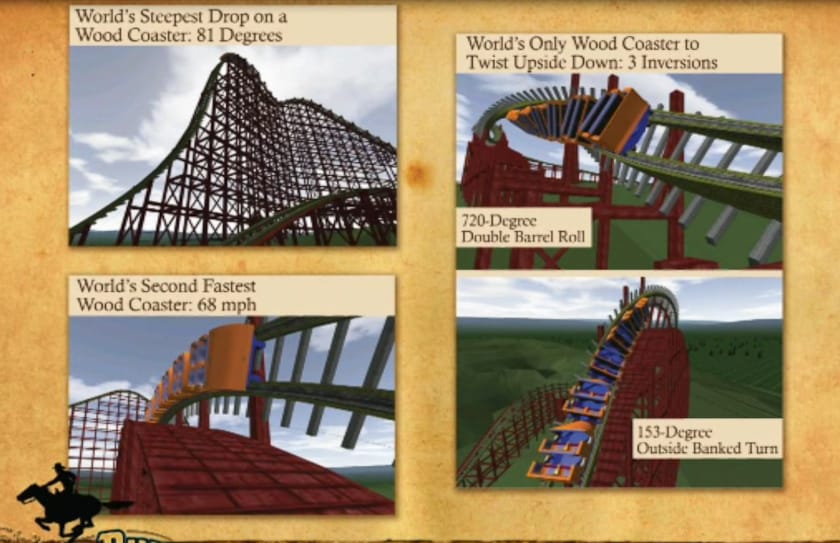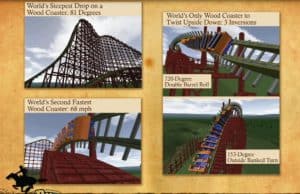 BRANSON, Mo., December 23, 2012 — "The entertainment scene in Branson is changing and 2013 will be no exception," said Tammy Johnson, the Director of Operations for the Branson Tourism Center. "From new rides and shows, to big changes and little tweaks, the Branson Entertainment experience is always evolving offering Branson visitors an exciting fresh new experience and reason to visit." Here's a this preliminary list of some of the major attraction and show changes:
Major Attractions
Silver Dollar City – Adds a major new ride, "the world's most daring wood coaster ride," "Outlaw Run." It's "a first-of-its-kind, $10 million thrill ride, debuting at Silver Dollar City in the Spring 2013" taking Silver Dollar City's guests on a 1 minute 27 second ride, at speeds of up to 68 miles per hour from its initial 162 foot drop which is the steepest drop in the world for a wood coaster.
Titanic Museum Attraction – This year-long, exclusive exhibit "The Children of Titanic." The exhibit celebrates the bravery, innocence and faith of those 133 children who were on the great ship that fateful night. The exhibit "can be an inspiration to everyone" and is yet another part of a "voyage" on the Titanic that everyone, especially "children", will relate to and interact with.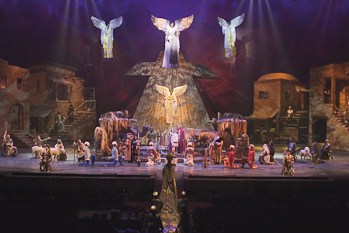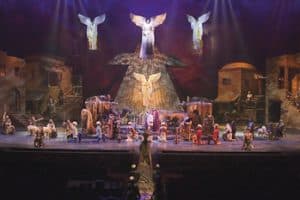 New Shows
70's Music Celebration Starring Barry Williams – Totally 70's Music Explosion will star Barry Williams as he takes audiences on a nostalgic trip back in time with talented singers and dancers, a live band and a state-of-the-art multimedia presentation.
A Heapin' Spoonful – It's not just music, it's entertainment! Join hit singer/songwriters Ron and Kay Rivoli (Rivoli Revue), combined with Branson's own Comedian Harley Worthit as they take you on a wild rollercoaster ride of music, stories, fun and laughter.
ABBA Tribute – "Thank You for the Music" -Â  is an exciting and dynamic tribute to the Swedish pop super-group ABBA. Powerful harmonies, high-energy dance, big personalities, and the unforgettable hits of ABBA make this contemporary musical tribute one not to be missed.
"Adventures of Marco Polo" – A story of lost lover and exploration told in spectacular fashion in a "Cirque Du Solei" style production.
California Dreamin'! – Take a nostalgic and moving musical ride with The Mamas and Papas, Simon and Garfunkel, The Carpenters, The 5th Dimension, Peter Paul and Mary, Joni Mitchell, Burt Bacharach, Association, and many more.
Dancing Queen ABBA's Greatest Hits – This show pays tribute to the group in a show stopping musical extravaganza featuring singers and dancers performing those groovy 70's tunes!
Magnificent Seven – Branson's ultimate Music Experience! Non-Stop Excitement!! Starring Joe and Tamra Tinoco, along with their talented 7 year-old daughter Talya, and a standout cast of singers and dancers who take you on a journey from the 1940s to Today!
Theatre Changes
Daniel O'Donnell – Andy Williams Theatre
Doug Gabriel's #1 Hits Show – Doug Gabriel Theatre in Branson Star Theatre building
"Liverpool Legends" – Andy Williams Moon River Theatre
Miracle of Christmas -Â  Returns to Sight and Sound Theatre
Red Skelton – A Tribute by Tom Mullica Hamner Barber Theater.
Johnson says that this preliminary list will almost certainly have additions and other changes. She offers the free services of the Branson Tourism Center (BTC) to obtain further information on any of the attractions or shows mentioned in this article and the latest changes in the Branson entertainment scene. BTC can be reached by either calling their toll free number 1-800-785-1550 or through their website www.BransonTourismCenter.com.