If you saw NOAH the Musical at Sight & Sound Theatre in 2020, you would probably like to know that a new show is debuting in March, 2021!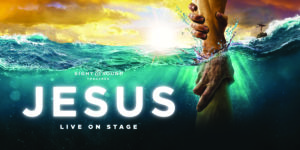 We're sad to say goodbye to Noah, but we are just as excited for the talent coming to the stage in 2021 to portray the birth, life, death, and resurrection of Jesus Christ!
Here's a description of the show, according to Sight & Sound Theatre:
From the bustling streets of Jerusalem to the raging Sea of Galilee, JESUS is an action-packed musical stage adventure for the whole family!

Join Peter, Nicodemus, Mary Magdalene, and a multitude of others as they journey alongside the most famous person ever to walk the earth. Witness the most miraculous events in history as Jesus sets sail with fishermen and makes disciples out of the least-expected. The lives he touches will never be the same.

Experience the greatest rescue story of all time as it comes to life on stage with massive sets, special effects and live animals in this original stage production.
If you've never experienced a production at Sight & Sound Theatre, let us be the first to tell you that you will be blown away. Branson, in general, goes "all out," but Sight & Sound Theatre takes this to a whole new level!
Branson is, in fact, open. We look forward to welcoming you to town in 2021—with proper safety precautions and practices in place, of course. (Click HERE for COVID-19 Travel Updates in Branson.)
Call us at 1 (800) 785-1610 to speak directly to a Branson local and Vacation Specialist! Ask questions, get answers, and book your best Branson vacation!
---
Ready to book your tickets to Sight & Sound Theatre for your 2021 vacation? Click HERE to shop now! Take a look at our inclusive Sight & Sound vacation packages—as low as $309!
We know that now is an unpredictable time to schedule travel, so Branson.com provides a solution. Protect your money with our Standard Trip Protection free with every order or our Premium Trip Protection, available for a low fee and FREE with every package purchase. Don't fret!
We look forward to seeing you in Branson this year!
-Your Friends at Branson.com