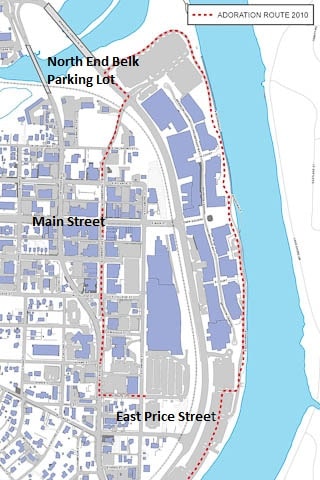 A 62 year old Branson Christmas tradition will continue with the 62nd Adoration Nativity Scene Lighting Ceremony and Parade starting at 5:00 p.m. on Sunday December 5. The Adoration Nativity Scene Lighting Ceremony will be conducted near the intersection of Commercial and Main Streets in historic downtown Branson starting at 5:00 p.m. with the parade starting immediately after.
"The Adoration Nativity Scene Lighting Ceremony and Parade is a featured event of Ozark Mountain Christmas and will be attended by tens of thousands of people, both locals and visitors from all over the country," said Tammy Johnson, the Director of Operations for the Branson Tourism Center. "However, from its beginning 62 years ago its theme has been the same, 'Keeping Christ in Christmas,'" She continued.
In 1949, based on an idea of artist Steve Miller and local businessman Joe Todd, a nativity scene with figures nearly 30 feet tall was erected on top of Mount Branson just across Lake Taneycomo and over looking historic downtown Branson. It was lit during a lighting ceremony held in downtown Branson. That tradition will continue with the ceremony at the corner of Main Street and Commercial Street starting at 5:00 p.m. on December 5. "It is truly an amazing sight when the Nativity Scene lights up across the lake," Johnson said.
Immediately after the lighting ceremony the Adoration Parade through downtown Branson and Branson Landing begins. It is one of the few, if not the only, non-commercial, lighted nighttime parades in the United States devoted to the theme of "Keeping Christ In Christmas." The parade has over a dozen bands, walking units and non commercial lighted floats. All the walking units and floats must be Christmas themed and, except for service organizations with nationally recognized uniforms that have received prior approval, all participants in walking units must in Christmas themed attire and all floats must have a Christmas theme. Traditionally there is only one Santa Claus in the parade and that is the last unit.
The parade route will be different than in years past. The parade will not be using the southern end of Branson Landing Boulevard and the old Long Street, but will be using E. Price Street instead.
Johnson points out that there are many areas to get a good view of the parade. Commercial Street through the entire length of historic downtown Branson has historically been an excellent area to view the parade. Other areas would be the Branson Landing Boardwalk, the Branson Landing Fountain area and the north end of the north Branson Landing parking lot (Belks).
She also suggests advance reservations for Branson shows and lodging to ensure availability and avoid disappointment. For additional information on the 62nd Adoration Nativity Scene Lighting Ceremony and Parade or information or tickets for any of Branson's other shows and attractions or for lodging arrangements please contact the Branson Tourism Center (BTC), one of Branson's largest and most respected vacation planning services. BTC can be reached by either calling their toll free number 1-800-785-1550 or through their website www.BransonTourismCenter.com.