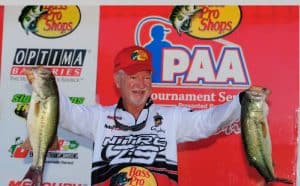 "It was a great day for local anglers," said Jim Thompson owner of the Central Pro-Am Association and long time tournament bass fisherman as he talked about the results of Day 1 of the "2011 PAA (Professional Anglers Association) Bass Pro Shops Tournament Series" presented by Carrot Stix. "Three local anglers are in the top five," he continued, " Stacy King from Reeds Spring is the tournament leader with a total weight of 20.12 pounds; Kelly Power of Cape Fare is in Third Place with 17.87 pounds and James Watson of Waynesville is in Fourth Place with 17.07 pounds."
The top five, after Day 1 were rounded out by  Mark Mendez from Paducah, KY in second place with a total of 18.6 pounds and Brian Travis of Conover, NC is in Fifth Place with a total weight of 16.73 pounds. All five had a five fish limit, but Travis took a .25 pound penalty for a dead fish. Larry "Doc" Seger, who was tenth in the overall PAA standings coming into the tournament, finished the day in 39th place with a five fish limit weighing 8.37 pounds with a .50 penalty for two dead fish. Click here for the complete Day 1 results.
Days 2 and 3 of the tournament will launch from the Chateau on the Lake Marina on June 24 and 25 at 6:00 a.m.. The tournament weigh-in on June 24 will take place at the Chateau on the Lake Marina at 3:00 p.m. During the first two days of the tournament the starting field of 61 anglers will be narrowed down to the top 20 anglers who will compete in the Finals on Saturday, June 25. The championship weigh-in will take place at the Fountains of Branson Landing at 4:00 p.m. with the tournament winner being the angler with the highest total weight for the entire three day tournament.