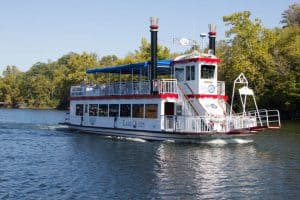 BRANSON, MO, April 23, 2013 — "Being a tourism based economy, word of mouth advertising from the locals involved with the area's hospitality industry plays an important part in the marketing strategy of many Branson attractions. " said Tiffany Isnard, Director of Marketing for the Branson Tourism Center. "'Area Appreciation' is a great way for an attraction to show locals what they have to offer as well as facilitate that strategy," she continued. Isnard said that Main Street Lake Cruises, operating its two boats, the river boat replica Lake Queen and the 100 foot luxury yacht Landing Princess on beautiful Lake Taneycomo out of Branson Landing, will be having Area Appreciation May 1st – May 5th for both the "Lake Queen" and "Landing Princess."
The Area Appreciation rates for the Lake Queen's "Beach & Back Sightseeing Cruise" will be $10.00 for adults with children 17 & under cruising free with a paid adult. "From Bald Eagles and the other birds and wildlife abounding on Lake Taneycomo's shore line, amazing natural bluffs stretching back into the eons of time and the spectacular majesty of Ozark vistas this 2 hour cruise is a unique experience not seen by the vast majority of the millions of visitors that come to Branson each year.
"In addition, there is the view of an antebellum style mansion, the campus of one of the largest Christian sports camps in America "Kanakuk Kamps," the legendary "Boston Gold Mine" site and the city of Rockaway Beach, which was southwest Missouri's first major tourist attraction preceding Branson's popularity by about four decades, as well as what legend says was a summer retreat for "Al Capone." The view of Branson Landing, its $7.5 million fountains and spectacular synchronized fire, water, light and music show viewed from the cruise is as unique as it is beautiful and inspiring. Produced primarily by Mother Nature it is one of Branson's most extraordinary shows and will provide memories that will last a lifetime."
The Area Appreciation rates for a dinner cruise on the Landing Princess is $20.00. In addition to a wonderful sightseeing cruise encompassing all of the above passengers will enjoy a delicious Dinner and the ultimate in dining and service for a two hour cruise aboard the elegantly appointed 100 foot luxury yacht includeing complimentary coffee, tea, water and soda with a full service cash bar available.
Area appreciation is open to residents of Stone, Taney, Christian, & Greene counties as well as Boone and Carroll counties in Arkansas. Photo ID is required.  Reservations must be made 24 hours in advance and tickets picked up 1 hour prior to cruise time.
For more information or to make your reservation please call (417) 239-3980.  Main Street Lake Cruises is located on the waterfront at Branson Landing.