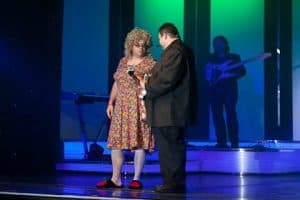 Pierce Arrow is  billed as the "hottest show" in Branson and for good reason. It features one of the funniest men most people will ever see, Jarrett Dougherty; one of the best vocal groups in Branson, "Pierce Arrow;" a great live band and the vocals of Desta. Put it all together and you have one hot entertainment experience that is celebrating its tenth year of wowing Branson audiences.
The ads for the show say, "You want funny, we got funny." The show starts in dramatic fashion showing just how much "funny" it has, as the lights go off and "Floyd the Flusher," a.k.a. Jarrett Dougherty shows up to fix them. As he interacts with the crowd and his straight man, Bobby Blackburn, the audience not only gets an idea of how much "funny" the Pierce Arrow show has in store for them, but is cracking up. Dougherty is one funny man.
He does a number of comedy routines throughout the show that are very well integrated with the show's flow, but they all have one thing in common. They have the audience in stitches laughing. This writers personal favorite was his routine as "Iona Trailer." What a gal.
Branson is called the "live music show capital of the world" and it is bands like the "Pierce Arrow Band," with their great musicians, that help make that possible. They did a great job supporting the vocals of both Pierce Arrow and Desta and during featured numbers. The band members are Bobby Blackburn, guitar; Colt Straub, piano; Randy McConnell, bass and Will Henderson, Drums.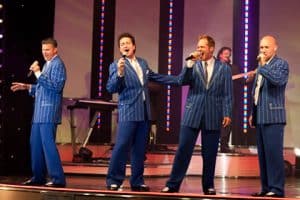 The quartet "Pierce Arrow is composed of Casey Ellison, Gary Korebia, Tim Storms and Scott Fraker. From their opening number "Listen to the Music" to their last "Banner of Liberty" Pierce Arrow demonstrates why it is one of the "hottest" vocal shows in town and why they have won so many awards. They have great range not only in terms of their voices, but in the wide variety of music they sing. Their gospel set is amazing featuring, among others "Watery Grave" and a great arrangement of "Great Getting Up Morning." The female vocalist, Desta, does a great job on songs such as "Little Rock" and "These Boots Are Made for Walking."
The patriotic segment is yet another indication of the thought and effort that has gone into this show. Its combination of the dramatic presentation by Jarrett Dougherty and the song "Banner of Liberty," starting with Pierce Arrow and phasing in the whole case sends a powerful message as it touches the heart.
It should be pointed out that Pierce Arrow also performs an evening show which, although it has the same cast except for the addition of vocalist Kim Boyce, is an entirely different show with different music and comedy. This show should not be missed by those who have an appreciation for great vocals and fantastic comedy.
For additional information or tickets for Pierce Arrow or any of Branson's other shows and attractions or for lodging arrangements please contact the Branson Tourism Center (BTC), one of Branson's largest and most respected vacation planning services. BTC can be reached by either calling their toll free number 1-800-785-1550 or through their website www.BransonTourismCenter.com.