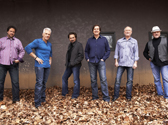 Diamond Rio
Call Branson Tourism Center at: 1-800-785-1610 WEB CODE
BTC
"Diamond Rio," the sensational Grammy-winning group, is making a one-night stop in Branson! Their hits include Meet in the Middle, Norma Jean Riley, In a Week or Two, Beautiful Mess, Love a Little Stronger, Walkin' Away, Imagine That, and That's What I Get for Lovin' You. They're famous for their sensational music, but also because they play every note of the music you'll hear on every album, a very uncommon thing in the studio, but a practice that certainly pays off in the final product. Once the band left their Opryland USA gig and became "Diamond Rio," they've managed to keep the core group together; the band members you'll hear in concert now are the same guys who recorded their group's first hit record! The group's Grammy was awarded for Best Southern, Country, or Bluegrass Gospel Album, and "Diamond Rio" has also been recognized multiple times as Vocal Group of the Year by the Country Music Association (CMA) and the Academy of Country Music. The CMA has also given them the Album of the Year honor.
In addition to making concert appearances in places like Branson, "Diamond Rio" works hard at supporting charitable causes. They're long-time supporters of Big Brothers/Big Sisters, and they've raised more than a million dollars to support non-profit organizations. Having hearts as big as their best-selling hits got them recognized with the Minnie Pearl Humanitarian Award.
They've been giving us great songs for more than 25 years; the band is still together and still creating beautiful music...you've got a chance to see them in an incredible theater environment in the place that loves live music. Don't miss "Diamond Rio," on June 10 in Branson, Missouri!