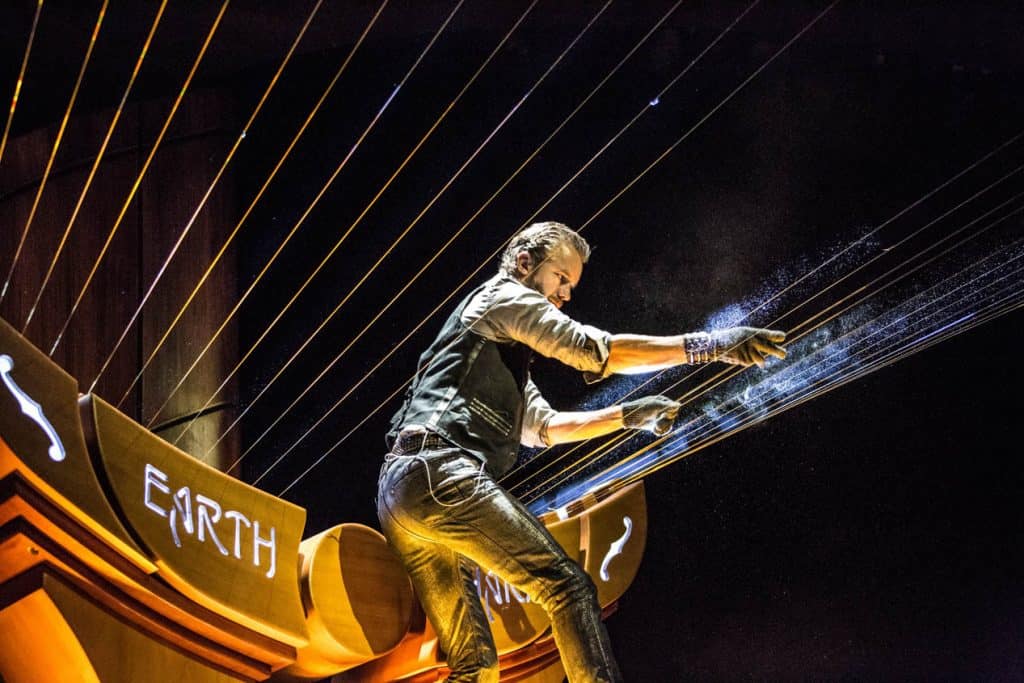 "A day at Silver Dollar City offers fun and adventure for every member of the family," said Preston Garrison, Director of Operations for the Branson Tourism Center. "The award winning 1880's styled theme park features 40 rides and attractions, live craft displays, shows, and so much more. Add in the color and excitement of any of its six world class Festivals and it's easy to see how Silver Dollar City has been creating 'Memories worth repeating,' for generations," he added.
Silver Dollar City opens its 2017 season, designated the year of "Food and Crafts," on March 15. Its all-new Festival of Wonder kicks off its 2017 Festivals on April 6. Here's Silver Dollar City's detailed description of each of its six spectacular Festivals:
FESTIVAL OF WONDER (April 6 – 30) The all-new festival presents amazing acts of curiosity and larger-than- life performances, all billed as 'A Most Amazing Entertainment Experience:
NEW: The Earth Harp Collective, featuring the world's largest playable stringed instrument, plays music on 75-foot strings stretched the length of Red Gold Heritage Hall as well as on a "drum cloud" and other unique musical instruments.
NEW: The Flamenco Kings, the world's foremost flamenco dancers, are seven brothers whose stunning performances combine flamenco, tap, music, martial arts and acrobatics.
NEW: Balancing Wonders present gravity-defying performers in an extraordinary balancing show.
NEW: Speed Painter Dan Dunn takes performance art to top speed, a talent showcased on stages from Late Night with Jimmy Fallon to a Super Bowl pregame show.
NEW: Glass Armonica showcases melodic sounds from one of the world's largest instruments made of glassware.
NEW: Shows present Harp Hang Drum music, and Melodies on Air with incredible wind instruments such as 4-ft. pan flutes and clay whistles.
New foods for the Festival of Wonder take an outrageous turn as well, including Curious Kabobs with shark or alligator on a stick, Fry Breads from Cajun Shrimp to Nutella S'mores, the World of Bacon with Bacon Cannoli and Chocolate Covered Bacon, plus new Bodacious Brownies and Blended Beverages.
BLUEGRASS & BBQ (May 4 – 29) The International Bluegrass Music Association's Bluegrass Event of the Year, coordinated by the 2-time SPBGMA* Bluegrass Promoter of the Year, features over 60 acts, from top artists to rising stars:
SPECIAL CONCERT: 14-time Grammy winner Ricky Skaggs performs in a May 28 concert in Echo Hollow Amphitheatre.
TOP ARTISTS: Bluegrass music's top artists and award-winners perform, including 8-time Female Vocalist of the Year Rhonda Vincent with the Rage, 7-time Vocal Group of the Year Doyle Lawson & Quicksilver, The Gibson Brothers, The Grascals and more.
Fresh, contemporary artists bring the bluegrass heat, including Flatt Lonesome, Frank Solivan &; Dirty Kitchen, The Snyder Family Band, Jeff Scroggins & Colorado plus Ray Cardwell & Tennessee Moon.
The 16th annual Youth In Bluegrass Band Contest (May 27), draws competitors from across the nation, presenting the hottest new talent to watch.
A new BBQ Pitmaster Courtyard offers barbecue feasting, with layered Barbecue Sundaes, a Ribs Spectacular, grilled sides and Mason Jar Desserts
A Sauce Shack, with hundreds of sauces to sample and take home.
* Society for the Preservation of Bluegrass Music of America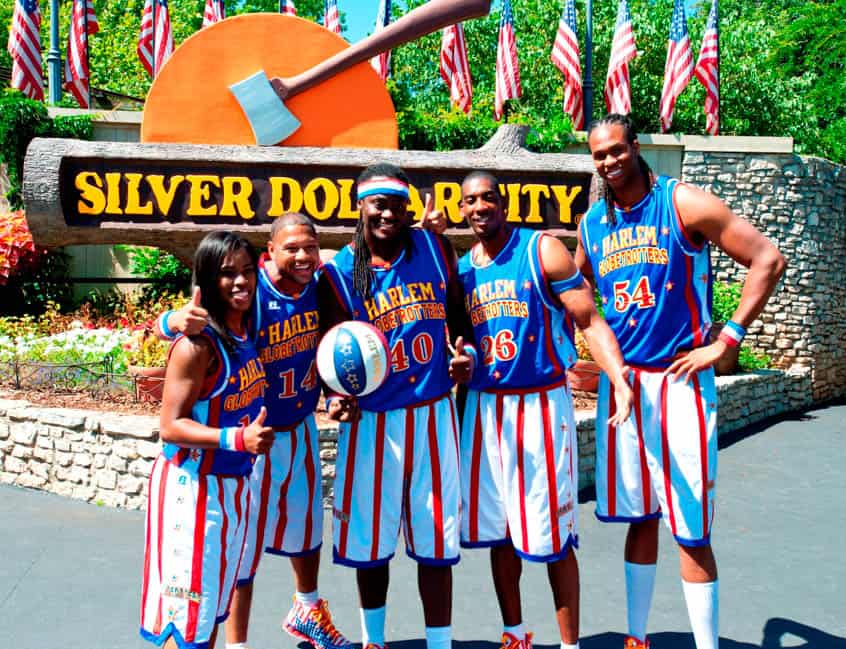 STAR-SPANGLED SUMMER (June 3 – July 16) All-American summer adventures bring high-energy fun and high-flying thrills for families:
The Harlem Globetrotters return for the final season of The Globetrotter Experience, showcasing highlights from the Globetrotters' one-of- a-kind touring show, featuring their trademark basketball wizardry in a unique and innovative exhibit of skill, athleticism and humor. The Globetrotters continue taking basketball trick shots to new heights, setting 9 new Guinness World Records for trick shots in 2016.
Chris Perondi's Stunt Dogs return in a show filled with the amazing and hilarious anticsof a high-jumping, disc-catching, obstacle-course competing canine crew.
Plus rapid-fire, high-stepping champion cloggers perform and kids can meet their favorite cartoon characters.
Silver Dollar City's 40 rides and attractions offer summer fun, including the 10 adventures at Fireman's Landing and the top thrill ride Outlaw Run, named Best New Ride of 2013 worldwide and featured in Guinness World Records 2015.
SOUTHERN GOSPEL PICNIC (August 24 – September 4) America's top Southern Gospel artists perform, with hundreds of performances from Grammy winners, Dove Award winners and top gospel acts:
Featured performers include Ernie Haase & Signature Sound, The Booth Brothers, Jeff & Sheri Easter, Greater Vision, The Hoppers, Legacy Five, The Isaacs and more.
Performers to follow include The Martins, Michael English, Joseph Habedank and Voices of Lee.
NEW: A special August 30 performance by Second Half Quartet presents the blended voices of three top groups.
Southern Gospel Nights concerts are featured each evening in Echo HollowAmphitheatre.
The food spotlight is on Southern cuisine, as Southern cooking expert and food blogger Christy Jordan presents all-new recipes in The House of Chicken & Fixin's.
NATIONAL CRAFTS & COWBOY FESTIVAL (September 13 – October 28) The Home of American Craftsmanship presents the nation's largest festival of demonstrating craftsmen, with entertainment and activities saluting the Great American Cowboy:
Over 125 visiting craftsmen from around the country demonstrate their art, including Best of Missouri Hands juried artists, all joining Silver Dollar City's 100 demonstrating craftsmen.
Silver Dollar City's Wild West Show features trick riders, Native American dance with 8-time World Champion Native American Hoop Dancer Nakotah LaRance, comedy canines, and trick roper and bullwhip artist A.J. Silver.
Legendary Western actor and watercolor artist Buck Taylor hosts "Buck Taylor's Cowboy Emporium," featuring a variety of Western crafts.
Plus Chuck Wagon Food Network Chef Kent Rollins and Extreme Mustangs are featured in the Red Gold courtyard.
A Western Barn Dance presents kick-up- your-heels fun, with a live band.
NEW: The nation's pioneer culinary heritage comes to life with campfire cooking and cowboy cuisine, including Cowboy Beef Stew and Dutch Oven Desserts.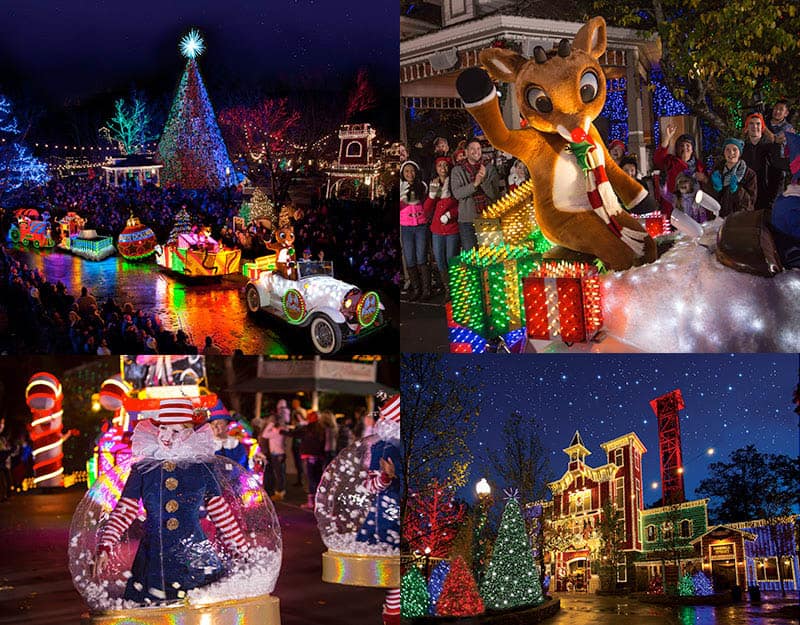 AN OLD TIME CHRISTMAS (November 4 – December 30) One of the nation's most acclaimed Christmas festivals, profiled by USA Today, CNN Travel, The Travel Channel and Good Morning America, is even bigger and brighter this year with an all-new area:
NEW: Christmas in Midtown, a 70,000 sq. ft. area filled with new light displays 9 stories high, including 30 angels, animated reindeer pulling a sleigh, 3 light tunnels, two 40-foot long moving trains, dozens of stars and snowflakes, and a 50-foot tree, all created at Silver Dollar City. Christmas in Midtown adds 1.5 million new lights, bringing the park's total to 6.5 million lights!
Rudolph's Holly Jolly™ Christmas Light Parade, led by the most famous reindeer of all, features musical lighted floats with 200,000 lights accompanied by 33 costumed characters.
Rudolph's Christmas Town, where kids can meet Rudolph™, Clarice™ and Bumble™, also includes activities from Reindeer Games to cookie decorating.
Two original musical productions present Broadway-style experiences, with elaborate sets and talented casts: It's a Wonderful Life, adapted from the Frank Capra classic, and the acclaimed production A Dickens' Christmas Carol.
The Christmas on Main Street light & sound show features the 5-Story Special Effects Christmas Tree with over 350,000 colorful LED lights.
Tinker Junior's Toy Shop is an interactive show for kids featuring a 12-foot talking and singing Christmas tree.
Kids can meet Santa in Santa Claus Lane, illuminated in colorful lights.
Plus, the festival presents holiday shows, a musical Living Nativity, shows, rides, shopping and new Silver Dollar City dining specialties.
For more information on Silver Dollar City, please call the Branson Tourism Center at 1-800-785-1550. A Branson based Vacation Specialist will answer any questions you have about Silver Dollar City and Branson's shows, lodging, or attractions. They can also help with ticketing, reservations and getting the best available show seats and lodging. There is no charge for this service and they are available daily, except Christmas Day, from 8:00 AM to 9:30 PM.