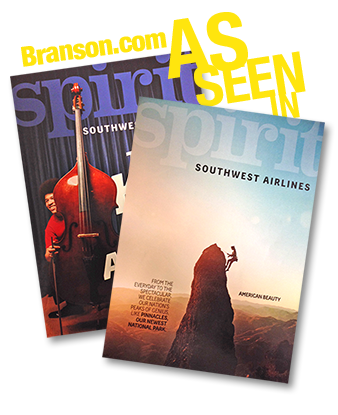 Click Here to View PDF
Hello from Branson.com, the leading resource for all things Branson: Shows, Attractions, Lodging, Vacation Packages … you name it! Our goal at Branson.com is to ensure that your vacation plans are flawless and that once you arrive you have absolutely nothing to worry about.
Branson.com is a part of Branson Tourism Center and what this means for our customers is 10 years experience in providing the best Branson vacation possible as well as extensive concierge benefits. One such benefit customers of Branson.com and Branson Tourism Center receive is complimentary access to our full time Travel Agent. Once you have booked your vacation our Travel Agent is ready to assist you with any flight arrangements and car rentals. We work with all major and independent airlines and we can do so with no service fees to you the customer!
---
Article seen in July, 2013 Spirit Southwest Airlines Magazine
Branson.com
"A little help goes a long way toward planning the perfect getaway in Branson, especially given the almost overwhelming amount of entertainment options in the area. Enter Branson.com, the city's first destination website dedicated exclusively to providing Branson visitors with all the information they need to know to have a great vacation. Its recent optimization and synchronization with the power and systems of sister site BransonTourismCenter.com has resulted in one of the most efficient, powerful and easy-to-use tools available anywhere to research the city's many offerings, as well as book shows, attractions and lodging. "
---
Your adventure in Branson

Spirit Magazine – Southwest Airlines
Now here's a place that just gets better with age. Branson celebrated its centennial last year, but the festivities still haven't ended. Storied theaters, hair-raising thrill rides, and serious shopping make this Missouri city one you've just got to see. Click Here to Read More
---
Southwest Airlines' Spirit shares Branson Spirit
BRANSON, MO, July 5, 2013 – Southwest Airlines' inflight magazine "Spirit" is available to over 3.4 million Southwest passengers every month. This month, thanks to a wonderful article entitled, Spirit of Branson by Melanie Clancy, those passengers are going to read about a family-friendly destination "tucked into Missouri's Ozark Mountains" that is an "irresistible year round haven" filled with exciting attractions, live entertainment, great places to eat, stay, shop and play all presented amid a "down-home ambiance" in a place called Branson, Missouri.
---
Videos
There is still time to come to Branson this Summer!
---
Fall In Love With Branson
---
Christmas In Branson
---
Spring Into The Ozarks