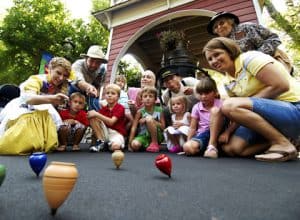 Even after having lived in the Branson area for over 25 years and visiting it regularly for over a decade before that, I am as in awe of all it represents and has to offer as I was the very first time I came to Branson. Sure, Branson is the "Live music show capital of the world," has lakes, attractions, activities and a natural setting in these beautiful Ozark Hills that provide the opportunity for a vacation experience that would be the envy of any destination city. However, it is the warmth, spirit, friendliness and hospitality of the people providing that experience that I stand in awe of.
Strangely, the reason for that first visit had nothing to do with Branson, it had to do with a camping trip to Table Rock Lake at a campground that was actually located in Lampe, Missouri about 28 miles away from Branson. We came with a group that had been coming to the same campground for years and ended up in Branson for the same reason tens of millions before and since have, to visit Silver Dollar City. At the time, I didn't have a clue what Silver Dollar City was, or for that matter what Branson was either, but went because everyone else was going. It was an annual ritual that the group had observed for years.
One day of shows, rides, craft demonstrations and entertainment; "Marvel Cave" tour; "Fire-In-The Hole" and experiencing Ozark's friendliness and hospitality and I not only knew what Silver Dollar City was, but would never forget it. What I felt that day was more than a simple day of fun at a theme park. Oh, the 1880's themed park had everything one would expect, but the experience transcended mere entertainment. It was, even if only for a few brief hours, a chance to experience and imagine the history and traditions of a bygone era, but more importantly, to feel the warmth, spirit, friendliness and hospitality of the present.
I didn't know it at the time, but my career choices were going to have me traveling from one end of the this great Nation to the other conducting weeks of seminars in places like Las Vegas, San Francisco, Orlando and many others allowing me the opportunity to experience just about every major tourist destination in America. Yet, even as I traveled, it was to Branson we came for every vacation and to Branson where we eventually moved and have lived for the last quarter of a century.
Tammy Johnson, the Director of Operations for the Branson Tourism Center, Branson's biggest and most trusted provider of Branson tourism services, show and attraction tickets and lodging has over two decades of experience in helping Branson visitors have the best possible Branson vacation. She summed it up saying "It is not just what Branson has to offer, but the way it is provided that makes Branson so special." It is the same genuine warmth, spirit, friendliness and hospitality that I first experienced so many years ago, still shared with its visitors, that makes it a special place to create memories that will last a lifetime.