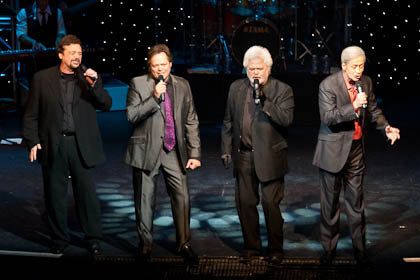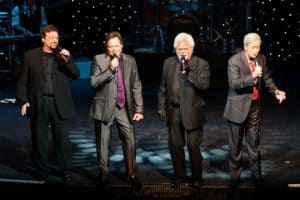 BRANSON, Mo., July 22, 2012 — "Well, after all, it is a celebration of Andy Williams 75th year in entertainment," said Tammy Johnson, the Director of Operations for the Branson Tourism Center. "It's seven weeks of back to back superstar performers providing Branson visitors with a unique and exciting entertainment opportunity," she continued.
Running from September 10th through October 24th, the Andy Williams 75th Year Anniversary Show
will feature a new guest star every week including the return of the Osmonds to Branson and Pat and Debby Boone appearing together for the first time since they performed at the Moon River Theatre in 1999. Other performers include Grammy Award winners Jack Jones and Ray Stevens; Academy Award, Golden Globe and Emmy nominee Debbie Reynolds; Frankie Avalon, and country music superstar, Clint Black.
Although subject to change, Johnson says that their specific schedule is:
Debbie Reynolds – September 10-15
Frankie Avalon – September 17-22
Jack Jones – September 24-29
The Osmonds – October 1-6
Pat and Debby Boone – October 8-13
Ray Stevens – October 15-20
Clint Black – October 22-24
To ensure availability and the best seating, Johnson suggests making advance reservations. She also points out that the celebration of Andy's 75 years of entertainment also ties in with the celebration of Silver Dollar City's National Harvest Festival, limited Branson engagements by a host of other superstars at venues all over Branson and many other special events making it even a more exciting time to visit Branson. For additional information or tickets for the Andy Williams 75th Year Anniversary Show or any of Branson's other shows and attractions or for lodging arrangements please contact the Branson Tourism Center by calling their toll free number 1-800-785-1550.