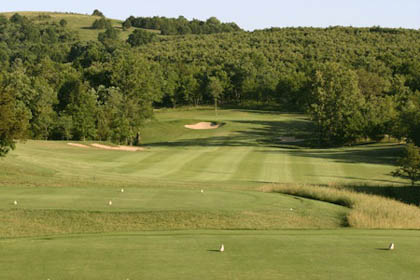 Why would anyone be thinking about playing golf in Branson, Missouri in January? Two reasons come to mind. One is to plan for a Branson trip later in the year and the other, to actually come to Branson and play golf now. Paul Miller, General Manager, Branson Tourism Center says, "Two things golfers can plan on in Branson, changing weather and a choice of golf courses that will provide a great golfing experience just about any time of the year."
The first full week of January was bitterly cold and except for indoor golf, it is unlikely that anyone except a polar bear would have had a good golfing experience. What a difference a few days make., Branson is the middle of some great weather with a temperature of 54 degrees F at 11:00 a.m. and the golfers are out in force. "One of the neat things about golfing in Branson," Miller points out, "is that, day to day weather permitting, there are championship courses open for play year round."
Branson has many great golf courses, but here is a summary of three unique quality golfing opportunities. When the quality of the golfing that is available in Branson is combined with all the rest that Branson has to offer the synergy created results in an exciting golfing and entertainment experience.
The Pointe Royale Golf Course is unique because it is considered as Branson's original championship course. Located just opposite the entrance to the Welk Theatre on State Road 165. Pointe Royale was designed by Ault-Clark and Associates and constructed by Carter Golf in 1997.
The course was closed during 2008 for a complete renovation and reopened in 2009. Point Royale plays 6,501 yards, has a par of 70, a USGA Rating of 70 and a Slope of 128 when played from the back (Black) tees. It features rolling Bermuda Grass fairways and eight water holes with twelve holes having some sort of water hazard.
The Thousand Hills Golf Course is a very popular course in Branson and is unique because it's located right in the middle of Branson and is the closest golf course to the famed Branson Strip. Located on South Wildwood Drive, Thousand Hills is a four star Golf Digest rated course designed by Robert E. Cupp with Michael Riley as its architect. The 5,111 yard 18 hole course has a par of 64, USGA Rating of 66.5 and a Slope of 125 when played from the back (Blue) tees. It features bent grass greens with Zoysia Grass fairways and tees and has been described as "a thrilling test for players of all skill levels."
The Branson Creek Golf Course is a Tom Fazio designed championship course located about five mile south of the Branson Strip and is unique because of its natural beauty, integration into the Ozarks Mountain landscape it was carved from and its tree lined fairways. In addition, it  has been recognized nationally for the quality of the golf experience it provides. "Branson Creek Golf Club was rated #1 by Golf Magazine and Golf Digest in the 'Top Public Courses In Missouri' for ten consecutive years (2000-2009). In its May 2009 issue, Golf Digest also named Branson Creek Golf Club the 'Top Public Golf Course in Missouri' and #93 on its list of the 'Top 100 Greatest Public Golf Courses in America'. In 2008 Golf Magazine named Branson Creek Golf Club #76 on its list of the 'Top 100 Courses You Can Play in America'''
Managed by Troon Golf, the Branson Creek Golf Club is open year round. It is a par 71, 5,800 yard course with a men's USGA Rating of 64.5 and a Slope of 116 when played from the Silver Tees. It has Zoysia Grass fairways, Kato-Crenshaw Bent Grass  greens and Bermuda Grass Tees with seven holes having water features including  two small lakes, creeks, and waterfalls.
For information or reservations on the courses mentioned in this article, other Branson golf courses or Branson show tickets, attraction tickets and lodging Miller suggests contacting Branson Tourism Center (BTC), one of Branson's largest and most respected vacation planning services. BTC can be reached through its toll free number 1-800-785-1550 or its website www.bransontourismcenter.com.