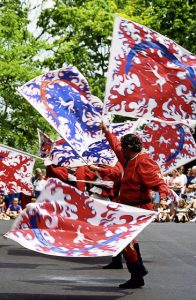 BRANSON, Mo. (4/10/12) The blooming of the Ozark's Bradford Pear, Redbud and Dogwood is a sure indication that Spring in the Ozarks is not far behind," said Tammy Johnson, the Director of Operations for the Branson Tourism Center. "However, it wouldn't be Spring in the Ozarks without, the excitement, fun, color, tastes and adventure of World-Fest, the country's largest international festival, running from April 12 through May 6," she continued.
World-Fest is just one of six major festivals presented each year by Branson's biggest and most popular paid attraction, the 1880s styled theme park, Silver Dollar City. Festivals aside, on a day to day basis this award winning theme park offers 30 rides and attractions including everything from "Wildfire," a world class multi-looping roller coaster that reaches speeds up to 66 miles per hour to their new $1 million "Half Dollar Holler" designed for kids through age 7; some of the best entertainment and live shows available in Branson; dozens of demonstrating craftsmen and much more all seamlessly integrated into the natural wonder of the Ozarks hills surrounding it.
World-Fest is a unique opportunity for visitors to Branson and Silver Dollar City to experience the excitement, culture, dancing, music, and heritage of countries throughout the world right in America's heartland. New this year will be "Viva Italia – An Italian Showcase!" featuring a "'Little Italy' plaza that comes alive with true Italian entertainment such as acrobatic flag throwers, living statues and stilt walkers and the entirely new, 'La Bella Musica Italian Music Show,' presenting World-class tenor Aaron Caruso, Italian-style soprano Melanie Goerlitz and world renown accordion champion Cory Pesaturo."
New to World-Fest 2012 will be "The Mariachi Divas," a Grammy Award-winning all-female music ensemble with members from Mexico and Honduras to Argentina; "Hawaiian Country Music," starring four-time Grammy winner, George Kahumoku along with native musicians and dancers; Peru's "Yawar Chicchi" folk music and dance troupe and the "Kenyan Sarakasi Acrobats" from Mombasa, Kenya. Returning to World-Fest 2012, due to popular demand, will be acts such as Ireland's premier harpist, Dearbhail Finnegan; Master Yodeler,Kerry Christensen; the Russian Academic Band, Ecuador Manta and a Slovenian Polka Party.
As is the case with most of Silver Dollar City's festivals, in addition to the great selection of food normally available throughout the park, World-Fest will also feature the foods appropriate to the festival. The "Tastes of the World," food pavilion will offer guests a chance to experience a wide variety of dishes from around the world including international entrees such as International Nachos, Irish Fish and Chips, Chicken Fajitas and Italian Calzone and desserts such as Baklava, Tiramisu Torte and Apfel Dumplings served with Cinnamon Ice Cream and more.
Branson Tourism Center's Johnson says, "A visit to Silver Dollar City anytime is an adventure, but even more so during World-Fest." She also reminds those coming to Branson and planning to visit Silver Dollar City that when they buy their ticket from the Branson Tourism Center they get a "2 Day Pass for the price of one day!" For further information on World-Fest, Silver Dollar City or any of Branson's other shows and attractions please contact the Branson Tourism Center by either calling their toll free number 1-800-785-1550 or through their website www.BransonTourismCenter.com.