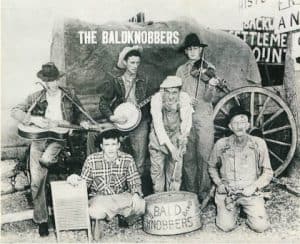 Well first things first, the "Bald Knobbers" were first and the "Baldknobbers" were named after them. Does history care? Probably not, but it should be noted that one, the "Bald Knobbers," was an inherent part of Taney County history during the immediate post Civil War era and the other, the "Baldknobbers," Branson's first show, started in 1959 and, in terms of live shows in Branson, is credited with being the show "that started it all."
Right after the Civil War, southwestern Missouri and Taney County were a continuation of the division that had been present in the area and the state of Missouri during the war. So stratified was this division that, even though there was constant fighting between the sides, criminal activity and numerous murders by marauding gangs, law enforcement officials were unable to bring the situation under control because each side "protected its own."
When Nat Kinney came to the area in 1883 he got a group of the areas leaders together and formed a vigilante group to combat the lawlessness that law enforcement officials, at the time, seemed powerless to stop. The original group was said to be about a dozen and went by different names, but the one that stuck was the "Bald Knobbers," given because the group met in the open, "bald," space on the top of one of the area's prominent hills, "knobs." Their distinctive hoods were made of bags with their top two ends tied to look like horns.
At first the Bald Knobbers were very successful, they grew into the hundreds and had local support. As they grew however, they themselves turned to violence and breaking the law and became very similar to the types of groups they had originally formed to stop. This caused them to lose a large part of that support, lead to the formation of the "Anti Bald Knobbers" and resulted in the their public disbanding, under the auspices of a representative of Missouri's Governor, in 1886.
Although the informal "anti" and "pro" Bald Knobber bitterness is rumored to have continued during the first quarter of the 1900s, it is generally considered that the "Bald Knobber" era ended in 1889. Nat Kinny was shot and killed in 1888 by Anti Bald Knobber Billy Miles. After a gun battle between law enforcement officers, Miles and others on July 4th, 1889 in Kirbyville, Missouri, during which two law enforcement officers were killed, it is said, Miles left the area, went to Texas and never returned.
Interestingly however, since the end of their era the Bald Knobbers have played a major part in the development of the tourism industry of a town that wasn't even in existence when they were, Branson, Missouri. Their activities played a major part in Harold Bell Wright's 1907 bestselling novel, "The Shepherd of the Hills," which was one of the first major things to attract tourists to the Ozarks and the Branson area.*
Then, over half a century later, the Mabe brothers decided to do a country music and comedy variety show in historic downtown Branson and were looking for a name. According to Bob Mabe, one of the brothers, the name "Baldknobbers," one word, was chosen because the vigilante group played a prominent part in the book and the "Baldknobbers Jamboree Show" started a 52 year string of performances which continues today.
In two words, the "Bald Knobbers" played an important part in the post Civil War history of the area and in the formative stages of Branson tourism. To most however, it is the one word, "Baldknobbers," that started it all and helped light the fire that has helped make Branson, what has been described as "The live music show capital of the world." Either way, the "Bald Knobbers" and "Baldknobbers" are woven together into the fabric of Branson's history.
*It should be noted that "The Shepherd of the Hills Outdoor Drama," based on Wright's novel, is one of the area's most popular and longest running shows. "