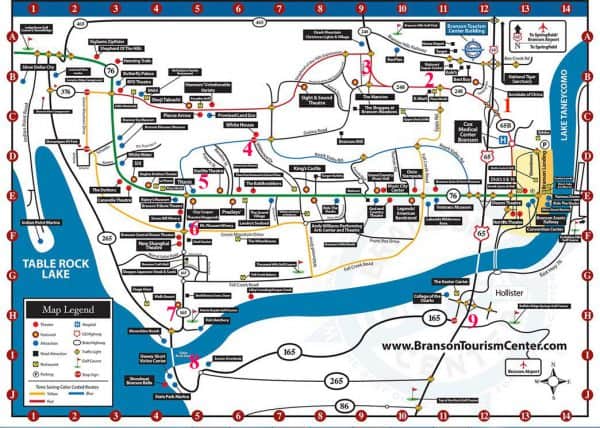 "It doesn't appear on any major maps and is probably the least mentioned route in Branson," said Annette Wood, Director of Sales and Marketing for the Branson Tourism Center. "However, 'Taney County Route 165' crosses or runs in conjunction with Highway 76, a.k.a. 'The Branson Strip' and all of Branson's colored alternate routes, providing a less trafficked way to get into and out of Branson, as well as getting to many of its shows and attractions," she added.
Let's take a "ride" on Taney County 165 (Taney 165), from its northern starting point to its southern point to see just how it could help. Coming from the north on Highway 65, Taney 165 starts at the second Branson exit at the junction of Highway 65 and Highway 248, Shepherd of the Hills Expressway, Veterans Boulevard, and Branson's Red Route. It runs westerly, in conjunction with the Shepherd of the Hills Expressway, Highway 248 and the Red Route, past the entrance to, the spectacular Acrobats of China show at the Yakov Theatre and intersects with the eastern end of Branson's Yellow Route at the stop light located at the intersection of Epps Road and Taney 165.
At the next stop light, Taney 165 merges into Gretna Road as Highway 248 and the Red Route turn right. It runs in conjunction with Gretna Road past the Mansion Theatre, home of Branson's great new show, Raiding the Country Vault, and the entrance to the Shoppes at Branson Meadows before joining Branson's Blue Route at the stop light of the intersection of Roark Valley and Gretna Roads. Running concurrently with the Blue Route and Greta Road, it passes the back of one of Branson's most popular shopping destinations the Tanger Outlets, to a four-way Stop sign at its intersection with Wildwood Drive. A left onto Wildwood Drive will take you to an entrance for Tanger Outlets and the shows of the Kings Castle Theatre.
Taney 165 continues on to its intersection with State Highway 165 and 76 at the stop light by the Titanic Museum Attraction. As you drive across Highway 76 Taney 165 joins and runs in conjunction with State Highway 165 passing near the Clay Cooper Theatre home to, among others, Clay Cooper's Country Express and . Running in basically a southwest direction, it passes through Branson's Yellow route at its intersection with Green Mountain Drive. Green Mountain Drive parallels the Branson Strip and provides a rear entrance to many of Branson's theatres and shows such as the Andy Williams Performing Arts Center and Theatre, The Duttons,  and many more.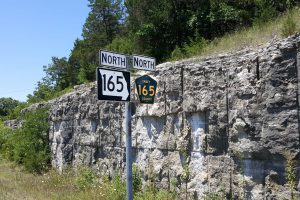 Taney 165 continues in a gentle southeastern direction as it passes the Welk Resort, home to, not only a wonderful resort, but one of Branson's hottest shows, the Million Dollar Quartet, the Pointe Royale Golf Course, and Shepherd of the Hills Fish Hatchery. At its intersection with Highway 265, it turns southeast passing by Table Rock Lake's Moonshine Beach, over the Table Rock Dam, and by the $10 million Dewey Short Visitor's Center, and Table Rock State Park and Marina on its way to its southern end at the intersection of Highway 65 in Hollister by the College of the Ozarks.
Although not shown on most maps, Taney County 165 is well signed. A little time spent with a map fand this article, familiarizing  its routing can sure make it easier to get where you want to go in Branson. It is of particular value when entering Branson from either the north or the south on Highway 65 because using it avoids the congestion of the Highway 76/65 intersection, the eastern end of Highway 76, and provides access to alternate routes that will get you to your initial destination quicker.
For further directions, information, or tickets for any of Branson's shows and attractions, Woods suggests calling one of Branson Tourism Center's Branson based Travel Planners at 800-785-1550. They will be delighted to answer any questions you might have about traveling in and about Branson, its hotels, shows, or attractions and, if desired, assist you in planning your Branson trip. There is no charge for this service and they are available daily, except Christmas Day, from 8:00 AM to 9:30 PM. Help is also available through its website www.BransonTourismCenter.com.