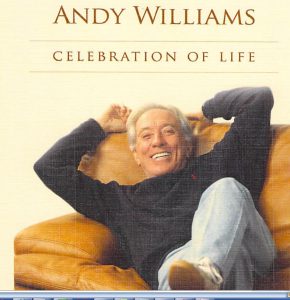 BRANSON, Mo., October 21, 2012 —  Friends, family, fans and the Branson community gathered at Andy Williams Moon River Theatre this afternoon for a "Celebration of Life" service, celebrating the life of Andy Williams and to mourn his passing. This simple, beautiful and poignant statement from Andy's family, printed at the end of the program for the service contains the essence not only of the celebration, but of how those upon whose life he impacted most feel:
"Thank you for being a part of the 'Celebration of Life' for our husband, father, friend and consummate entertainer. Andy Williams memory and talent will live forever in our hearts."
The following is basically the program of the service with some comments added, as appropriate:
1:00 – 2:00 PM – Presentation of clips from the Andy Williams Television Shows 1962 – 1971
Brief biography of the life of Andy Williams
Introduction of Host – Peter Marshall
Dan Lennon – Branson CVB comments on Andy Williams Impact on Branson
The Lennon Sisters shared memories and sang "The Lord's Prayer."
Anthony Gigliotti – Fan Club Member & Friend with comments on how Andy felt about his fans.
Ethel Kennedy – Seldom seen video to Andy on his 80th Birthday.
Peter Marshall – Sang Dick Ames song, "You'll Never Know"
Bill Cosby – gave a video tribute
Peter Tiliou – Antiquarian & Fine Art Expert / Friend with comments about his relationship with Andy and Andy's passion for art.
The Gatlin Brothers shared special memories and sang, "Heaven's Jubilee" & "Greatly Blessed"
Christian Williams, one of his sons, delivered a tribute and introduced a video of Andy singing "Danny Boy."
Donny and Marie Osmond in a video tribute
The Osmond Brothers, Merrill, Jay and Jimmy shared special memories and sang " Remember Me."
Dick Williams, Andy's Brother sang " Good By Old Friend."
Debbie Williams, Andy's wife, was introduced and shared a video she made about her life with Andy since the day she first met him and found out there was such a thing as "Love at first sight."
Mike Cathcart immediately followed Debbie's video with the song "Dear Heart."
The service ended with a video of Andy singing the song he closed his television show with, "May Each Day." It was a moving and touching ending to the service as it ended with Andy singing the last lines of the song, "May each day of your life be a good day; And good night."
Good night sir, Godspeed, and thank you.