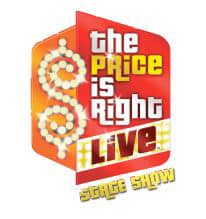 BRANSON, Mo., March 1, 2014 – Just like its namesake, "The Price is Right Live" gives audience members the opportunity to "win cash and prizes at the on-stage version of America's favorite game show. The Andy Williams Moon River Theater is proud to announce it will soon be giving guests the chance to "Come on Down" and participate in the interactive version of the longest-running game show in TV history.
"The Price Is Right Live", now in its third year in Branson, t premieres at its new home on Friday, May 23rd, for 10 weeks of excitement, fun & prizes. Over 50 audience members at every show will have a chance to win cash, trips, appliances and more, bidding on items and playing the popular pricing games that made the television show an American icon, such as Plinkoâ"¢, Cliffhangersâ"¢, Punch-ABunch â"¢ and, of course, The Big Wheelâ"¢.
"Andy Williams Moon River Theater is known for presenting the highest quality entertainment for the whole family," said Jimmy Osmond, on behalf of the Moon River Theater. "We've all welcomed 'The Price is Right' into our homes for the past 40 years. Now it's our chance to return the favor, by hosting the show here in Branson. There's plenty of cash and prizes to give away so it's really going to be a terrific summer attraction for everyone. It's the only game in town!"
The show will run Wednesday through Sunday nights at 8pm, through August 3rd. Kids 12 and under are free with each paid adult. "The Price is Right" and "The Price is Right Live" are produced by FremantleMedia North America, Inc. The TV show, now in its 42nd year, airs weekday mornings on CBS.