Kiddos love Branson, but Branson loves kiddos even more! If you're looking for somewhere to take your kids on vacation that will have enough entertainment to keep them busy, Branson truly is the perfect place.
We've tapped into our inner child and have developed the perfect list for a vacay in Branson that'll have your kiddos smiling, jumping and laughing all day long – and sleeping all the way home! (And don't worry – it's okay for parents to enjoy some of the fun, too!)
1. Fritz's Adventure and Aerodium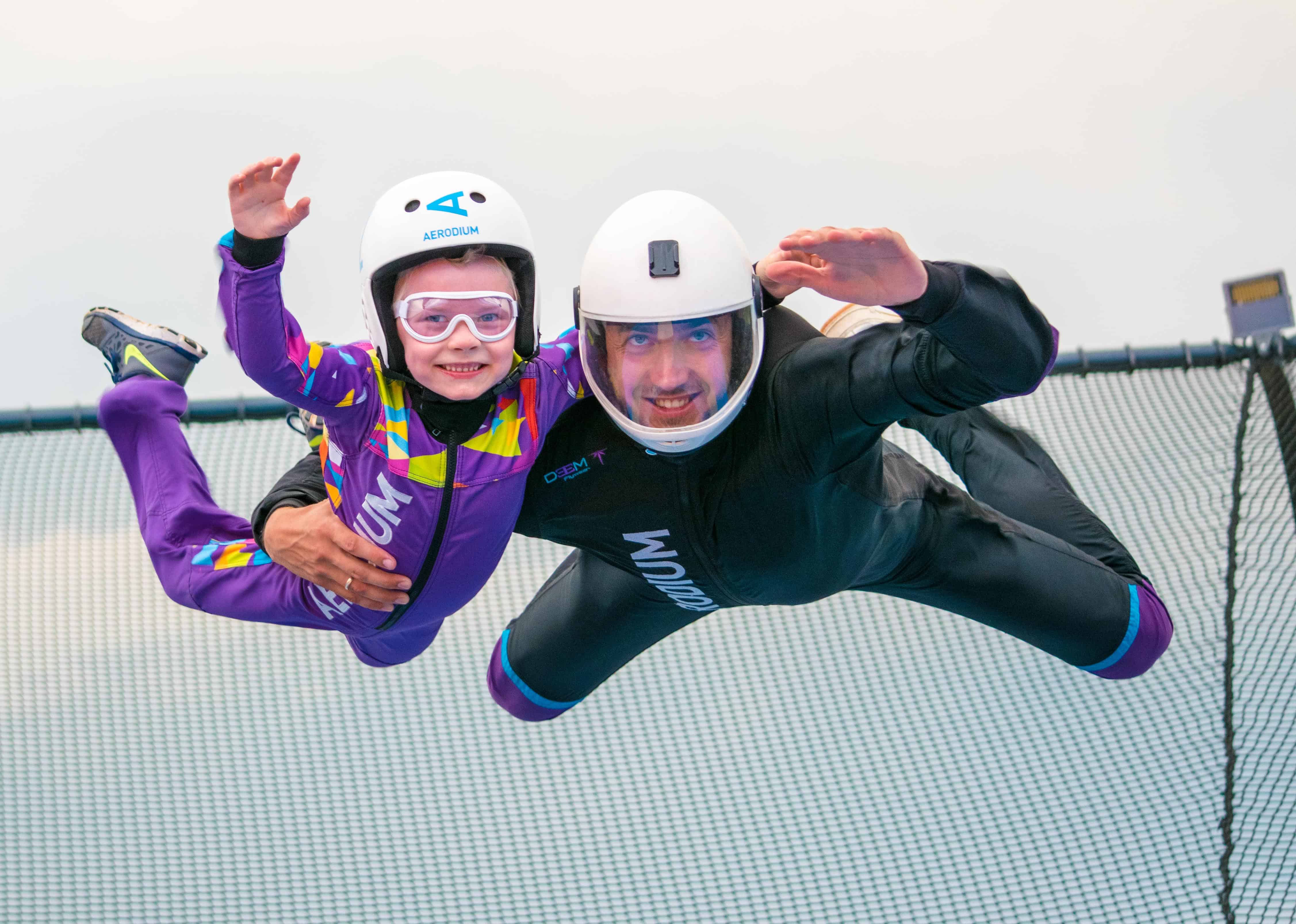 You can't bring your kiddos to Branson without stopping by Fritz's Adventure and Aerodium. In fact, this could be the only place you really need to go! Fritz's brought the challenges of outdoor adventure inside to give you 80,000 square feet (air conditioned, might I add) to explore, climb, slide and zip-line! Plus, there's no way you can make it in the parking lot without wanting to fly in the Aerodium. With absolutely no previous experience necessary, your kids (and you!) are ready to fly to new heights in the outdoor wind tunnel – one of Aerodium's only two locations in the United States!
2. White Water
White Water is the perfect place to take your kids when you need to cool down from the summer heat. I mean, who doesn't love water parks? Come explore the 13-acre water park and experience ocean paradise right here in the Midwest! The perfect mixture of relaxation and adventure (and hot dogs!) is waiting on you.
3. Shrek the Musical!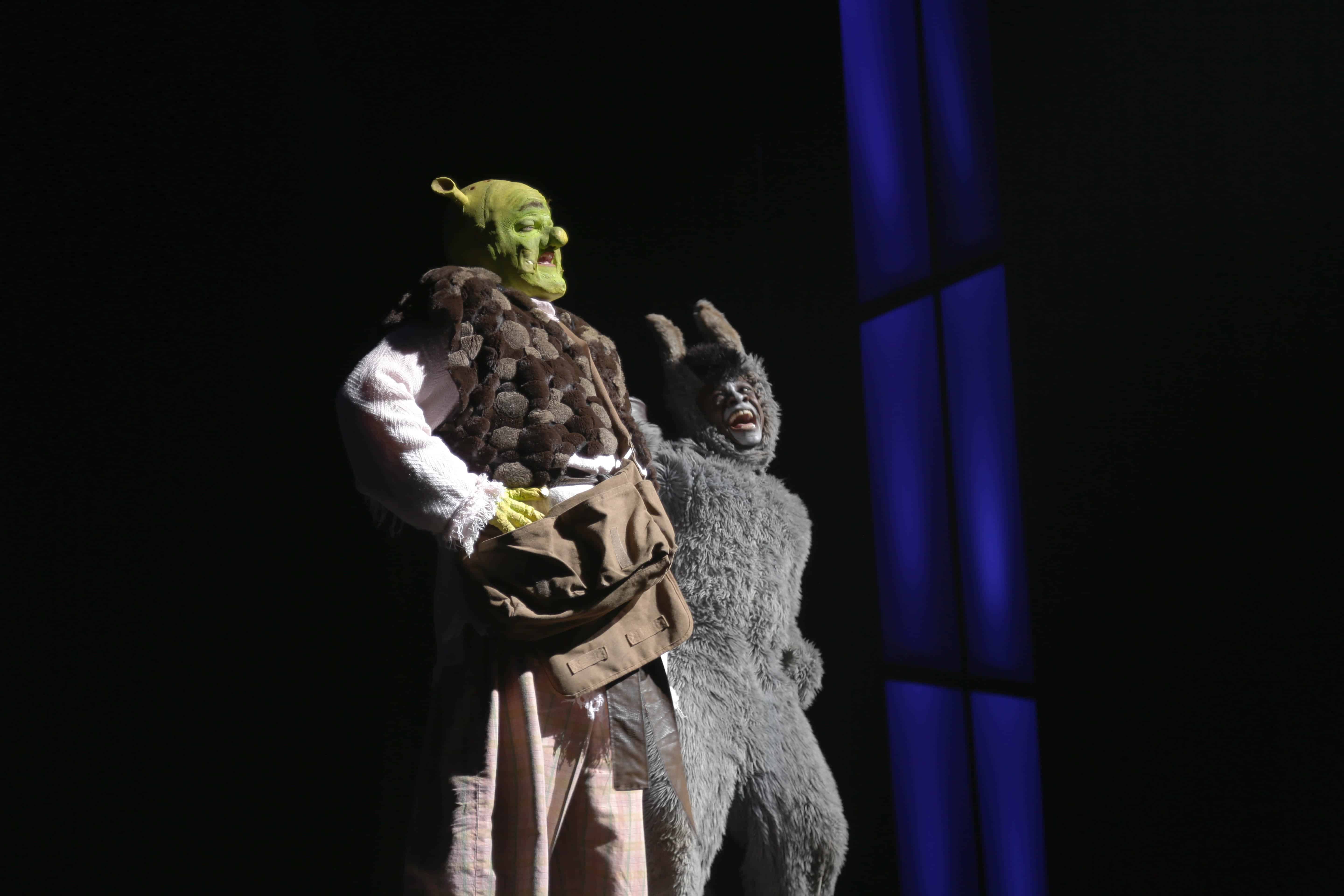 Shrek's a classic, and it's even BETTER when it's a musical! Head on over to Welk Resort Theatre and watch Shrek, Fiona and Donkey go on a journey together. Plus, if you stop in to get tickets with us, you'll get a free VIP Meet and Greet Pass to meet the cast after the show! But hurry – Shrek the Musical's LAST show is on August 10th!
4. The Branson Ferris Wheel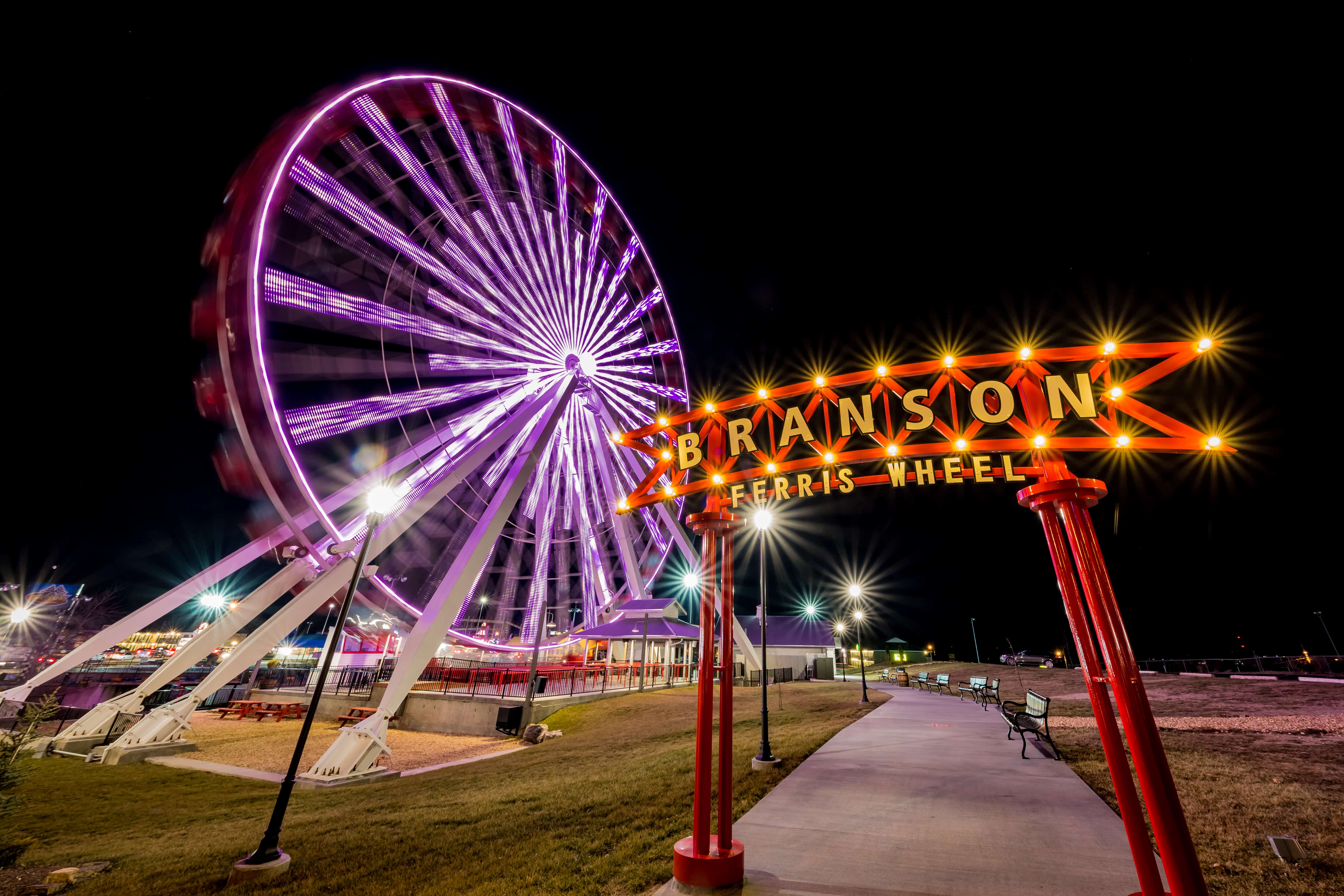 There's nothing more iconic in Branson than the Branson Ferris Wheel. Hop in a gondola and ride up to 150 feet tall! Whether it's during the day or at night, you'll experience the beauty of the Ozarks atop what was once Chicago's Navy Pier Ferris Wheel!
5. Andy's Frozen Custard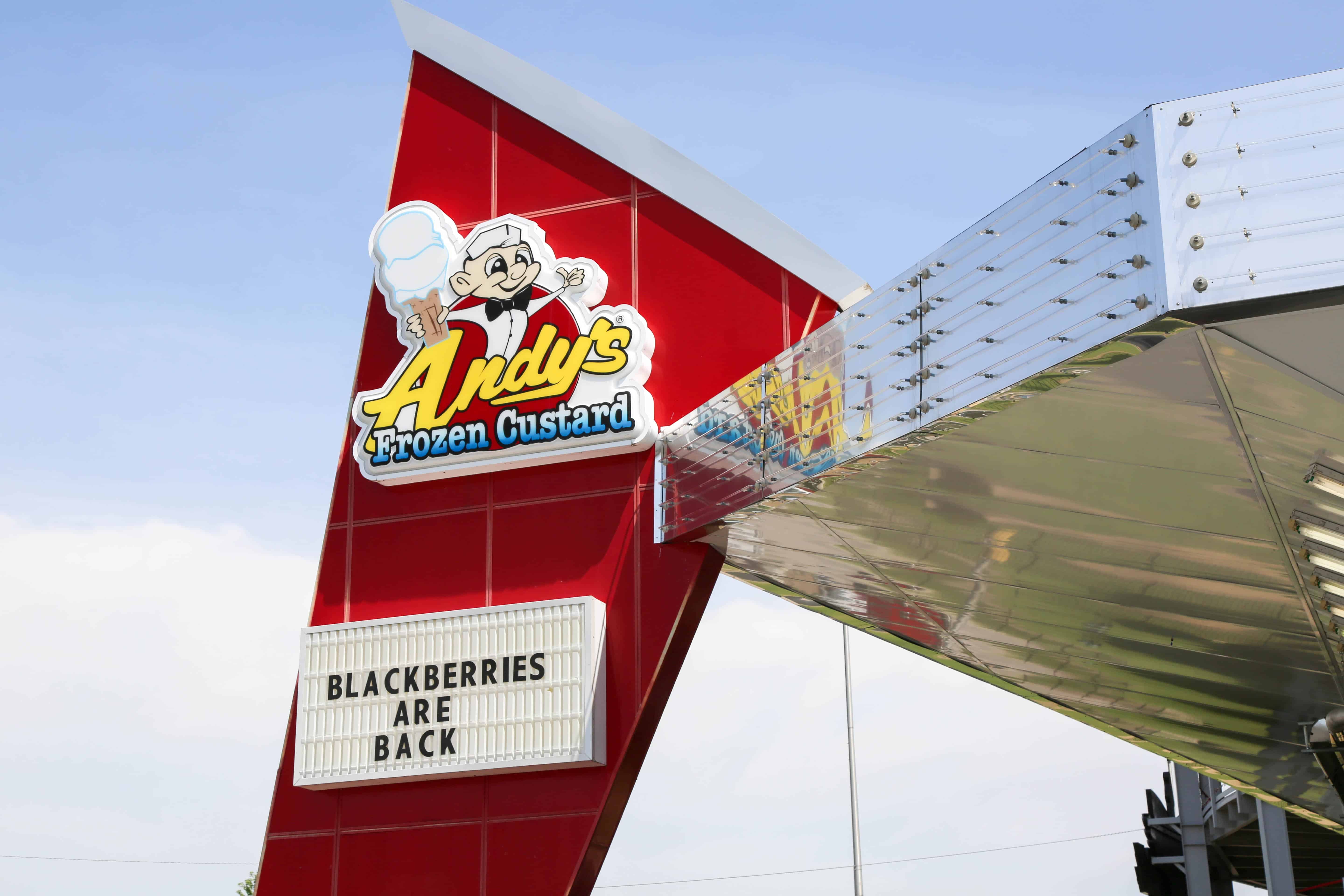 Okay, maybe there's one thing a little more iconic than (and right next door to!) the Branson Ferris Wheel – Andy's Frozen Custard! The good news is they're right beside each other, so you don't have to choose which one to visit. With a year-round menu, you literally won't be able to pick from their amazing concoctions. And what's even better is you can build your own creation from either vanilla or chocolate custard and a list of 25+ toppings! (The James Brownie Funky Jackhammer is our personal recommendation.)
6. The Butterfly Palace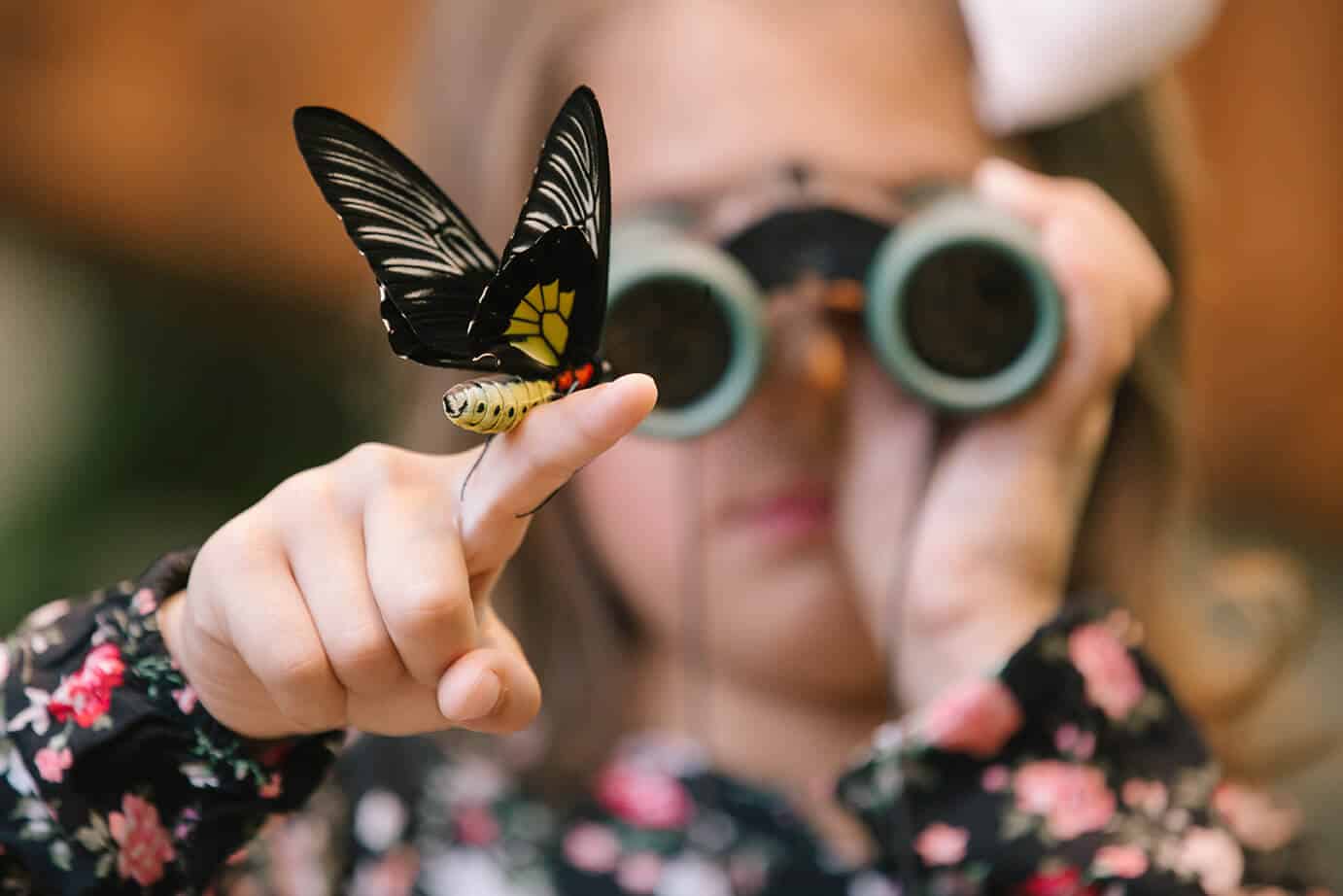 The perfect place for learning, adventuring and exploring is the Butterfly Palace! Your kiddos can run around in a Mirror Maze, explore through the trees and then walk around the butterflies! They do a butterfly release every so often where you can let a butterfly go to fly for its first time. How could your kids not love it?
7. Shepherd of the Hills Lil' Pete's Playland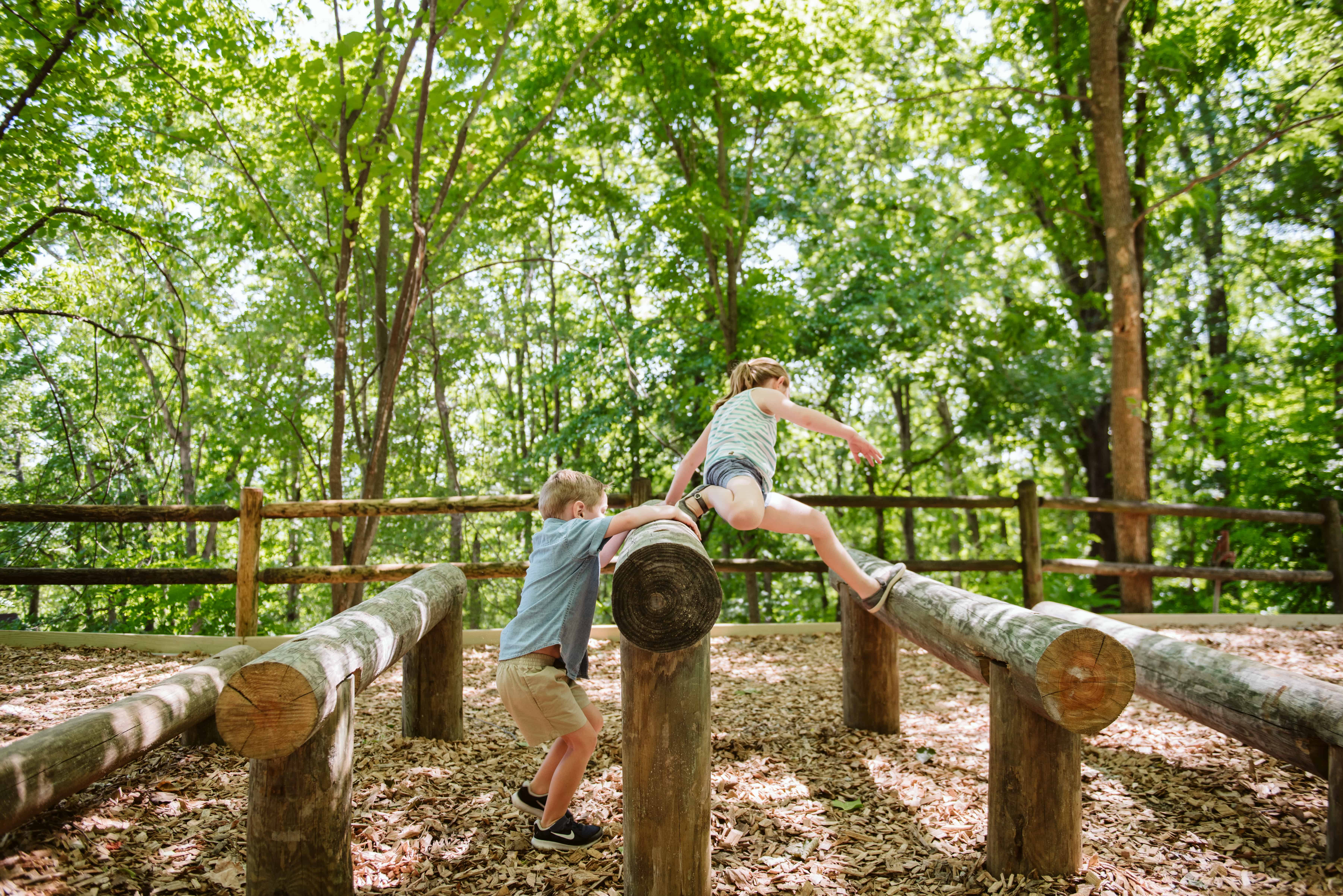 Are your kiddos the adventurous type? Want to wear them out quickly? (We hear the resounding yes's all over.) At Lil' Pete's Playland, your kids will be adventuring, exploring and cultivating their imagination and creativity all day long! With an American Ninja Warrior Course, rope-bridge linked treehouses, a custom putt-putt course, petting zoo, gem sifting and more, you just might be spending all day here!
8. Buckets N Boards!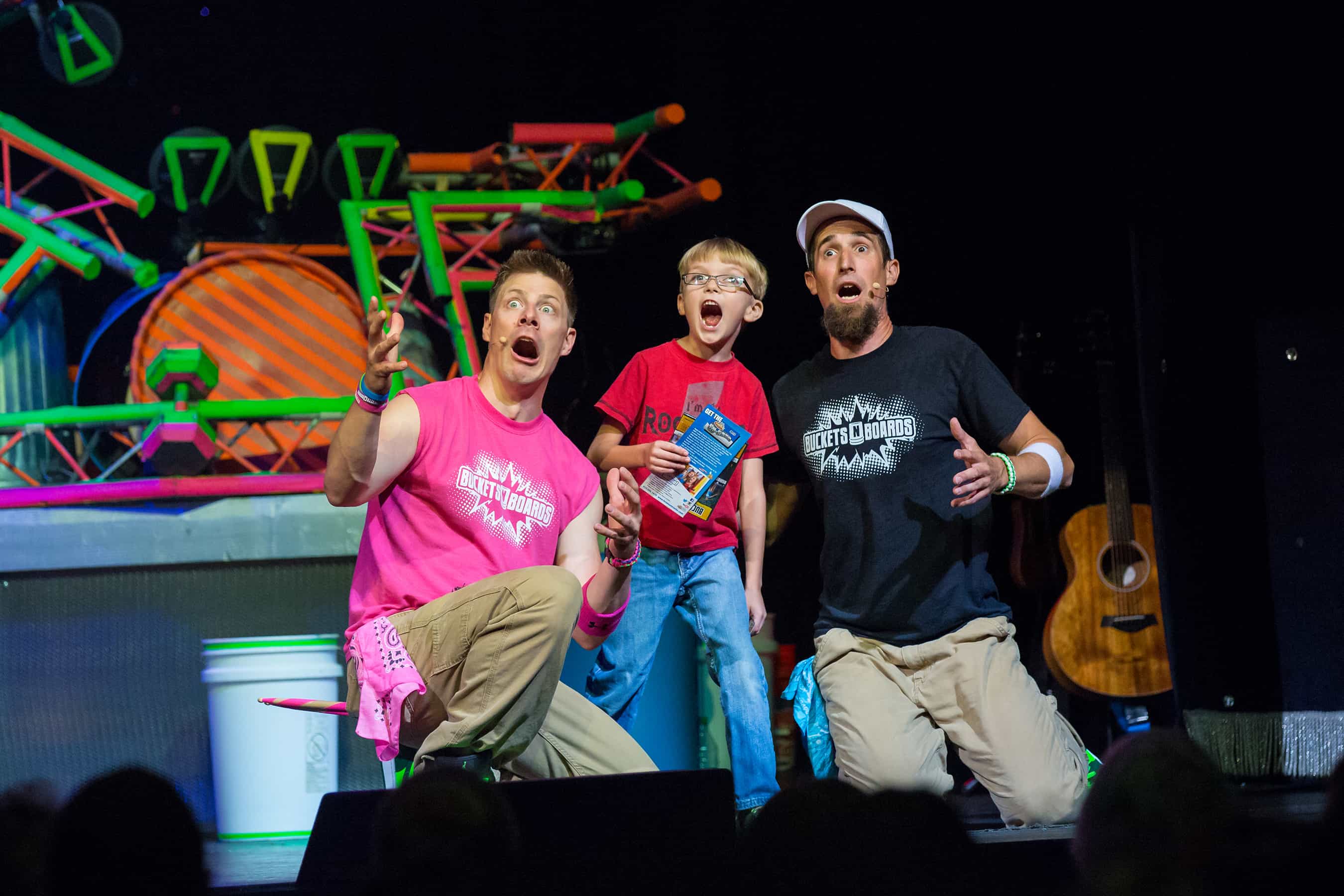 Ever wished you could see a comedy show and the Blue Man Group at the same time? Maybe not, but now you do! Buckets-n-Boards is the perfect comedy percussion show for kids – filled with silly songs, tap dancing, and tons of precise percussion on a variety of surfaces. Their level of skill will impress even you, mom and dad!
9. Snowflex Tubing at Wolfe Mountain!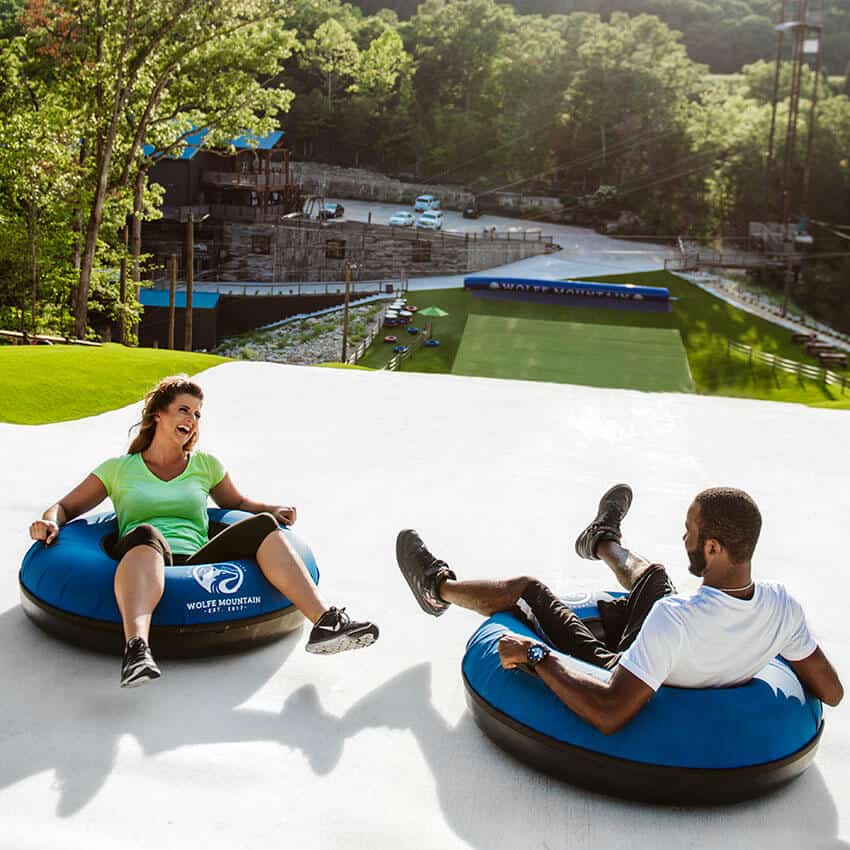 Ever gone snow tubing in the summer? We didn't think so. But you're in Branson, and you need to! Allowing six tubes to go down the hill at once, the entire family can spin and ride down the 400-foot-long slope. Plus, tickets cover an hour of Snowflex Tubing, so you can ride over and over! Keep on zooming downhill at…
10. The Track Family Fun Parks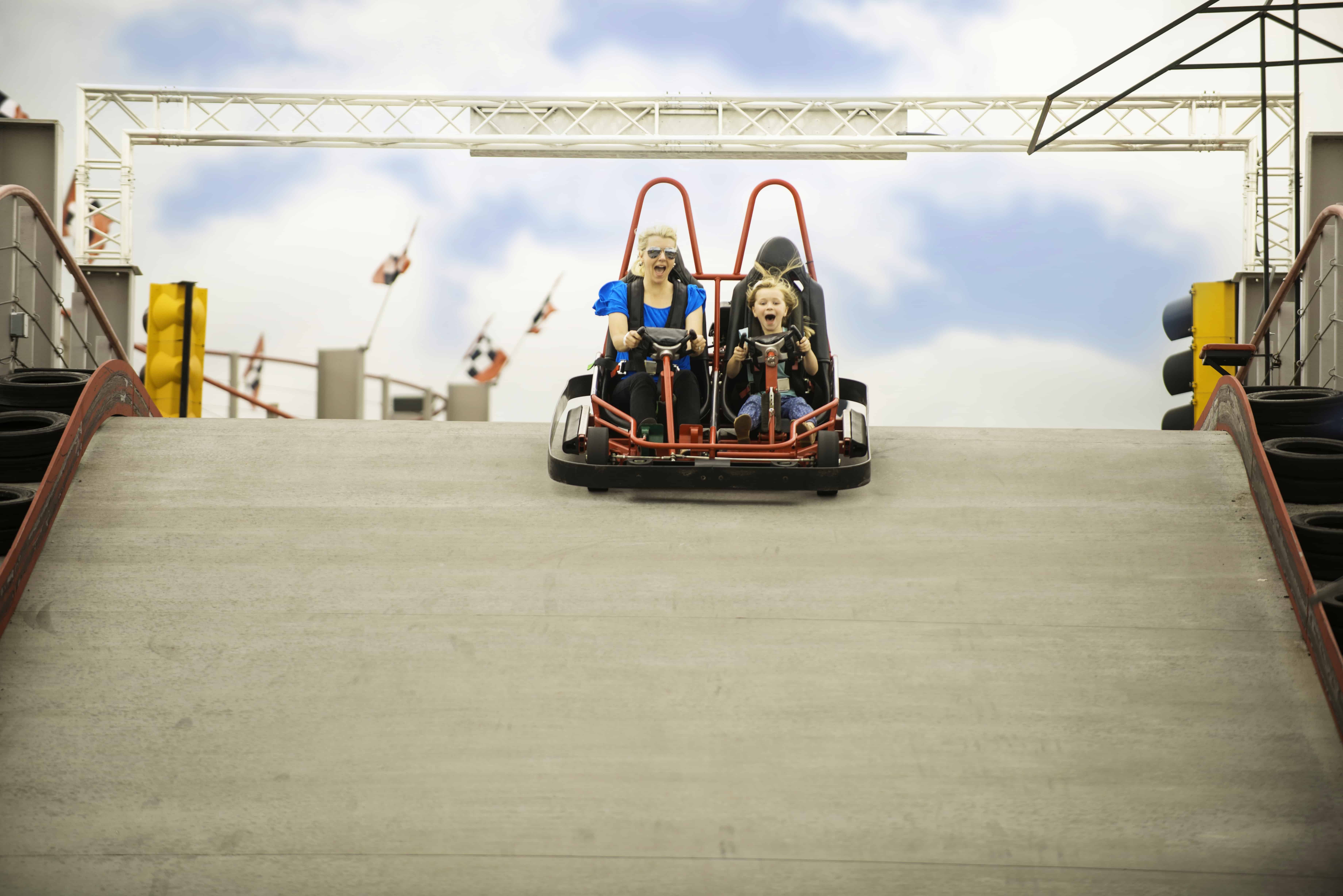 At the Track Family Fun Parks, your kiddos will never want to leave. Across four locations in Branson, every family member will find something for them! With multiple thrilling go-kart tracks, the Laser Maze Challenge, arcade games, batting cages, mini-golf and the new 100-foot-tall Skycoaster, how will you ever choose what to do?! (Psst… you don't have to choose!)
11. Dolly Parton's Stampede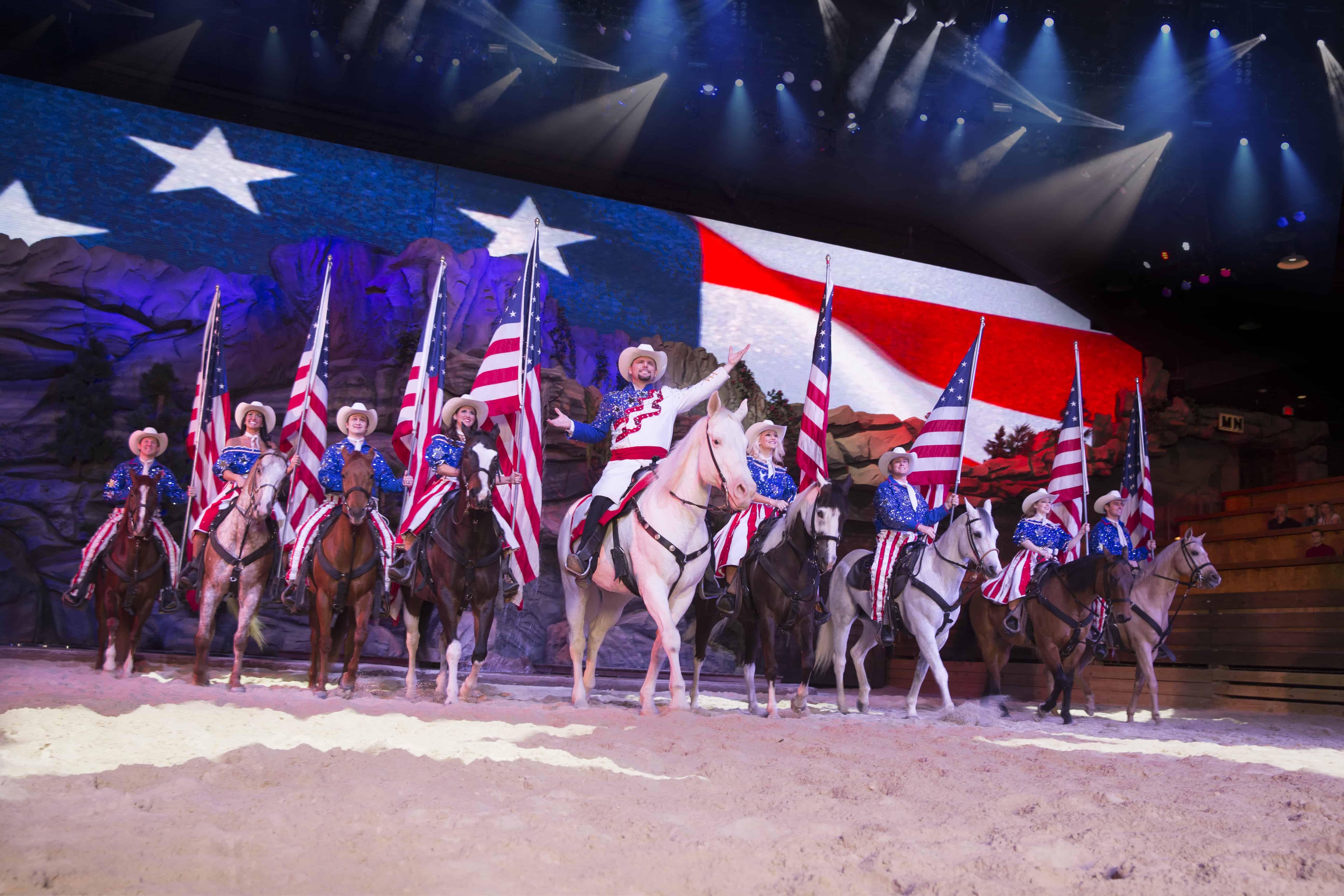 Ready to keep your kids entertained and fed – all at the same time? Dolly Parton's Stampede is the perfect family destination for both entertainment and a four-course feast! Come see the Stampede of the Buffalo, Canine Capers and more at the World's Most Visited Dinner Attraction. Not only that, but come 50-minutes early to watch the pre-show of The White River Wranglers in the Carriage Room and hear some amazing acoustics and melodies!
12. Silver Dollar City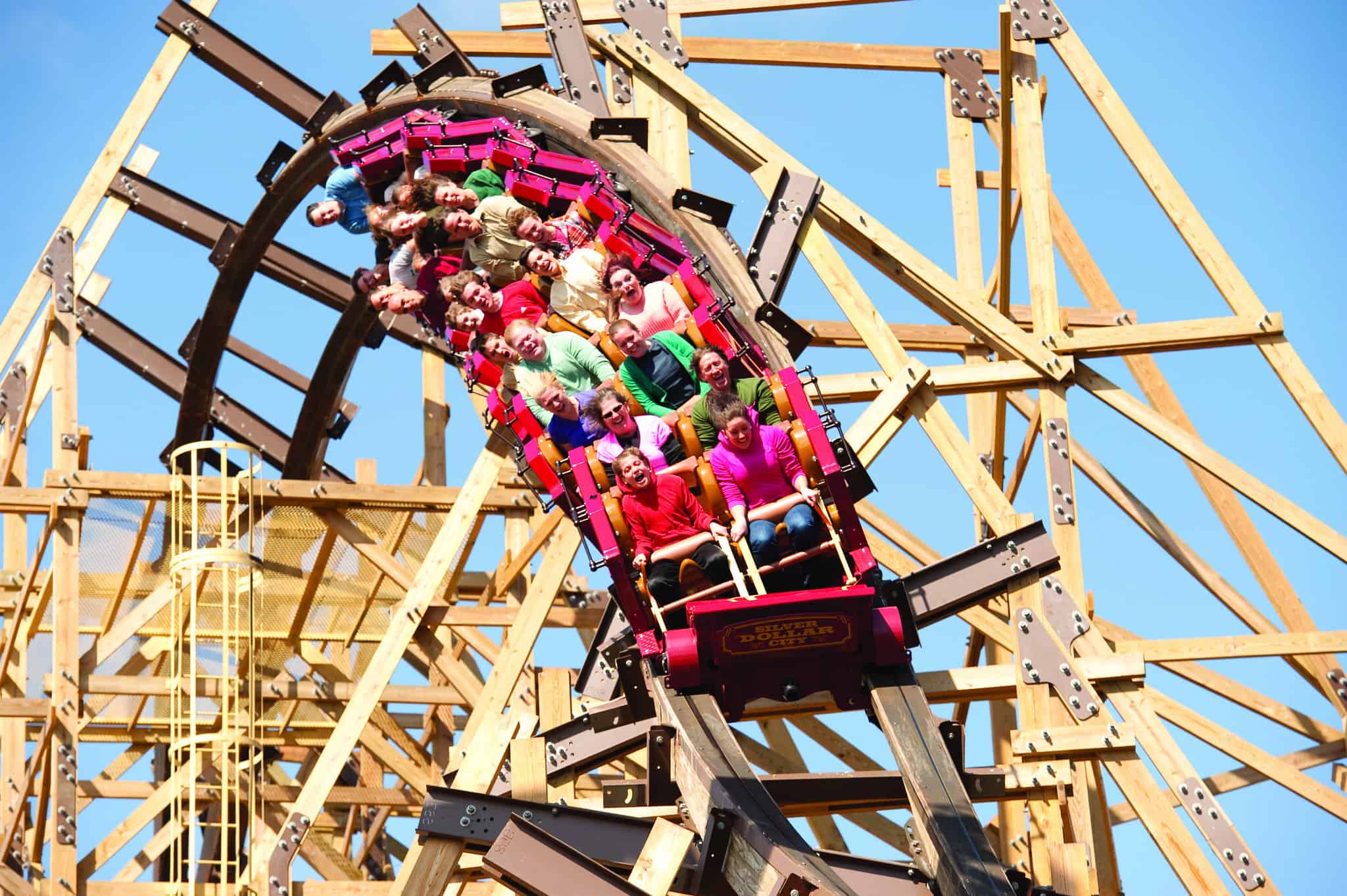 Silver Dollar City is unlike any other theme-park you've visited before. Silver Dollar City takes you back to the 1880s with 40 thrilling rides and attractions, world-class festivals, unique dining and craftsmen all around the park! Events and entertainment are showcased throughout the park from spring all the way through Christmas when the park is lit up with over 6.5 million lights! Plus…you can buy a 3-day pass to Silver Dollar City AND get free access to White Water!
13. Reza Edge of Illusion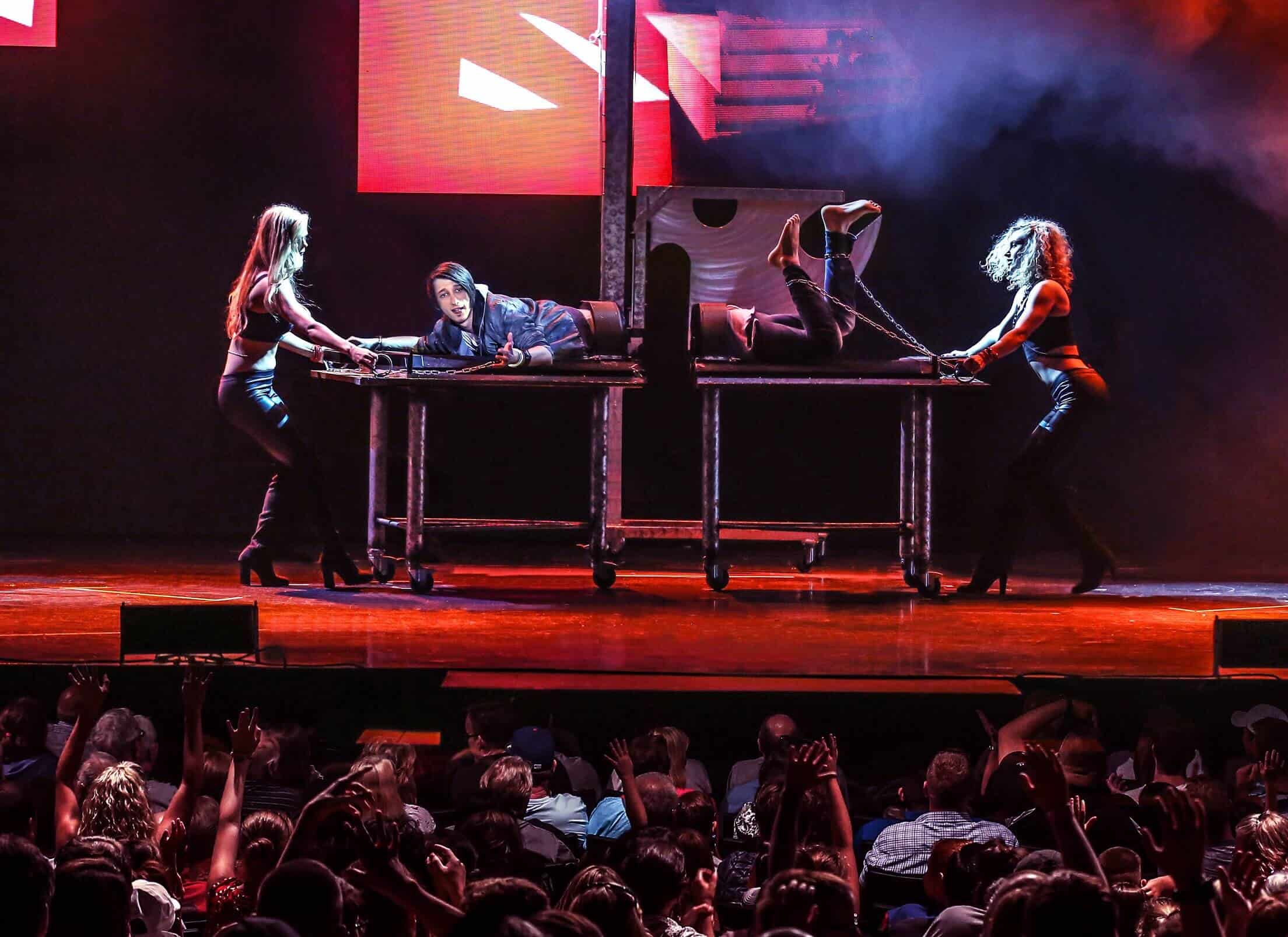 If your kids love thrills and mind-blowing magic tricks, this is the perfect place for them. Reza's Edge of Illusion show will boggle your mind the entire time, and you'll leave the theatre with your jaw on the floor. Plus, you'll be laughing at Reza's witty jokes the whole show!
See – there's nothing to fear in bringing your kids to Branson! In fact, it might just be the best decision you've ever made! Now, I'll be honest. You might need to stay a few days if you want to really enjoy the most out of all these adventures. A longer vacation? What a bummer, right? (Just kidding!)