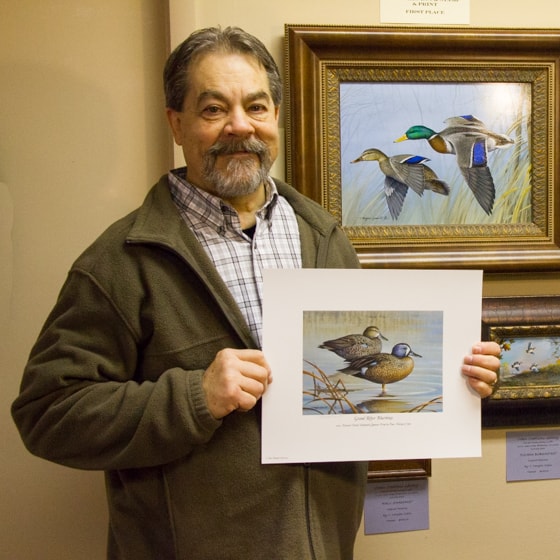 BRANSON, Mo., December 24, 2013 – Noted Branson artist T. Morgan Crain was recently inducted into The Legends of the Outdoors National Hall of Fame in a ceremony held aboard the "General Jackson Showboat" in Nashville, TN. In his typical humble and gracious manner Crain said, "While a great honor, it was a very humbling experience and I never had a clue something like that would happen."
During a telephone interview with the founder and Chief Executive Director of "The Legends of the Outdoors National Hall of Fame," Gary Mason said that the Hall of Fame "has been established to recognize those outdoor sportsmen and sportswomen who, through countless hours of hard work and devotion to the outdoors, have played an integral part in setting the standards and guidelines for the rest of the outdoor world to follow. He pointed out that only three of the 80 plus people who have been inducted over the 12 years that the Hall of Fame has been in existence have been artists.
"Each of these guys has the gift of God and with every stroke of the brush they bring the real character of the outdoors to life," Mason said. "Even though we see their works and how beautiful they are, a lot of times we don't know 'who' that person is.'The Outdoors National Hall of Fame' recognizes and acknowledges their contribution and preserves their outdoor legacy for future generations to be able to follow in their footsteps." He also pointed out that while only a website at this point, the hope is to have the Hall of Fame in a brick and mortar building someday, but the important thing, at this point, is to acknowledge their contributions and tell each of their stories.
In an earlier piece I asked the rhetorical question, "How good an artist is this quiet, unassuming and humble man?" It was answered by saying, "Although, earlier in his career he had won the prestigious Ducks Unlimited Artist of the Year and was the first two time winner of the Missouri Waterfowl Stamp Design, until 2010 he had not entered a State Duck Stamp Competition for about 20 years. In 2010 he decided to compete again, since then he has entered 18 competitions, placing in about 15 of them and winning four, including the "2013 Missouri Duck Stamp'"
As indicated by his induction into "The Legends of the Outdoors National Hall of Fame," to say he's Branson's preeminent wildlife, bird, western, outdoor and nostalgia painter and one of the top painters of such subjects in the nation is no exaggeration. He is a self-taught painter who has been painting full time since 1979. Some of his many career highlights include over 20 magazine covers for Cabela's, Ozark Mountaineer, Fiocchi of America, Blue Book of Gun Values, Springfield Magazine and many others; an artist at Silver Dollar City, 17 pieces for the Franklin Mint, as well as 22 plus limited edition prints and countless individual commissions.
Most days Tom is painting in the window of his "studio/gallery," Crain Creations, located at 114 W. Main Street in Historic Downtown Branson or can be found, along with his wife Susan, visiting with those browsing in their gallery. It's the friendliest most comfortable gallery most people have ever been in. If you are in Branson don't miss the opportunity to see his creations, especially his most awesome masterpiece, "Home of the Brave," that toured Bangkok, Thailand – Kunming, China and Kyoto, Japan and was honored with a medal in China and meet this "Legend of the Outdoors" in person.