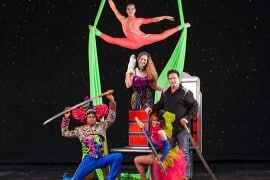 "The quantity and quality of the live entertainment available in the small Ozark town of Branson, Missouri is almost magical," said Annette Wood, the Director of Sales and Marketing for the Branson Tourism Center. Wood goes on to say that some who have never been to Branson think that Branson's shows are primarily country. "Although Branson shows offer some of the finest country music available in shows such as Presleys' Country Jubilee, Clay Cooper Country Express, Grand Jubilee, Mickey Gilley and the Billy Dean Show, to name a few; many, if not the majority, of its music shows such as Legends in Concert, Shoji Tabuchi, The Dublin Tenors and Celtic Ladies, SIX, it, Ayo, Duttons, Haygoods, Rankins and George Dyer shows are based on other musical genres," she added.
She points out that music shows are just part of Branson's live entertainment mix. Shows like Sight and Sound's spectacular Jonah, the epic outdoor drama Shepherd of the Hills, Acrobats of China, Dinner With Yakov, The Adventures of Marco Polo and others add a non-musical dimension and variety to the Branson's live entertainment, that truly becomes "magical" when you consider the quality and variety of the magic shows Branson offers including:
Hamners Unbelievable Variety Show – Along with high flying "silk" acrobatics, an amazing strength adagio act, comedy, musical impersonations, vocals, dancing and ventriloquism, this show features the magic and illusions of Dave and Denise Hamner. They have appeared in venues from Las Vegas to Disneyland and have received numerous awards including the "prestigious "Magic Masters Award" by their peers in Las Vegas." Their one of a kind bird act with beautiful Macaws and Cockatoos is as amazing as it is beautiful to watch; the original "Vertigo: The Fall of Death," and Dave's simple elegant performance of the close up magic doing a unique "baseball" twist with the "Cups and Balls" illusion are just three of the magic moments in this show.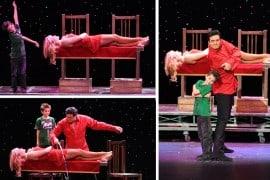 Illusionist Rick Thomas – Master Illusionist "Rick Thomas" has performed for Las Vegas audiences for more than fifteen years in several famous casinos, including Planet Hollywood, Bellagio, and the Mirage and in more than fifty countries on seven continents. He's earned the prestigious World Magic Award of Magician of the Year, and was honored with Stage Magician of the Year by the Academy of Magical Arts. A gracefully skilled ballroom dancer since the age of six Thomas is a slick showman who, with the assistance of his cast, weaves magic, music, and dance together into a spectacular magical stage production.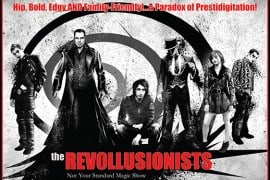 The Revolutionists – A wildly different type of magic show presented by Brett Daniels, creator and director of the world-famous show, "The Illusionists." The Revolutionists brings a world-class ensemble of five unique practitioners of illusionary art to Branson that dazzles audiences with everything from sleight-of-hand to jaw-dropping acts of astonishment! "The show includes "Brett Daniels" – The Grand Illusionist and The Phantom of Prestidigitation; "Reza" – the Rock Star of Illusion; "Luka" – Sick Skills and "Kid Kadabra" – Abnormally Amazing." It steps way outside the magic show box with hip, bold, and edgy entertainment while maintaining a family-friendly environment suitable for Branson audiences of all ages.
For more information on how the experience the magic of Branson shows or for tickets please contact the Branson Tourism Center by calling 1-800-785-1550 or through its website, www.BransonTourismCenter.com
.