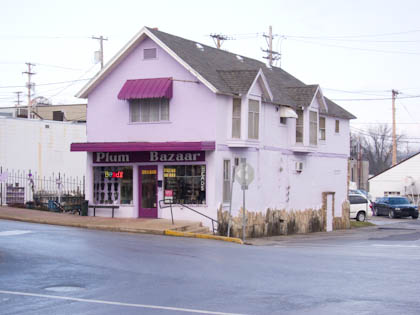 Branson was almost destroyed before it had a chance to get started. Soon after it was incorporated on April 1, 1912, an early morning fire started in the Commercial Hotel located in the southeastern corner of the intersection of Commercial and Pacific Streets in the downtown area. Without a fire department and with water having to be transported from Lake Taneycomo, about three blocks away, the fire quickly spread throughout the downtown. It destroyed the entire business district except for four buildings, the bank building located on the northwestern corner of Main and Commercial Streets, the Branson Hotel, the railroad depot and a two story structure near the depot commonly known as "Sullenger's Saloon."
According to the book, "A Living History of the Ozarks" by Phylis Rossiter, "Sullenger's Saloon" was the "first business building to appear in Branson after it was platted in 1903 and is the oldest building still standing in Branson." It was originally built at Third and College Streets and was relocated to its current location at 123 E. Main Street, on the northwestern corner of Sycamore and Main Streets, prior to 1909.
According to Jo Stacey Albers, coauthor of the book, "Hometown Branson: Early History" with Dorothy Stacey, Henry Sullenger, the owner, moved the saloon because the Branson Town Company was developing a new business area called "The Shelf" in the Commercial Street area a few block to the east of where Sullenger's Saloon was location. During its "heyday" Sullenger's was very popular with the railroad workers and, among other things, was operated as a saloon and a pool hall.
Since its heyday the building has been used for different things over the years. These include a boarding house, a collector card shop and its current use, the "Plum Bazaar," a business that sells beads, custom jewelry, beading supplies, and gifts as well as conducting classes on "beading."
One of its uses and its location lead to a bit of irony. According to Albers, in the mid 40's it was a real nice boarding house run by "Mrs. Noel." Today, about 65 years later, it is located kitty corner from Branson's newest luxurious lodging establishment, the 12 story, 293 room Hilton Convention Center Hotel. Too, there is the irony that Branson's newest and largest retail center, "Branson Landing" is located just one block to the east of the building that moved to its current location over 100 years ago because of the development of a new retail area to its east.
In an effort to enhance the Branson experience through a "bit" of information about the area we love and service, BTC Branson Bits is provided by the Branson Tourism Center (BTC). BTC is one of Branson's largest and most respected vacation planning services and sellers of Branson show tickets, attraction tickets and lodging and can be reached by calling 1-800-875-1550 or by visiting their website www.BransonTourismCenter.com