The Man, The Myth, The Legend. The King of Rock & Roll. The One and Only, Elvis Presley.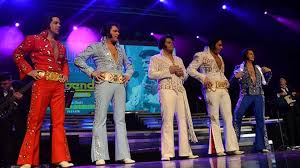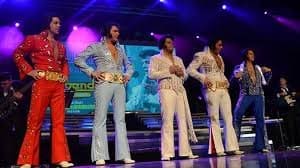 With an estimated 84,000 Impersonators, or Elvis Tribute Artists, it's safe to say that Elvis was an Icon that will live on in infamy. Today, on what would have been his 84th Birthday, we honor his legacy and the lasting impact his life, career, and music had, especially here in Branson, Missouri.  Branson plays host to several high-caliber Elvis Tribute Artists throughout its many theatres and in celebration of his Birthday, we are giving you the complete list of all things Elvis in Branson! So grab a Fried PB&B Sandwich, slick back your hair, and hold onto your chair, there's a Whole Lotta Shakin' Goin' On in Branson!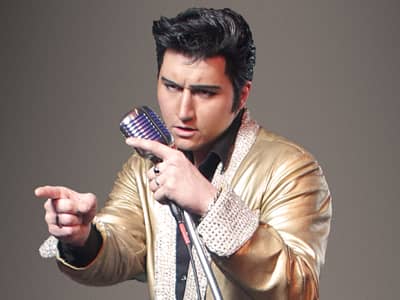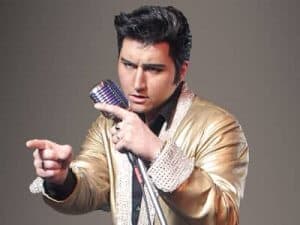 Tyler Hunter is the resident Elvis at the Welk Resort Theatre and plays the role of The King in the award-winning musical, Million Dollar Quartet. This incredible show tells the true story behind the legendary meeting of Elvis Presley, Jerry Lee Lewis, Johnny Cash, and Carl Perkins. Hunter first took an interest in Elvis Impersonation at the ripe age of 11, and with mentoring from ETA Bill Chrastil, started perorming in High School Talent Shows. Tyler turned professional in 2010 after he came to Branson and competed in the Ultimate Elvis® Tribute Artist Contest™ at Dick Clark's American Bandstand Theatre. After performing a number of gigs, including a fill-in roll for Elvis in the Legends in Concert Show in Las Vegas, he answered a casting call for the Million Dollar Quartet in 2012, and the rest is history. This is one rockin' show you will want to be sure is on your to-do list the next time you're in Branson!
2. Legends in Concert: Ryan Pelton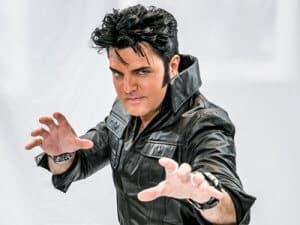 Ryan Pelton entered his first Elvis Competition on a dare from his mother in 1998 and to his surprise, he won! From then on, he has been honing his craft, becoming an international, award-winning Elvis Tribute Artist.  In 2001 Pelton was declared the "World Champion" when he won the Worldwide Images of the King Contest in Memphis, TN. Several other Elvis opportunities ensued, to include an appearance on American Idol, a lead role in a major motion picture, and performing as Elvis for Legends in Concert. Pelton puts on one heck of a show as Mr. Presley himself in Branson live at the Dick Clark American Band Stand Theatre March through December.
3. Elvis LIVE: Jerry Presley, Elvis' Cousin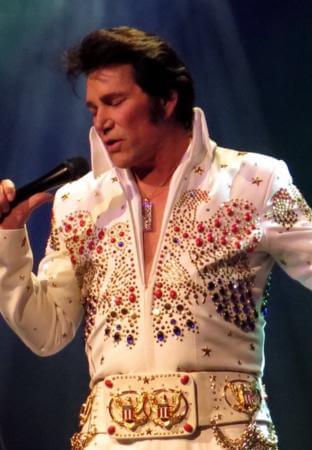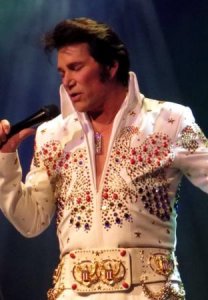 Jerry Presley first came to Branson in 1984, and started the "first Elvis show in town". He performed for four years, and then went on tour with The Jordanaires, The Stamps, and The Blackwoods. Jerry returned in 2013 and now calls God and Country Theatre, home. Cousin to the most famous singer to ever live, Jerry pays homage to Elvis as only family could ever do, and he stays true to all the details of an authentic Elvis concert, including an amazing live band. Jerry wears costumes replicating every last detail of those worn by Elvis; they're even made by the same company. With that signature Presley charm, he keeps audiences dazzled with his impeccable performance of songs from Elvis' unforgettable Madison Square Garden and Aloha from Hawaii concerts, as well as his beautiful gospel recordings. Get an authentic taste of Elvis the next time you swing through Branson!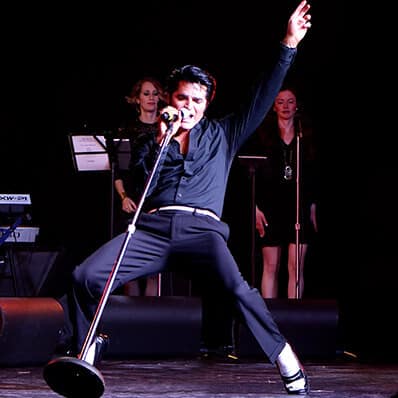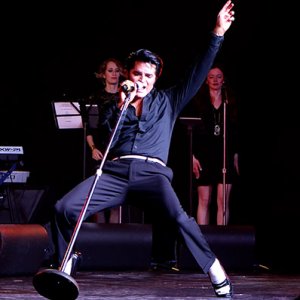 At the age of 3, Dean saw his first Elvis performance on TV. He immediately jumped on the coffee table and began to imitate his moves. His mother made him his own Elvis jumpsuit soon after, and as Dean puts it, "The first song I sang on stage was 'Jailhouse Rock.' Every time I shook the audience would scream, and I've been shaking ever since." When he was 17, Dean moved to Vegas to pursue a career with his Elvis act. For 12 years, Dean performed in Vegas, and paid tribute to "The Memphis Flash" in Japan, Australia, Norway, Denmark, England, across Canada and the United States.Dean soon earned a spot with the World's Greatest Live Tribute Show, "Legends in Concert," then in 2007, moved to headlining the show in Branson. He now travels with his own Elvis show, "The Dean Z Show" and performs across the globe. You can catch Dean in Branson this April as a part of the Ultimate Elvis Tribute Artist Contest at the Dick Clark American Band Stand Theatre.
4. Ultimate Elvis® Tribute Artist Contest™Â : April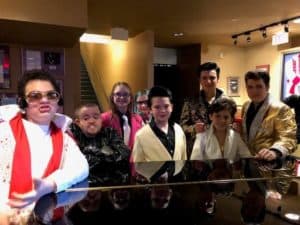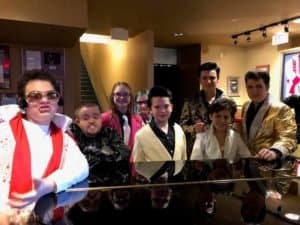 The 13th Annual Branson Elvis Festival will be held at Dick Clark's American Bandstand Theater,  April 11-14, 2019. The highlight of the festival, the Ultimate Elvis® Tribute Artist Contest™, will take place on Saturday, April 13 at 7 p.m. This contest is one of a select few tribute competitions sanctioned by Elvis Presley Enterprises, Inc. Tickets are on sale now, so be sure to secure your spot to one of the best Elvis Experiences you will ever have!
5. Peanut Butter & Banana Sandwiches at Branson.com
What Elvis celebration would be complete without the infamous Peanut Butter and Banana Sandwiches he loved? The Cast of Million Dollar Quartet paid our staff a visit recently to share the love. Take a look at all the fun!
We hope you will be shake, rattle, and rollin' into Branson soon, and we can't wait to see you!