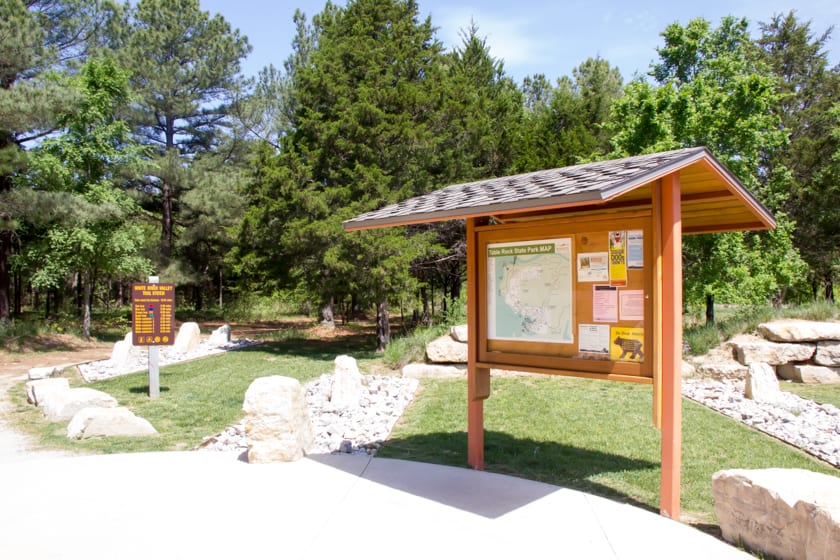 Having lived in Branson for 28 years, it is amazing to me the choice of things that visitors to Branson have to do. From Branson shows and attractions to lakes and scenic beauty, I find it hard to imagine any place, near the size of Branson, offering its visitors a bigger choice of quality activities. "And a neat thing, about it all," says Tammy Johnson, the Director of Operations for the Branson Tourism Center, "is that it's a great value, not only in terms of the pricing of shows, attractions and lodging, but in that there are so many things families can do that do not cost a penny."
The unique "White River Valley Trail System" is one of those things. Not only is it free, but it is within minutes of the famed Branson Strip, has drive-up accessibility, its first "loop" is fairly flat and provides a walk into our Ozark woods that can last five minutes or an hour; is intended for hikers as well as mountain bikers and provides the flexibility to be worked into your daily activities either as a standalone major activity or as a shorter activity worked in with others in the area such as the "Shepherd of the Hills Trout Hatchery" or the "Dewey Short Visitors Center" at Table Rock Dam, both of which are also free.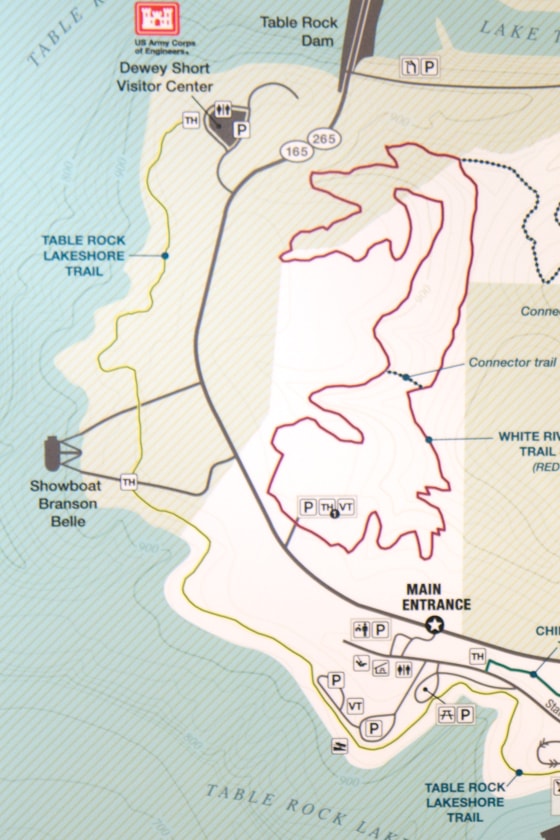 It is called the "White River Valley Trail System" because it is a collection of four different connected "loops," trails. The "Trailhead," with its parking lot and rest rooms, is located just south of the entrance for the Showboat Branson Belle and north of the main entrance to Table Rock State park on State Highway 165. The natural surface trail's four major loops are designated by color, a 2.5 mile Red Loop, 3.0 mile Blue Loop, .6 mile Orange Loop and a 1.25 mile Green Loop with various Connectors Trails that combine to make up the 10.25 mile roundtrip length of the trail.
The 2.5 mile "Red Loop" starts and ends at the Trail Head. The other Loops start off of Connector Trail 2 located at about the midway point on the Red Loop. The Red Loop is a convenient way for most families to take advantage of the White River Valley Trail System as well as exploring an area of Branson's Ozarks beauty to which most Branson visitors have not previously had convenient access. Even more flexibility is provided because Connector Trail 1 provides a nice 1.25 mile loop making it ideal for a short family outing. The entire 10.25 trail system will take hikers and bikers "near old homestead ruins, relics of the Table Rock Dam construction during the 1950s" and through miles of nature at its Ozarks best.
Branson Tourism Center's Johnson points out that the White River Valley Trail System is just one of the many trails and hiking choices that Branson visitors have. From the "Branson Landing Boardwalk" to the "Table Rock Lake Shore," "Shepherd of the Hills Hatchery" and city of Branson's "Lakeside Forest" trails there is not another major tourist destination in America offering more trails or hiking flexibility so conveniently located as part of its major tourist district or within minutes of it.
Gary Groman is a freelance writer and columnist who has lived in Branson for 28 years. Â Currently, outside of his column, he writes exclusively for the Branson Tourism Center, one of Branson's largest and most respected vacation planning services who can be reached by either calling their toll free number 1-800-785-1550 or through their website www.BransonTourismCenter.com.